/
/
/
4 Careers in GIS With Great Job Outlooks
4 Careers in GIS With Great Job Outlooks
Geographic Information Science (GIS) is a fascinating field of study that allows us to gather valuable insights from the world around us. But is GIS a growing field? Market research firm Prescient & Strategic Intelligence predicted the global GIS market will reach $17.5 billion by 2023. This growth will be primarily driven by the increased need for GIS solutions from the enterprise sector and in developing nations.
That is good news for graduate students, who can anticipate a positive GIS career outlook with opportunities to enter dynamic and lucrative positions. Here are some of the fastest-growing jobs in GIS and the skills students should develop to prepare for them:
Request Brochure
Fill out the information below to learn more about the University of Southern California's online GIS Graduate Programs and download a free brochure. If you have any additional questions, please call 877-650-9054 to speak to an enrollment advisor.
*
All Fields are Required. Your Privacy is Protected.
1. Geographer
Geographers study the earth's surface, surveying how features form and change, the ways inhabitants navigate their environments and the effects of social, political and cultural norms. They gather and interpret data from a variety of sources, including field work, censuses, maps, photographs and satellite imagery. Their research involves observation, controlled experiments and surveys. They may then link their results to other fields of study, including economics, public health, politics and environmental science.
The Bureau of Labor Statistics reported that the federal government employs 54 percent of geographers, but 12 percent work in architecture, engineering and related areas. In 2017, these professionals earned a median salary of $76,860. Although many people begin their careers in GIS with a bachelor's degree, a master's degree in GIS may help students bypass an entry-level position, change career paths or take on a leadership role.
---
2. Cartographer/Photogrammetrist
Cartographers and photogrammetrists both review geographic data to create and update maps. However, there are significant differences in their approaches. While cartographers strive to create informative maps that can be intuitively used for reference, photogrammetrists create models of the planet's surface that can then be used to generate maps.
Cartographers and photogrammetrists use advanced geospatial technology to create visualizations that provide valuable details and support strategic decision-making for purposes ranging from geology to marketing. Specialized maps can represent phenomena such as precipitation patterns or the damage after a natural disaster. The increasing impact of weather events like hurricanes and forest fires, is one reason why the need for cartographers and photogrammetrists is expected to rise in the near future.
In fact, the BLS predicted this field will grow by 19 percent between 2016 and 2026, much faster than the average rate for all occupations of 7 percent. Cartographers can anticipate a salary of around $63,990. As with geographers, many cartographers and photogrammetrists work in local government, engineering, architecture and similar services.
Related content: Learn About GIS Career Success Obtained by USC Graduates
---
3. Urban/Regional Planner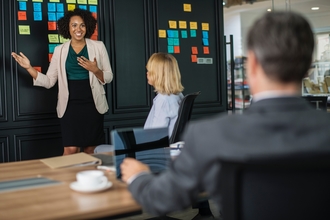 Urban and regional planners strategize land use to accommodate various populations. They record and analyze information from censuses, environmental studies and market research to help communities more effectively fulfill residents' needs. Urban planners' responsibilities may include helping to develop parks in urban areas, creating new options for homeless populations or working to make neighborhoods more attractive to businesses.
These professionals use GIST software to visually interpret geographic and demographic information for planning purposes. For example, an urban planner may compare the geography of an area with its population density, then use the findings to design suitable infrastructure systems. Planners work closely with government officials, engineers, lawyers, real estate developers and architects.
The median salary for urban and regional planners was $71,490 in 2017. The BLS expects the field to add jobs at a faster-than-average rate, with an anticipated growth of 13 percent through 2026. Most entry-level employees have a master's degree and several hours of work experience in a related field.
---
4. Surveyor
Surveyors determine legal property boundaries, taking measurements for land transactions and engineering, construction or mapmaking projects. They use GIS software, among other methods and tools, to measure distances and angles with optimal precision. Data drawn from satellite imagery and GPS allows surveyors to create detailed maps and reports that guide planning and enable collaboration with specialists such as landscape architects, cartographers and civil engineers.
According to the BLS, the median salary for surveyors in 2017 was $61,140 with a job growth rate of 11 percent resulting in a projected 44,800 new jobs by 2026. To certify the legal documents that set property lines or establish markings for construction projects, a surveyor needs a state license, obtained through a combination of education, work experience and testing. Each state has its own regulations, but a graduate degree may help to fulfill these requirements.
Related Content: Discover GIS Salary and Future Growth Statistics
---
About USC's Online GIS Graduate Programs
The University of Southern California offers a comprehensive selection of online GIS programs, including GIS master's degrees and GIS graduate certificates. This gives our students the ultimate flexibility in tailoring their education for their career goals. Click on the programs below to learn about our leading geographic information science education.
Online GIS Master's Degrees
Online GIS Graduate Certificates