/
/
/
3 GIS Technology Advancements in the Last 5 Years
3 GIS Technology Advancements in the Last 5 Years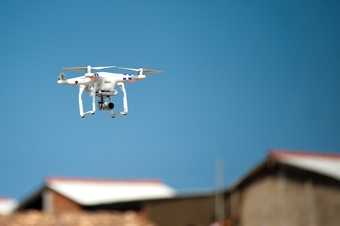 Government agencies, nonprofit organizations and private companies all benefit from innovations in Geographic Information Science (GIS). Researchers and entrepreneurs have found a variety of creative ways to use GIS to advance business and technology. The latest GIS technology developments make way for new applications and for the convergence of GIS with other emerging tools.
The evolution of GIS is far from over, with exciting new software and methods continuing to change the way people utilize this technology. Let's take a look at three of the most promising recent trends in GIS:
Request Brochure
Fill out the information below to learn more about the University of Southern California's online GIS Graduate Programs and download a free brochure. If you have any additional questions, please call 877-650-9054 to speak to an enrollment advisor.
1. Real-time data
The ability to collect and analyze data in real time brought GIS to a whole new level. This development improved research processes and mapping systems, but real-time geospatial data can benefit consumers, too.
Location-based services like Uber are among the most common uses for up-to-the-minute geographic information. Consumers can track where their drivers are and how long it'll take them to arrive. The app also employs real-time data to match users with the closest ride and directs drivers to hot spots based on the frequency of ride requests.
Real-time geospatial intelligence can also be an effective way to track developments during natural disasters. Analysis of everything from shifting weather patterns to social media posts highlight locations in urgent need of relief efforts. Emergency management services use GIS platforms to generate crisis maps based on a combination of:
Satellite imagery
Remote sensor readings
Statistical models
Crowdsourced data
When facing time-sensitive decisions, it is important to have the most relevant and accurate data. Robust geographic information is a boon to organizations and individuals striving to make well-informed decisions, and ongoing refinements to real-time data analysis are vital to the future of GIS.
---
2. Consumer-facing information
Geospatial data has helped companies in a wide range of industries streamline their operations by providing greater visibility into key assets and guiding more efficient supply chains. But everyday consumers can also take advantage of current trends in GIS. Some of the latest GIS technology has brought consumer-facing data to the forefront, empowering smart decisions in many areas.
Consider homebuying: A house might be in your price range, but the neighborhood can make all the difference in whether it's the right choice for your family. That's why real estate apps now use GIS platforms to give prospective homebuyers insights into the areas they're considering. Dozens of map layers let users review details like distance to various amenities, school district information and more. People aren't just looking at photos on home search websites anymore; they're scouring details about what it feels like to live in an area.
The health and wellness industry underwent a major shift in recent years with many consumers applying data to manage their own lifestyles. Wearable technology lets individuals track their heartrate, steps, sleep patterns and the paths they follow when running or walking. With geospatial information, personal fitness goals become more attainable, and these advances have even made a mark in college and professional sports: Coaches can factor the personal data from players' GPS-enabled wearables into their strategic decisions, snagging victory while minimizing the chance for injury.
---
3. Artificial intelligence
Artificial intelligence is another rapidly evolving technology that has been applied to GIS projects in recent years. One important application for GeoAI is in planning urban infrastructure and tracking changes in an area over time.
For example, researchers in Los Angeles wanted to know how land use and roadways impacted air pollution and, in turn, how pollution would affect health in local residents. GIS helped them analyze traffic patterns over different times of day in relation to the concentration of harmful particles in the air. By using this information to predict when pollution levels would become dangerous, the city could issue warnings as early as possible.
In another project that utilized GeoAI, Kuwaiti government officials wanted to make it easier for citizens to find products and services they needed by using an application. Like many big cities, traffic congestion was a major obstacle, and the government wanted to be able to tell users what road conditions were like at any given time. The application gave users the ability to share whether they were seeing heavy, moderate or light traffic, which helped the researchers identify traffic patterns. When there was heavy traffic on one route, the application would deliver directions to avoid traffic jams.
The application initially relied on user input and manual updates to identify traffic, requiring constant adjustments to the machine learning algorithm. With the introduction of GeoAI, the application gained a deeper understanding of traffic conditions and greater predictive capabilities, which in turn led more useful driving instructions.
GeoAI is still evolving and has the potential to be one of the future trends in GIS that makes the biggest impact on daily life. In addition to land use and infrastructure analysis, GeoAI can also be applied to health systems, agriculture and many more industries.
---
About USC's Online GIS Graduate Programs
The University of Southern California offers a comprehensive selection of online GIS programs, including GIS master's degrees and GIS graduate certificates. This gives our students the ultimate flexibility in tailoring their education for their career goals. Click on the programs below to learn about our leading geographic information science education.
Online GIS Master's Degrees
Online GIS Graduate Certificates