/
/
/
How Geographic Information Science Can Help Business
How Geographic Information Science Can Help Business
Geographic Information Science and Technology (GIST)—focused on capturing, analyzing, and leveraging spatial information—is blossoming with opportunities for prospective students and career seekers as organizations around the globe continue to utlize GIS. From the outer reaches of space, back down to earth for agricultural land plotting, urban planning, and even in retail, geographic information science (GIS) transforms the way humans interact with the world around them. If you're considering pursuing a career in GIS, you might be wondering about its potential industry applications.
Just as opportunities for careers in GIS are uniquely diverse, so too are the possible GIS applications in the business world.
---
How Can GIS Be Used in Business?
GIST has become an essential component of modern life. Traditional uses of GIS for business include geography and cartography. But GIS is expanding far beyond the traditional, spurred on by technological advances that provide easier real-time access to a bounty of geospatial data. In fact, using GIS in business has become mainstream and it's now easy to find widespread GIS adoption in every business sector. Such organizations—in both the private and public sectors—include municipalities and state governments, utilities and telecommunications providers, railroad and civil engineering firms, and oil and gas and retail companies.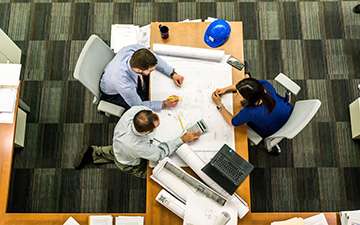 For example, a telecommunications provider might use GIS technology to inform site selection decisions and map out cell tower placement. On the other hand, a retail outlet might use GIS data to analyze product placement across its brick-and-mortar stores, repositioning certain products based on regional interests or to improve efficiency in its supply chain.
"Data Is King"
As the adage goes, "data is king;" and organizations of all shapes and sizes are starting to wake up to the value that big data analytics can bring to their businesses. This includes geographical data. So how can GIS be used in business analytics?
Manufacturers Use GIS Data to Identify Brand Preferences
Going back to the retail space as one example, on a broad level, consumer goods manufacturers can leverage GIS technology and spatial analytics to track social media activity and identify brand preferences or buying habits that are prevalent in certain geographies. By using GIS for business geographics, for example, a corporation could decide to house its manufacturing plant in an area with less population density or near a water source that would enable it to use clean energy.
Marketing Organizations Use GIS Data and Analytics for Customer Segmentation
When it comes down to it, for any type of business, success comes down to delivering what customers want and need. But a business can't deliver unless it understands its customers—not just what they want, but the way they want it delivered. By using GIS combined with big data analytics, organizations can learn more about their customers than they ever could before. And, since not all customers are created equal, geospatial analytics can enable more sophisticated customer segmentation, allowing organizations to craft ultra-targeted marketing campaigns based on GIS Data and Analytics to deepen engagement with existing customers or attract new ones.
Data: Collect It All
In addition to big data analytics, another trend that has contributed to increased adoption of GIS for business is the Internet of Things (IoT). IoT refers to the trend of the ever-growing number of internet-connected devices, which include sensors, smart home technology, control systems and numerous other types of equipment. This degree of connectivity means that information must be collected from disparate objects with highly variable software environments.
Businesses leverage IoT sensor data, which often includes geospatial data, for a limitless number of applications. For example, some Domino's Pizza Inc. franchise groups outfit their locations' freezers with sensors that can alert managers to temperature changes that indicate failure, offering the business an opportunity to move its food inventory before the failure causes spoilage.
---
The Time for GIS is Now
Chris Tucker, chairman of the American Geographical Society and founder of MapStory, has stated that 2018 will be the year that all the "cliché" tech trends—cloud computing, big data, artificial intelligence, machine learning, IoT, open source, SaaS, drones, and commercial space—collide with the world of GIST to make something "new and powerful."
"Those organizations poised with know-how and budgets to harness the available data sources and this arsenal of tools will quickly dominate," Tucker told Boundless. "Those who think that old school GIS with traditional sources will keep them competitive will begin dying."
All in all, when considering how can GIS be used in business, the opportunities are truly endless. And as trends like big data and IoT continue to grow, the potential applications around GIS for business and organizations of all types will grow exponentially.
With the number of spatial data sources being deployed into the world around us continuing to climb, offering organizations more information than they've ever had available to them before, the easier question to ask today is: How can't GIS be used in business.
---
About USC's Online GIS Graduate Programs
The University of Southern California offers a comprehensive selection of online GIS programs, including GIS master's degrees and GIS graduate certificates. This gives our students the ultimate flexibility in tailoring their education for their career goals. Click on the programs below to learn about our leading geographic information science education.
Online GIS Master's Degrees
Online GIS Graduate Certificates
---
Request Brochure
Fill out the information below to learn more about the University of Southern California's online GIS Graduate Programs and download a free brochure. If you have any additional questions, please call 877-650-9054 to speak to an enrollment advisor.