/
/
/
How GIS and Big Data are Creating Big Change for the World
How GIS and Big Data are Creating Big Change for the World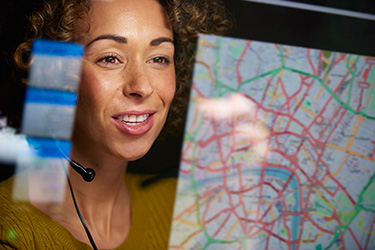 The big data trend has dramatically impacted every industry, so it is little surprise that big data in GIS has significant implications for how we acquire and leverage spatial information. As we consider the way organizations are using geographic information science and technology, one of the clearest themes is that usage is expanding rapidly; whereas, historically, the largest adopters of geospatial data have been government agencies, it is now easy to find widespread GIS adoption in every business sector.
The convergence of GIS with big data means that the potential applications of the two will become limitless. We wanted to look at why interest appears to have risen so dramatically and how different organizations are using big data together with GIS.
Related Content: Learn How Air National Guard Analyst Adrianna Valenti uses GIS every day.

Request Brochure
Fill out the information below to learn more about the University of Southern California's online GIS Graduate Programs and download a free brochure. If you have any additional questions, please call 877-650-9054 to speak to an enrollment advisor.
*
All Fields are Required. Your Privacy is Protected.
Big Data in GIS: Why Now?
Big data is not a new trend by any means; McKinsey highlighted it as the next frontier for innovation even in 2011. However, it is becoming a larger part of geographic information science.
Perhaps one of the biggest changes in the conversation around big data has been in the relationship between hardware, software and expertise. When the McKinsey report mentioned above was published, the cost of hardware presented a major big data challenge, even when considering just one type of computing resource. For example, the cost per gigabyte for computer storage in 2010 was 10 cents. In 2017, that dropped by a factor of five to two cents per gigabyte. We can see similar trends in processing power, memory and other hardware resources.
Midsize organizations can now afford robust hardware for housing data and analytics tools that precisely meet their needs, and smaller organizations can invest in highly scalable cloud solutions, making big data platforms in GIS and other disciplines accessible to nearly anyone.
As a result, the challenge of big data in GIS today is less about the hardware and more about finding people who can manage the huge volume of information and transform it into value for their organizations.
---
Who's Using Big Data in GIS and How?
The global geospatial data analytics market is set for considerable growth, increasing from a projected $69.9 billion in 2018 to $88.3 billion in 2020. For context, revenue from geospatial analytics in 2018 is comparable to the global Software-as-a-Service market ($73.6 billion), which is far more mature and encompasses a much larger variety of software. Below are three disciplinary snapshots and how each might use big data in GIS as the technology and organizational understanding of analytics becomes more sophisticated.
1. GIS and Big Data Empower Humanitarian Projects
The United Nation's Sustainable Development Goals (SDGs) represent a framework for achieving a "better and more sustainable future for all." Technology advancements—including the Internet of Things, open data platforms, crowdsourced spatial data and the evolution of big data technology — have contributed to an incredibly vast amount of information being available that can help countries achieve the UN's SDGs.
For example, DigitalGlobe, an organization that sources satellite data and integrates it with other sources like social media sentiment and aerial imagery, leverages a GIS machine learning algorithm to track activity in specific locations and identify anomalies.
The issues that DigitalGlobe helps to solve range from global poverty to child trafficking to disaster response. But the common theme in all its efforts Is that the volume of data working behind the scenes is vast. According to DigitalGlobe regional director Abhineet Jain, the organization collects approximately 80 gigabytes of data daily; as of January 2018, the organization had collected close to 100 petabytes of data total, or the equivalent amount of data to roughly 100 million hours of Netflix video streaming (only 33 million hours if you stream in HD).
2. Geospatial Data Analytics in Marketing
One of the most common uses for geospatial analytics in marketing has been in prospect or customer segmentation. Brands like Under Armour, for example, can use the data from fitness trackers to segment their audiences based on their level of physical activity, and deliver timely promotions based on an individual's level of engagement with fitness and the Under Armour brand.
As spatial data from disparate sources becomes more tightly integrated, however, marketers' usage of geospatial analytics will become more complex. As an example, one area of increasing interest has been in tracking brand perception in individual regions using social media. For a brand like Under Armour, integrating this type of information with insights from their fitness tracking data could yield to better targeted messaging— such as by addressing a common customer frustration or aligning the way they talk about their products with the way customers actually use and feel about them.
3. Financial Services Firms Use Big Data and GIS for Business Intelligence
One of the most common uses for GIS in the banking industry has been in determining which branches to consolidate. However, GIS and big data are increasingly used together to address more complex issues. In the insurance industry, overlaying weather data with claim data, for example, can help companies detect possible instances of fraud.
Along with telecommunications companies and government, financial services firms are leading when it comes to using GIS and business intelligence tools together. For the financial sector, geospatial big data is playing a role in creating a boom of startup companies. Many of the financial startups in this area have been marketing themselves for their ability to leverage non-traditional data sources, such as satellite imagery, for determining the potential risk of offering insurance or a loan. For example, satellite imagery over a span of time could better predict a property's risk of flooding for determining insurance rates.
---
Big Data and GIS: Looking to the Future
The evolution of big data and its increasing value to GIS is both exciting and challenging. As mentioned before, big data is less of a hardware problem than it was in the early days of the trend. However, new challenges have emerged.
Related Content: Top GIS Technologies in 2020 & Beyond
For professionals within GIS, the challenge will be understanding the myriad of ways they could potentially leverage large volumes of data from many different sources and thinking of creative ways they may be able to capture and leverage new data sources. For the organizations that hire these professionals, the challenge will be identifying top talent, not just from a purely technical standpoint, but from their ability to form creative solutions to technical problems.
---
About USC's Online GIS Graduate Programs
The University of Southern California offers a comprehensive selection of online GIS programs, including GIS master's degrees and GIS graduate certificates. This gives our students the ultimate flexibility in tailoring their education for their career goals. Click on the programs below to learn about our leading geographic information science education.
Online GIS Master's Degrees
Online GIS Graduate Certificates