/
/
/
Q&A with USC HSGI Alumnus Eli Ibanga
Q&A with USC HSGI Alumnus Eli Ibanga
Geospatial intelligence (GEOINT) is used across many careers, including in the government, military and within humanitarian organizations. USC alumnus Eli Ibanga was drawn to the versatile nature of the discipline and chose to pursue GEOINT education to build upon his knowledge gained in the military and through previous degree programs.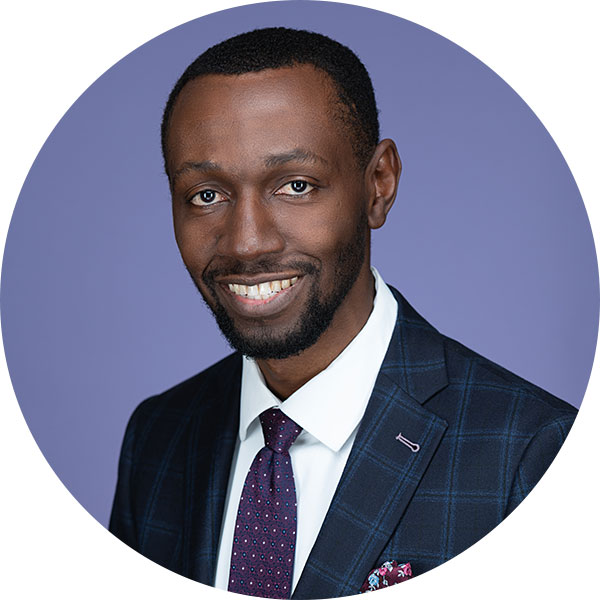 Eli completed both the online M.S. in Human Security and Geospatial Intelligence (HSGI) and Graduate Certificate in Geospatial Intelligence programs with us. We previously spoke with Eli when he was a student in the M.S. in HSGI program, and we wanted to check in with him for his reflections on the programs and his time at USC now that he has graduated.
Describe your background.
My background is in the military/healthcare. I'm a U.S. Army Veteran, with military experience in program and strategy management.
Why did you select USC's online program among others that you may have been considering?
I wanted to study in a field relevant to my previous experiences and degrees. I thought this program would be a great way to apply and expand my knowledge I'd gained in the military and through my prior M.S. in Homeland Security.
Did you have an "aha!" moment where you realized the geospatial intelligence (GEOINT) field was where you needed to be? If so, tell me about that moment.
GEOINT is simply a different kind of analysis. When people say "think spatially," what they mean is to execute analysis, and visualize the data and results in a way that is a bit atypical of other analysis techniques. The key strength of GEOINT is its focus on location and the world around you – that's applicable to any field.
What was the online learning experience like for you? How were your experiences with faculty, staff and fellow students?
The online learning experience was smooth. I have a lot of experience with online degree programs, and I've found that USC's programs are legitimately a cut above the rest. USC does a really good job of bringing online and on-campus students together. In fact, I'm still connected with several of my peers and instructors from my time at USC.
How has the program benefitted you already and how do you foresee it benefitting you in the future?
The program helped to "credential" my work experience, while imparting new knowledge and making me a more desirable candidate and speaker within the field. Several opportunities have been available to me that I wouldn't have had without completing this program, such as speaking at the GEOINT 2019 Symposium on leveraging artificial intelligence for disaster and evacuation preparedness.
What knowledge and skills did you acquire that you found especially valuable?
The ability to speak about geospatial intelligence both at a technical and conversational level. The nature of the material makes that a key skill, and one that is also relevant in the workplace. You may be working with practitioners and analysts, as well as others not as familiar with GEOINT, which is why it's important to adjust your language accordingly.
What would you say was the biggest takeaway from your participation in the program?
Know your craft and continue to learn and grow. To remain up to speed in this field, one must stay engaged and leave their comfort zone to ensure they have the tools needed to be successful. GEOINT is an evolving, dynamic discipline, as we continue to collect large amounts of spatial data and use advancements in technology to conduct analyses.
What advice do you have for those who wish to pursue a career in GEOINT?
Get smart on data science! That doesn't necessarily mean you need to learn to program anything. But you should know enough to be able to have a low-level conversation with anyone that does. In USC's M.S. in HSGI program, you have the opportunity to take a course called Spatial Programming and Customization, which helps to familiarize you and gives you hands-on experience with programming languages used in GIS software, like Python.
What would you like others to know about this program?
The M.S. in HSGI program isn't tailored toward one specific type of candidate. Geographic information science, and by extension, GEOINT, is interdisciplinary. That means there are many different ways to learn how to apply the science, and it is relevant to many different fields and career trajectories. And for students in the online GIS programs, there is a lot of support available through the Spatial Sciences Institute. The staff is very much invested in helping students succeed in reaching their professional goals.
---
About USC's Online GIS Graduate Programs
The University of Southern California offers a comprehensive selection of online GIS programs, including GIS master's degrees and GIS graduate certificates. This gives our students the ultimate flexibility in tailoring their education for their career goals. Click on the programs below to learn about our leading geographic information science education.
Online GIS Master's Degrees
Online GIS Graduate Certificates
---
Request Brochure
Fill out the information below to learn more about the University of Southern California's online GIS Graduate Programs and download a free brochure. If you have any additional questions, please call 877-650-9054 to speak to an enrollment advisor.