>
>
Human Security and Geospatial Intelligence Master's Program Online
The online M.S. in Human Security and Geospatial Intelligence (HSGI) empowers graduates to build leadership skills and pursue management roles within the geospatial intelligence and human security fields. It is ideal for individuals who thrive in highly dynamic, often chaotic environments and who have a passion for risk mitigation, disaster planning and threat response.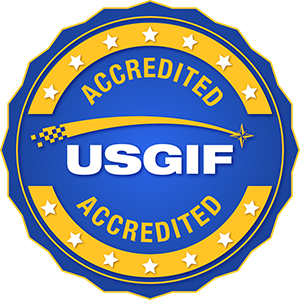 The HSGI master's degree is accredited by the United States Geospatial Intelligence Foundation (USGIF).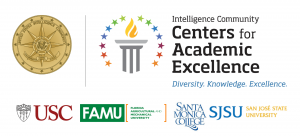 The Office for the Director of National Intelligence has designated the University of Southern California as an Intelligence Community Center for Academic Excellence (IC CAE).
Watch Our Program Overview Video
At the culmination of the program, students take a capstone course in which they work directly with one of USC's GEOINT partner organizations. The capstone coursework will involve an ongoing project, giving students a chance to apply everything they've learned to a real-world scenario.
Request Brochure
Fill out the information below to learn more about the University of Southern California's online GIS Graduate Programs and download a free brochure. If you have any additional questions, please call 877-650-9054 to speak to an enrollment advisor.
M.S. in Human Security and Geospatial Intelligence Career Opportunities
The human security and geospatial intelligence industries have strong need for individuals who understand spatial science within the context of relevant political, social and environmental forces.
Master's-level geospatial intelligence and human security professionals pursue senior-level and managerial careers in government, military and non-government humanitarian organizations. USC's HSGI program prepares students to lead GEOINT initiatives and organizations operating at local, regional, national and international scale.
Learn more about Geospatial Intelligence Careers >
---
Curriculum Summary
The M.S. in HSGI program consists of 34 units, providing knowledge of GIS techniques and data within the context of incident preparation and response. The core courses provide deep understanding of human security issues and how they relate to man-made as well as natural disasters. Students will also learn the critical role that geospatial intelligence plays in military, disaster management and humanitarian operations.
Through the capstone course and two focused practicums, students will also gain extensive industry experience to jumpstart their careers or make considerable leaps within their existing GEOINT careers.
See the M.S. in Human Security and Geospatial Intelligence curriculum for more information.
---
GIS Fieldwork on Catalina Island
Our M.S. in HSGI, M.S. in GIST and graduate certificate in GIST programs will take students on a weeklong fieldwork excursion to the Wrigley Institute for Environmental Studies — a half-acre research and educational campus on Catalina Island.
Learn more about the GIS fieldwork excursion >
---
Veteran Funding
The Dornsife Spatial Sciences Institute proudly offers a variety of funding options for Active Duty and Veteran service members enrolled in online GIS graduate programs.