Learn about online graduate programs from the USC Spatial Sciences Institute by talking with one of our alumni ambassadors. An enrollment advisor would be happy to put you in touch with a USC graduate who can answer your questions about their experiences as a student and in their career. Filter the profiles below by program or areas of expertise to find alumni who share your interests and career goals.
Get in touch with an enrollment advisor to schedule your conversation with an alumni ambassador by emailing gis@usc.edu, calling 877-650-9054 or starting a chat.
---
Filter by Program
Filter by Areas of Expertise/Career Focus
Mine Metitiri
M.S. in Geographic Information Science and Technology
Current Position: Deputy Director of Cancer Registry Programs at Vital Strategies
Areas of Expertise/Career Focus: Geospatial Data Integration, GIS Project Management, Spatial Analysis, Spatial Database
Current City: Seattle, Washington
Hometown: Fort Wayne, Indiana
Undergraduate Degree: Biology - Emory University, 2005
Graduate Degree: Master of Public Health - Saint Louis University, 2011
Hobbies/Interests: Travel, reading, listening to music, playing soccer, running, bicycling, and spending time with family and friends
Meet Mine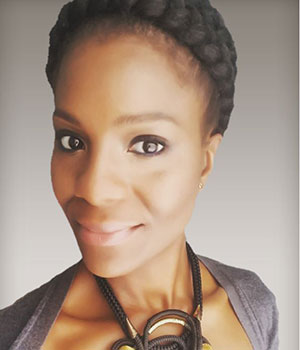 I am passionate about GIS because it allows people to see their data in a way that connects to them more than numbers or labels do. It speaks to a person's heart as well as the mind.
As the Deputy Director of Cancer Registry Programs at Vital Strategies, a nonprofit organization based in New York, I spearhead global initiatives funded by Bloomberg Philanthropies. I work with Ministries of Health in several countries on an initiative called Data Impact—a program aimed to improve health systems and improve data use in the development of health policies across Asia, Africa and Latin America. This includes the development and fortification of population-based cancer registries and GIS training for public health practitioners and decision-makers.
I came across USC's GIS program while earning my master's in public health. As an epidemiologist in training, I wanted to learn GIS and better understand its various applications. I inquired about the GIS certificate program and after speaking to the admissions representative, I was encouraged to apply to the M.S. program instead. The online format was convenient because it allowed me to complete my degree anywhere in the world, which for me ended up being in another country.
Of all the degrees I have earned, this is the one I am most proud of because of all the support I received. The Catalina Island trip to gain hands-on GIS field experience was the most memorable part of the program. I have continued to use many of the skills I learned on that trip in my professional career.
A GIS background has certainly set me apart from others in my profession as an epidemiologist. Even before I completed the degree, it opened doors and gave me an edge over other qualified epidemiologists. My M.S. in GIST has afforded me the opportunity to work in multiple countries on a myriad of projects and with an understanding of technology that surpasses most of my peers.
Devon Munsell
M.S. in Geographic Information Science and Technology
Current Position: GIS Specialist at Hubbell, Roth, & Clark
Areas of Expertise/Career Focus: Cartography, Geospatial Data Integration, GIS Programming and Customization, Mobile GIS Programming, Spatial Analysis, Spatial Database, Web GIS Programming
Current City: Grand Rapids, Michigan
Hometown: Hartland, Michigan
Undergraduate Degree: Urban and Regional Planning - Michigan State University, 2008
Graduate Degree: Urban and Regional Planning - Michigan State University, 2008
Hobbies/Interests: Playing music, snowboarding, skateboarding, camping and hiking
Meet Devon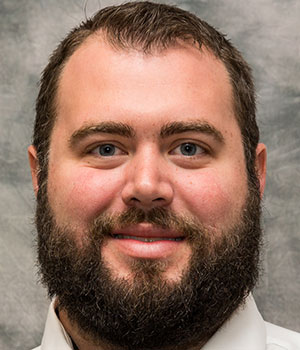 I initially became interested in a GIS career because I knew I wanted something technical and in high demand. I was looking for a flexible program that allowed me to balance work and study. I looked at several schools that offered a GIST program online, but, in the end, the choice was easy. The renowned academic legacy of USC was complemented by admission staff who answered all of my questions and concerns. Living near Los Angeles also helped: I liked the idea of visiting professors and the computer lab in person as needed.
The variety of GIS courses helped me fine-tune my education to my interests. Since I am more technically oriented, learning database administration and programming was key to finding my niche in the GIS field. By learning the basics of Python, C#, HTML, and CSS, I was ready to work with advanced GIS processes fresh out of school.
I was lucky enough to meet a few of my professors in person, which was always helpful for upcoming projects and technical issues. Even online, however, professors utilized blogs, emails and other forms of communication to answer questions and concerns. Peer communication was also vital, and we helped each other tremendously over late night blogs and messages.
Earning a GIST degree and interning while I attended USC prepared me for a successful job search. Before finishing my thesis, I started as a GIS developer for a small consultancy in Springfield, Illinois: GIS Solutions, Inc. There, I built custom web applications and geoprocessing tools for clients. I also learned the basics of SQL and database management. When moving back to my native Michigan, I found a job as a GIS specialist for a civil engineering consultant, Hubbell, Roth, & Clark. I specialize in database administration and application design and serve as the lead administrator for our ArcGIS Enterprise suite and GIS SQL databases.
Adrianna Valenti
M.S. in Geographic Information Science and Technology
Current Position: Presidential Innovation Fellow
Areas of Expertise/Career Focus: Geospatial Data Integration, Geospatial Intelligence, GIS Programming and Customization, GIS Project Management, Spatial Analysis, Spatial Modeling, Story Maps, Web GIS Programming
Current City: Fairfax Station, Virginia
Hometown: Carlsbad, California
Undergraduate Degree: Intelligence Operations - American Military University, 2010
Graduate Degree: Pennsylvania State University and George Mason University
Hobbies/Interests: Triathlons, wine tasting, hiking/backpacking and gaming
Meet Adrianna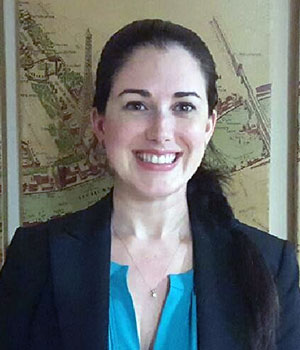 I'm passionate about GIST because it's an art and science all wrapped into one! It helps provide an understanding of phenomena we experience but don't yet comprehend. My major motivations to attend USC were the university's reputation, the quality GIST master's program and the availability of online courses. I was moving around a lot at the time and wasn't able to attend classes in person.
I've attended multiple schools for multiple programs, and my interactions with faculty and peers at USC were unlike any others I've had. I really loved the in-person Catalina class. This was something completely unique to USC, and I really appreciated the hands-on approach. I think this really makes the program stand out and feel more substantial compared to a 100% online option.
Earning my master's has made me more marketable in my industry for senior dream jobs. Five years later, people who look at my resume and qualifications still mention my thesis. I am currently fulfilling roles as senior data scientist and AI project manager, and most recently I've been accepted as a Presidential Innovation Fellow, which has an acceptance rate in the single digits. I'm a tech lead for Booz Allen's Space AI teams, and I'm on a research team for the National Geospatial Intelligence Agency that conducts research on automating analysis and workflows. My career has skyrocketed since graduation.
Shannon Jones
Graduate Certificate in Geographic Information Science and Technology
Current Position: Ph.D. Candidate and Graduate Research Assistant at the University of Denver
Areas of Expertise/Career Focus: Cartography, Geospatial Data Integration, Remote Sensing, Spatial Data Analysis, Spatial Modeling, Volunteer Geographic Information (VGI)
Current City: Denver, Colorado
Hometown: San Antonio, Texas
Undergraduate Degree: Environmental Science - Texas Christian University, 2011
Graduate Degrees:
M.S. in Environmental Science - Texas Christian University, 2013
Ph.D. in Geography - University of Denver, exp. 2021
Hobbies/Interests: Reading, listening to podcasts, and art. I am an avid athlete who competes in 70.3 Ironman events and on the Colorado Masters Swim Team. I enjoy hiking, biking and camping in the Rockies. I also volunteer my time on the GIS Colorado scholarship committee and help with local triathlon and swimming events.
Meet Shannon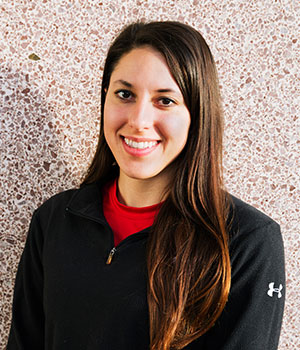 Receiving a GIST certificate through USC had a profound impact on my pursuit of a lifelong dream to break through boundaries as a Latina woman from a lower-income background to become the first person in my family to receive a Ph.D. In 2015, I was working as an environmental consultant, and even though I conducted GPS surveys and created basic maps of environmental features, I knew the technology changed rapidly. I wanted to learn new skills and understand GIST as not just a tool, but as a science. Because I was working both a full-time and a part-time job, I couldn't take in-person courses, so online was the best option for me.
USC's GIST certificate program was the only one that integrated a week-long field mapping component, which is extremely important to be proficient in several career fields. The Field Mapping class and excursion on Catalina Island gave me the chance to apply everything I learned online, including the philosophy of spatial sciences, database management and running spatial analyses to create and present a final group project at the end of the week. I was amazed at the way people from different backgrounds worked together to create very impressive projects. I also loved getting a tour of USC, which provided a tangible connection to the university. I bonded with several of my peers, some of whom I've remained close to throughout the years. It is an experience I will remember for the rest of my life. FIGHT ON!
Despite coming from an educational background in a different field, I am still involved with the local GIS community. After I received my graduate certificate in GIST, I pursued my goal of becoming a professor and researcher to help advance the field of geomorphology in relation to both geospatial sciences and human-environment dynamics. I was accepted into the University of Denver's Ph.D. in Geography in 2016. For my dissertation project, I am researching extreme flooding in a remote coastal community in Nicaragua that was devastated by Tropical Storm Nate in 2017. Using the geospatial knowledge I gained in the certificate program, I've performed geomorphologic analysis of extreme flooding in tropical coastal regions. I have continued to expand my knowledge and understanding of GIS with advanced courses in remote sensing, Lidar, Web GIS and hydrologic modelling using GIS, and have worked on several geospatial research projects.
To give back to the GIST community, I am on the GIS Colorado Scholarship Committee and a USC GIST ambassador. I aspire to continue to provide educational and career training workshops and reach beyond the higher education setting as an active part of my local, national and international community. I want to motivate students to transcend boundaries, and I plan to volunteer my time and a portion of my earnings to provide underprivileged children with STEM kits, STEM camp scholarships, and host free or low-cost workshops to develop computer, GIS, physical science and laboratory skills.
Nathan Novak
M.S. in Geographic Information Science and Technology
Current Position: Leidos, Inc.
Areas of Expertise/Career Focus: Cartography, Geospatial Data Integration, Geospatial Intelligence, GIS Programming and Customization, GIS Project Management, Mobile GIS Programming, Remote Sensing, Spatial Database, Spatial Modeling, Story Maps, Web GIS Programming
Current City: Washington, D.C.
Hometown: San Diego, California
Undergraduate Degree: Environmental Studies - University of California, Santa Barbara, 2012
Other Institutions Attended: Columbia University and San Diego Mesa College
Hobbies/Interests: Building/designing custom drum sets from scratch, music production, sailing and surfing.
Meet Nathan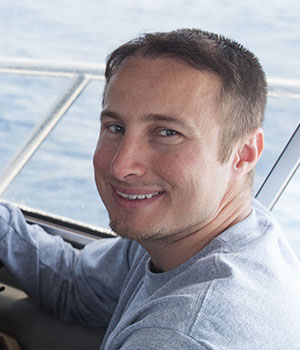 I chose to join the graduate student body at USC because it has always been the premier university for students growing up in California, widely known as the oldest private university in the state which has produced the most loyal alumni network in the nation. The Spatial Sciences Institute is highly recognized for its work domestically as well as abroad, which I learned while traveling to Austria to accept an international award for my thesis work.
Writing my thesis, entitled "Predictive Habitat Modeling of Sperm Whale (Physeter macrocephalus) within the Central Gulf of Alaska utilizing Passive Acoustic Monitoring," was the most memorable part of the program. I used GIS technologies and bioacoustics to bolster the capabilities of marine mammal research. I completed my thesis with support from a team of bioacoustics experts and USC SSI. I received the UNIGIS Thesis Prize and the First Place Thesis Prize for the USC GIST programs in 2016.
My interactions with faculty members and peers in the program were always positive. I've never felt so connected to such a motivated and knowledgeable group of students, along with the most qualified professors I've had the honor of working under. My professors took true ownership in my success. The learning environment provided by the instructors was second to none, from the first day of my curriculum to the day I defended my master's thesis. I now understand that after surpassing the rigor and demands of the education attained at USC, I'm part of the Trojan Family for life.
Since graduating from USC, I have been rewarded with work as a federal contractor specializing in underwater and terrestrial remote sensing. I worked at Orca Maritime as the Geospatial Technologies Manager until 2019, when I made a cross-country move to the Washington DC area to work at Leidos, Inc., a Fortune 500 Department of Defense contractor. In my new role, I specialize in operational airborne survey capabilities on a global scale by utilizing my experience and knowledge learned with the program. Earning my degree at USC has completely changed the trajectory for my career. I have been to over 30+ GIST conferences and have yet to meet one person who isn't truly passionate about the future of geospatial technologies.
Andrew Stickney
M.S. in Geographic Information Science and Technology
Current Position: Senior GIS Specialist for Missoula County
Areas of Expertise/Career Focus: Geospatial Data Integration, GIS Programming and Customization, Spatial Analysis, Spatial Database, Story Maps
Current City: Missoula, Montana
Undergraduate Degree: Geography - University of Montana, 2009
Hobbies/Interests: Playing board games or chess, getting outside with my wife, reading paranormal mysteries and walking our cat on a harness and leash twice a day.
Meet Andrew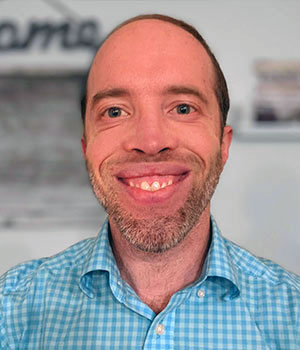 GIST provides powerful tools to help me tell stories about where things happen in the world (and why), and use maps and the geospatial as a platform for solving problems, helping people do their jobs better, and creating a better world and community.
I chose USC because its GIST master's degree program had everything I was looking for:
A flexible online program that allowed me to both study and work full-time from anywhere in the U.S.
A program of study that was grounded in geographic science and theory but also included additional content (e.g. project management) that bridged the gap between the classroom and the job market.
The highly engaging USC admissions staff who answered all my questions about the program and encouraged me to dream big.
I really connected with the curriculum, which allowed me to grow deeper into the geospatial industry and pursue my career passions. The amazing support I received from my fellow classmates and professors, especially those on my thesis committee, was also critical in motivating me to push through the challenges and demands of graduate study and come out on the other side having completed an incredible experience.
The best part of my GIST experience was being in a community of peers and faculty who were as passionate and excited about GIST as I was. All of us (students, peers, and faculty) worked hard to engage in an online environment through interactive group projects, emails and instant messaging back and forth about homework and project ideas. I still keep in touch with my fellow classmates, because you just never know when they might be able to help you out with something.
The keystone of the program engagement was in the Catalina Island Spatial Data Acquisition Field Techniques class, where all the faculty and students joined together for a week at the Wrigley Marine Science Center for an intensive week of in-person learning and community building. Our "mission impossible" was to form groups, design a field data-collection project, execute it, analyze the information, and present it as a professional team to our peers and instructors in less than a week. This experience really solidified our online relationships with our peers and faculty, helped us link the content we learned in class to the real-life application and on-the-ground experience, and challenged us to reimagine what we could accomplish in a short amount of time together.
USC's faculty and staff provided the skills I needed to land my first full-time position as a GIST technician working in Illinois and feel like I could hit the ground running with confidence in my skills and knowledge. As I advanced in my career, earning my GISP certification, planning a GIS conference, mentoring fellow Trojans, and moving to Montana to my current job, I continue to draw upon the skills and lessons I learned in the GIST classroom.
I now provide GIS support to the employees working to create a better Missoula County through community development services, including planning and permitting, parks, trails, sustainability, climate resiliency, community grants, and so much more. I love empowering my staff to ask and answer questions, tell stories, and engage with their community through the power of GIS.
Brandon Brooks
M.S. in Geographic Information Science and Technology
Current Position: Senior GIS Analyst at Safelite Autogroup - Safelite Group
Areas of Expertise/Career Focus: GIS Programming and Customization, GIS Project Management, Spatial Analysis, Web GIS Programming
Current City: Mount Sterling, Ohio
Undergraduate Degree: Organizational Leadership - University of Cincinnati, 2010
Other Institutions Attended: Columbia University and San Diego Mesa College
Hobbies/Interests: Designing maps and other products through laser cutting, volunteering with a local museum to build their website, which includes historic maps overlaid on web layers to allow genealogical research and historical context to the area.
Meet Brandon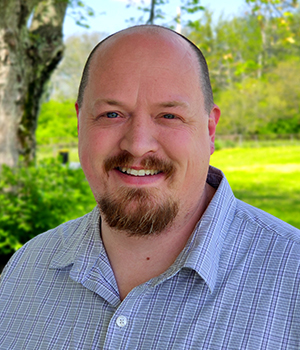 I chose the USC M.S. GIST degree because I knew I wanted a program with a strong brand identity and a degree that would help me build a powerful resume. I didn't have a GIS background before starting the program, and throughout my time at the USC Spatial Sciences Institute, I was able to successfully prepare for a transition into a GIS career.
I worked collaboratively with both faculty and peers on countless projects, and I've developed some lifelong relationships as a result. Beyond the typical experiences in class, I was able to connect with leading GIS professionals during the Esri User Conference, and even have had lunch with classmates while I travel around the country. GIS coursework not only allowed me an opportunity to connect with others, but also prepared me to be a leader in the field.
Not only is USC a top school all around, but my final projects from each class and my thesis built a portfolio of expertise that has been pivotal to my career. In one project, I developed a Python script that helped me build detailed wooden elevation models with my CNC laser cutter. Not only was it a fun hobby, but a future iteration of the Python script was so powerful that it became the basis of a successful Kickstarter project. Now, several years later, I still use some of the code I built in that class to create new wooden elevation models.
While attending USC, I was hired at Esri in Redlands, California and later promoted to a team lead. I am now the lead GIS Analyst for Safelite Group in Columbus, Ohio, and the well rounded education from USC was crucial to getting my current position.
My primary role is to manage and analyze all the spatial data for the real estate team across the US. I build layers to support business decisions about new store locations to support our customers and our growth. I love my job! I get to make maps all day, while also making a positive impact. There is no way I could have gotten to where my career is today without my USC GIST degree.