/
/
/
Here's Why It's A Great Time to be in Geospatial Intelligence
Here's Why It's A Great Time to be in Geospatial Intelligence
While geographic information science (GIS) requires specialized knowledge to be successful, the discipline is full of varied opportunities. Geospatial intelligence (GEOINT) represents one of the dynamic areas where professionals can further evolve their GIS careers, pursuing opportunities with the government, military or with humanitarian organizations.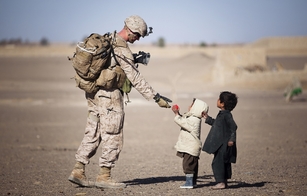 For example, the U.S. Department of Homeland Security and the U.S. military rely heavily on geospatial intelligence to protect civilians and better understand the complex issues facing our country, from military threats to natural disasters. At the same time, humanitarian organizations use GEOINT for mitigating damage caused by a range of events and factors, as well as for effectively sending aid to populations facing crises.
Related content: 4 Uses of Geospatial Intelligence
Individuals who go into geospatial intelligence careers often refer to it as a calling rather than a job, making it an ideal career for GIS professionals who have a passion for protecting people and mitigating damage to critical services and infrastructure. Moreover, with the way GIS technology has evolved to take advantage of the digital age, the GEOINT field is benefitting from rapid advancements in technology that make it an exciting time to get involved.
The examples and information below give a summary of the ways GEOINT professionals can hone their skills and leverage the latest geospatial intelligence trends.
Request Brochure
Fill out the information below to learn more about the University of Southern California's online GIS Graduate Programs and download a free brochure. If you have any additional questions, please call 877-650-9054 to speak to an enrollment advisor.
*
All Fields are Required. Your Privacy is Protected.
Geospatial Intelligence Careers
Disaster Relief
In states like Florida, where flooding is a regular public safety hazard, geospatial intelligence has proven invaluable to helping government officials better plan for and respond to natural disasters. In terms of disaster relief, government officials can use GEOINT in a number of ways such as reviewing flood risk maps that show how water will likely distribute itself during a flood, and even the evaporation rates in a given area.
One of the ways that GEOINT technology has evolved in the last several years is the ability to take in many different types of data. For example, officials working to mitigate flood damage in Florida can leverage characteristics that range from rainfall to the characteristics of aquifers to predict where resources are most needed.
As a result, geospatial intelligence technology helps to tackle the problem from multiple angles. In addition to determining direct mitigation strategies, such as where additional infrastructure may need to be built, GEOINT helps determine a flood's effect on clean water supplies. This can provide crucial information in determining relief efforts, such as effectively distributing clean water supplies while infrastructure is rebuilt.
Disaster and Threat Response
With natural disasters becoming an increasing threat in the United States, geospatial intelligence has proved to be invaluable in disaster response. For example, hurricane evacuation routes are crucial to determining how best to keep civilians safe in the event of a natural disaster. These overlay maps are used by the government to plan the best routes and analyze their effectiveness.
Increasingly sophisticated video processing and image recognition tools have been a significant boon for GEOINT professionals. For example, the Los Angeles International Airport (LAX) uses 24/7 video imaging to track airport security in airfields and terminals, providing more accurate threat response than ever before.
Military Operations
GEOINT professionals have a range of opportunities in the U.S. military when it comes to geospatial intelligence careers. Although roles like geospatial intelligence imagery analysts are specific to the military, the skills they learn are applicable to numerous roles both within the military and in civilian GIS careers.
The U.S. Air Force recently developed new geospatial intelligence technology that makes transmitting data faster and more accurate than ever. In the past, transmitting imagery to military in low bandwidth areas was tedious, requiring that images be sent in small files. Now GEOINT specialists have developed systems that allow images to be transmitted quickly, even in combat zones. The benefit of this technology is that combat strategies can be determined in minutes, even seconds, rather than the hours it would take for images to be transmitted.
If you are interested in technology that helps both military organizations and civilians, hydrography is an advancing science used by geospatial intelligence to understand sea levels, prepare for natural disasters, and chart waterways for both military and commercial purposes. The U.S. Department of Commerce has implemented hydrography using this interactive map, which accounts for shifting water depths and silt channel changes that can quickly alter a ship's course. This new technology takes out the guesswork of charting courses, allowing for safer and more effective transit.
---
National Geospatial-Intelligence Agency
The National Geospatial-Intelligence Agency (NGA) is the leading provider of geospatial intelligence in the United States. NGA services are impressive not only because of their accuracy, but because of the range of technologies they cover. NGA has impacted technology and services ranging from the navigation systems on mobile phones to national policy decisions.
With roughly 14,500 employees, NGA offers a wide range of career opportunities for both military personnel and civilian employees, as well as contract work for certain projects. Much of NGA's work supports federal government decisions on counterterrorism and elements of war combat on a national security level. NGA also provides aid to disaster relief initiatives across the U.S., giving a range of career opportunities for new professionals.
NGA recently made public plans to build a state of the art geospatial intelligence headquarters in St. Louis, MO. Construction of the facility is being overseen by the U.S. Air Force and the U.S. Army Corps of Engineers, with plans of completion set for 2024.
The need for a more robust facility highlights the growing need for geospatial intelligence in military operations and offers a healthy number of new job opportunities in the near future.
---
Geospatial Intelligence Salaries
While GIS professionals often go into the field of geospatial intelligence in the spirit of service, it's always practical to look at making a sustainable income. Geospatial intelligence salaries begin at a median range of $58k for geospatial analysts, and roles within the field offer numerous paths for advancement into senior analyst or management positions. For example, the median salary for a senior intelligence analyst with a GEOINT skillset is $96k.
Opportunities to manage teams of analysts or provide strategic direction for GEOINT organizations provide a path toward leadership, for those with a passion for helping their teams operate at their best.
---
About USC's Online GIS Graduate Programs
The University of Southern California offers a comprehensive selection of online GIS programs, including GIS master's degrees and GIS graduate certificates. This gives our students the ultimate flexibility in tailoring their education for their career goals. Click on the programs below to learn about our leading geographic information science education.
Online GIS Master's Degrees
Online GIS Graduate Certificates