/
/
/
How GIS Has Evolved in the Digital Age
How GIS Has Evolved in the Digital Age
Digital cartography and GIS have had an impactful history in developing our understanding of the world; as GPS World editor Janice Partyka noted, some of the first digital maps were created by the U.S. Census Bureau, which used GIS and digital mapping to better understand population trends within specific Census tracts.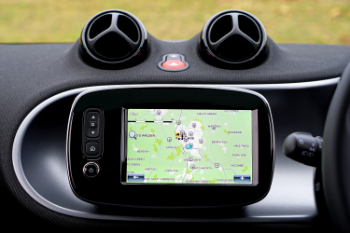 While these developments happened in the 1960s, the Bureau's work helped to showcase the transformative power of digital cartography in relation to GIS; this helped set the foundation for greater government investment and evolution in the technology that makes digital mapping possible. Since then, popular consumer-facing services like Google Maps have contributed considerably to the advancement of GIS and digital mapping.
Given that it has been more than a decade since Google Maps first launched, we thought it would be interesting to look at how GIS is used in digital mapping today and discuss what we can expect for the future.
Related Content: Top GIS Technologies in 2018 & Beyond
Request Brochure
Fill out the information below to learn more about the University of Southern California's online GIS Graduate Programs and download a free brochure. If you have any additional questions, please call 877-650-9054 to speak to an enrollment advisor.
*
All Fields are Required. Your Privacy is Protected.
How GIS is used in Digital Mapping Today
There are countless factors contributing to the evolution of digital mapping and GIS, ranging from increasingly sophisticated geospatial analytics software to market demand for technology, such as smart vehicles, that require unprecedented levels of accuracy. Below are our top four trends in digital cartography and GIS as well as what they may mean for the geographic information science and technology.
1. GIS Technology and Open Source Mapping
One of the most significant contributions of digital mapping to the world of GIS is the speed at which we can update information. For example, open source mapping and geospatial data projects enable anyone with GIS knowledge to create maps, share information and develop insights that can be readily used by people who need them. When combined with technology such as drones and advanced image recognition software, crowdsourced data becomes more easily verifiable and can be supplemented with detailed imagery.
One of the challenges crowdsourced spatial data helps address is the frequency of updating in response to factors such as dynamic social boundaries and geography changes due to disasters or military conflicts.
However, one of the ongoing challenges with open source mapping is the variety of data. Even when considering geospatial information sourced from government agencies, there has historically been a lack of standardization in the formatting of data and how mapped entities are referenced, making it difficult to create a unified view of the truth. This challenge has contributed to a renewed focus on data quality from organizations that are committed to creating open geospatial data communities. As the Open Data Institute noted, for example, organizations such as MapBox have created quality control tools for assessing the validity of a large volume of map changes — approximately 80,000 each day.
2. Image Recognition Becomes a Critical Area for GIS
Advancing image recognition software is a top priority for numerous giants in digital mapping, including Google, HERE Technologies as well as cloud computing leaders like Amazon Web Services. For the past several years, machine learning algorithms have taken center stage for image recognition, due to an unprecedented degree of accuracy. For example, facial recognition research published in 2018 found that algorithms were capable of accuracy that matches professionally trained facial; more interesting, though is that the future appears to be a cooperation between humans and AI—the most accurate results came from humans who were aided by the advanced image recognition algorithm.
One of the current areas of interest for image recognition in conjunction with GIS and digital mapping is the potential for automatically creating structured spatial data just by taking pictures. This would have significant implications for countless GIS applications, including autonomous vehicles, consumer mapping applications, mobile GIS software and geospatial intelligence. As an example of this in practice, Microsoft released 125 million building footprints in the form of open data in June 2018, which was possible due to the company's investment in deep learning, computer vision and artificial intelligence.
The advancement of image recognition and its integration with structured spatial data will ultimately lead to more accurate digital maps, since data updates will be less reliant on manual data entry and less prone to user error.
3. Web Mapping Tools Pave the Way for User-Friendly, Interactive Maps
One of the significant benefits of expanding usage of GIS for industry and consumer applications is the rise of leveraging web tools for building maps. The same qualities that make script libraries like jQuery, markup languages like HTML5 and programming languages JavaScript beneficial for building other web apps make them great for digital mapping and GIS; these tools make it easier for GIS developers to build interactivity into their maps and make the information more easily digestible for people who need it.
Related Content: 4 Historical GIS Projects that You Don't Know About
For example, imagine you wanted to compare the geography, political boundaries and communities of a specific region over several centuries. Web design tools make it relatively easy to create a map with a slider bar tool and filters to watch the evolution of the region over time. Using printed maps, you might have had to look at dozens, if not hundreds, of maps to get the complete picture.
4. Spatial Data Processing and "Edge" Computing for Digital Mapping
One of the broader technology trends that has significant implications for digital cartography and GIS is "edge" computing. While definitions of what edge computing actually is vary, the common theme behind it is the push toward processing at the edges of communications networks.
For example, think about an autonomous vehicle and the challenges that might be involved in processing large volumes of spatial data. If an autonomous vehicle must capture and send geospatial data into the cloud for processing, any disruption in communication or latency in the network could result in a serious accident. In world with edge computing, the vehicle itself would capture, process and analyze the data, lowering risks caused by latency and signal disruptions.
In addition to smarter vehicles, security and urban planning represent key areas of interest for edge computing and GIS.
Video data from large surveillance systems, for example, could be better leveraged to make urban planning and security decisions. One of the common ways to process this data now is to send it a central system that is composed of GPU-accelerated clusters. However, this method is both energy and time-intensive. Research into more efficient algorithms suggests efficiency of processing video data may be improved by a factor of 10, reducing both the energy used and the time it takes to translate raw data into actionable information. This would also help in the creation of software that could do the analyzing within the cameras themselves, instead of relying on transmitting large volumes of data back and forth.
With faster processing and more devices capable of extracting meaning from video data, digital maps can be made that automatically update in real time, and better showcase spatial-temporal elements such as population density at specific times of day or typical patterns of foot and vehicle traffic. This information could then be used to better plan road systems, develop safer evacuation plans or more strategically allocate emergency responders during a disaster.
---
About USC's Online GIS Graduate Programs
The University of Southern California offers a comprehensive selection of online GIS programs, including GIS master's degrees and GIS graduate certificates. This gives our students the ultimate flexibility in tailoring their education for their career goals. Click on the programs below to learn about our leading geographic information science education.
Online GIS Master's Degrees
Online GIS Graduate Certificates