/
/
/
Amazon's Drone Project and GIS
Amazon's Drone Project and GIS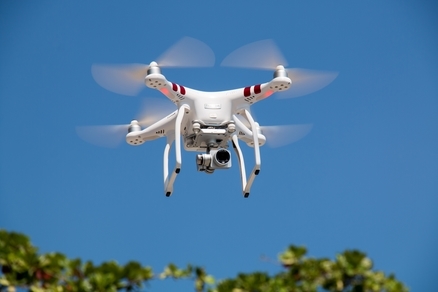 We have previously identified drone technology as one of the top applications of GIS in 2019 and beyond. Amazon's Prime Air drone project, which is expected to officially launch sometime in the next few months, is a perfect example of how several GIS technologies, artificial intelligence and drones have come together to create the future of unmanned aerial systems (UASs). We'd like to take a step back and examine how Amazon approached using geographic information science (GIS) to address some of the common challenges associated with using autonomous aerial systems for mapping and dynamic environment navigation.
Related Content: The Role of GIS in Transportation's Future
For those interested in getting involved in cutting-edge technologies that make autonomous aerial systems possible, USC offers a Graduate Certificate in Remote Sensing and Earth Observation. Students will not only gain exposure to the latest remote sensing technologies and applications, they will be able to develop their core skills in spatial analysis, learning to collect spatial information and arrive at actionable insight.
Request Brochure
Fill out the information below to learn more about the University of Southern California's online GIS Graduate Programs and download a free brochure. If you have any additional questions, please call 877-650-9054 to speak to an enrollment advisor.
*
All Fields are Required. Your Privacy is Protected.
What is Amazon's Project?
Although it remains unclear when exactly the project will take off, Amazon has been creating drones to ensure fast and safe aerial delivery for its Prime service. In the latest prototypes, the drones have the ability to automatically maneuver in the air, respond to obstacles and fly across multiple axes. Amazon is bringing together a few key technologies that play a critical role in modern geographic information science and technology:
Artificial Intelligence
Remote Sensing and Imaging
Photogrammetry
Robotics
Although the use of algorithms in remote sensing and drone technology is not a new trend, Amazon faces a few unique challenges. The company is trying to build entirely autonomous drones to minimize manual interaction and to reduce the cost of its shipping service. Historically, drone technology has included a mixture of remote-controlled and autonomous functionality with limited capability to react to dynamic environments and obstacles. As a result, drones have most often been used in cases where there is little risk of collisions or where the environment is known.
By contrast, Amazon's drones must be able to respond to changes in terrain and in the environment, such as when encountering other moving objects in the air. They must also be able to operate in places that may not be fully mapped and react in environments they've never been in before. While this might have seemed impossible to the first people who used drones for GIS mapping, advancements in image recognition and machine learning, along with faster and lighter on-board processors, have made it more feasible for autonomous drones to navigate chaotic environments.
Related Content: How GIS Has Evolved in the Digital Age
---
Drones and GIS Mapping: An Overview
Drone technology has been crucial in developing modern GIS applications and for maintaining up-to-date GIS data. Remote-controlled drones have played an important role in lowering the cost of collecting geospatial data and making it easier to collect spatial data in dangerous environments. Since the integration of GPS technology with these devices, it has also become possible to fly drones over much larger distances and BVLOS or beyond visible line of sight.
Additional technology advancements — in areas such as artificial intelligence, imaging and image recognition, edge computing and remote sensing — have contributed to enabling drones to be used for more efficient and comprehensive GIS analysis.
For example, in addition to spatial information related to geological structures, modern multispectral sensing technology can also be used to acquire data related to the chemical composition of agriculture in an area. Meanwhile, advances in drone artificial intelligence have made it possible to more accurately track wildlife and other dynamic elements of an environment. Here are a few other examples of GIS analysis that can be enhanced with drones:
Matching consumer demographic data with spatial information about the places they live
Validation of existing GIS data sets
Weather monitoring and prediction
Habitat surveying
Landscape modeling
While these are just a few examples, the potential uses for drones are expanding rapidly, and in conjunction with the evolution of onboard image processing, so is the potential use for AI and GIS mapping software. Furthermore, the weight and size of sensors continues to decline, making it possible for drones to carry far more advanced hardware.
However, there are a few common challenges to using autonomous drones that remain. Here are a few of the big issues and how Amazon is approaching them:
---
Challenges with Autonomous Drone Technology
1. Network Latency
A major challenge associated with making autonomous drones safe to use in highly populated areas is the potential for network disruption. With many artificial intelligence-powered drones, the actual AI is stored via the cloud. Onboard sensors would send image data to a server or another computer to be analyzed, and the AI would send its analysis back to the vehicle.
This means that there is significant potential for delays in the drones' decision-making and ability to make rapid flight adjustments. Historically, the solution to this problem has been to design drones specifically for low latency. In Amazon's case, however, the company's goal is to make its drones "independently safe." To achieve this, much of the analysis happens on the aircraft itself. As Amazon Prime Air VP Gur Kimchi told TechCrunch, this allows the drone to adapt to its environment even when it loses connection to the network.
2. Software Failures
It's already pretty terrible when you get the blue screen of death on your computer, but it would be even more horrifying if the equivalent happened to a drone flying toward your house. Amazon is addressing this problem by including multiple layers of redundancy in its drones. This includes multiple operating systems to protect against critical failures as well as multiple types of sensors, so that if one sensor misses an object in the surrounding environment, others will detect it.
The onboard software is also capable of multiple approaches to GIS analysis, including photogrammetry models, Visual Simultaneous Localization and Mapping (VSLAM), segmentation and classification. According to Kimchi, all the different models and sensors must be aligned, or the drone will either delay delivery or abort its mission until it can safely move into an area.
3. Hardware Failures
In addition to software failures, companies making autonomous drones have to address possible hardware and equipment failures. For example, what happens if a rotor or engine breaks?
The Amazon drones are built with a large degree of hardware redundancy so they can continue operating when one component fails. Another precaution built into the design is that they can glide, meaning that it is possible for them to make an emergency landing if multiple components fail at once. In these scenarios, the drones are programmed to land away from people or objects to avoid injuries or property damage.
---
Amazon and the Future of Drone GIS Mapping
This project presents an impressive milestone for the use of drones across many disciplines. Although Amazon has pulled together these technologies for its business, there is considerable potential for the technology in countless academic disciplines, other business sectors and in government and military operations. As drones powered by artificial intelligence become more cost effective, we will be able to capture GIS data far more efficiently while also gaining the ability to gather a greater depth of information than ever before.
---
About USC's Online GIS Graduate Programs
The University of Southern California offers a comprehensive selection of online GIS programs, including GIS master's degrees and GIS graduate certificates. This gives our students the ultimate flexibility in tailoring their education for their career goals. Click on the programs below to learn about our leading geographic information science education.
Online GIS Master's Degrees
Online GIS Graduate Certificates