/
/
/
Self-Driving Cars and the Role of GIS in Transportation's Future
Self-Driving Cars and the Role of GIS in Transportation's Future
The most recent data from the U.S. Census Bureau shows that approximately 85.7 percent of American workers over the age of 16 commute to work in a car, van or truck, either alone or in car pools. With over 125 million people hitting the road each day, the U.S. transportation system faces critical problems, including congested highways and many fatal collisions. In fact, an average of 102 people die per day due to car accidents, according to the National Highway Traffic Safety Administration.
Tech companies and auto manufacturers are striving to change how we travel by making everyday transportation easier, safer and more efficient. Self-driving vehicles may offer the answer, reliably conveying passengers to their destination with minimal human intervention or room for error. Making that monumental shift requires advanced geospatial technology, and Geographic Information Science (GIS) has a crucial role in carving out the path ahead for autonomous vehicles.
---
How Will Driverless Cars Integrate GIS?
A huge range of factors go into designing a self-driving car capable of evading obstacles on a busy city street and avoiding highway accidents even in inclement weather. That is why automakers are experimenting with a variety of sensors designed to make cars operate as safely as possible. Today's self-driving vehicles use some combination of the following systems: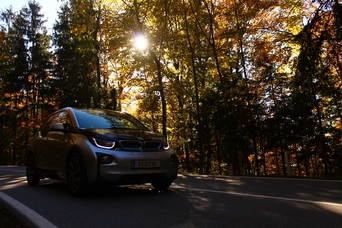 Lidar, which sends out laser pulses to create three-dimensional images of nearby objects, detecting their distance, angle and velocity with tremendous precision
Radar, which uses radio waves to gather much of the same information as lidar, sacrificing detail for the reliability of simpler equipment
Cameras that perceive traffic signs and any relevant colors and textures, like registering when a traffic light changes or another vehicle's brake lights illuminate
Sensors and computer-vision algorithms work together to ensure a driverless car complies with traffic laws and minimizes the chance of collisions. Meanwhile, GIS navigation guides the vehicle along the best route to its destination. Extensive routing data and detailed maps allow a vehicle to proceed securely on its way, especially in conditions of low visibility.
It takes a combination of advanced pathfinding, effective perception and thorough safety measures to ready an autonomous vehicle for the open road. Manufacturers and tech firms are committed to building cars that respond consistently and appropriately to the world around them.
Request Brochure
Fill out the information below to learn more about the University of Southern California's online GIS Graduate Programs and download a free brochure. If you have any additional questions, please call 877-650-9054 to speak to an enrollment advisor.
*
All Fields are Required. Your Privacy is Protected.
Sourcing Geospatial Information
As innovations in self-driving vehicles emerge, it's clear that robust GIS car systems are the basis for successful navigation. Manufacturers must consider exactly what mapping information cars should be able to access and how to obtain that data.
Connecting self-driving cars with high-definition geospatial details for every individual street could be the key to achieving the best results. Digital map providers, including giants like Google's parent company Alphabet, are therefore devoting resources to build 3-D representations of roadways around the world. By deploying test cars to collect the most precise and up-to-date information about conditions on every street, these firms hope to ensure that vehicle systems can focus on processing events as they happen, like when a pedestrian enters the street.
To obtain enough spatial information, tech companies may need some help from drivers. Crowdsourced mapping initiatives get gig economy workers involved in registering the most current details about the streets as they travel. These mappers attach a device to their dashboards or just use the cameras in the phones to help generate maps that note changes like new construction projects or shifting traffic patterns.
However, not everyone thinks that developing the most nuanced possible maps is the best way forward for autonomous navigation. For example, MIT researchers presented an alternate approach, in which cars are initially provided with only basic topographic road maps.
Instead of regularly receiving the most current 3D visualizations, the system uses lidar and other sensors to gather relevant input about its route in real time. Computer models and machine learning inform how the car responds to its environment. This strategy limits a car's need for complex, resource-intensive GIS data but also raises questions about how designers can effectively verify a system's choices and teach it to handle more complex driving situations.
---
Ongoing Challenges for GIS Automotive Navigation Systems
To press forward with creating autonomous vehicles that are dependable and secure enough for mass distribution, organizations will first need to overcome numerous technical challenges. In many cases, effectively implementing geospatial data may be a part of the solution.
Some of the most important issues that researchers, automakers and tech firms are currently grappling with include:
Equipping vehicles to travel on rural roads that offer few visual cues, especially in low visibility
Efficiently storing and sharing the terabytes of data collected by vehicle sensors
Checking the accuracy of all the labels that artificial intelligence generates for objects detected by the sensors
Adapting to variations in driving rules for different cities and countries
Preparing to comply with anticipated new regulations governing the operation of self-driving cars
---
About USC's Online GIS Graduate Programs
The University of Southern California offers a comprehensive selection of online GIS programs, including GIS master's degrees and GIS graduate certificates. This gives our students the ultimate flexibility in tailoring their education for their career goals. Click on the programs below to learn about our leading geographic information science education.
Online GIS Master's Degrees
Online GIS Graduate Certificates