/
/
/
How GIS Can Help with Emergency Management
How GIS Can Help with Emergency Management
In the wake of a disaster, data-driven maps that harness technology can be a true lifesaver. Using geographic information science (GIS) in emergency management can make an enormous impact in mitigating, responding to and recovering from a major event.
After Hurricane Maria hit Puerto Rico in 2017, darkness fell across the island. Residents were left without power for months on end, and food and water shortages were widespread. Many people didn't know where to turn for aid until a small group of volunteers and developers created CrowdRescueHQ Puerto Rico Map. Using this tool, residents could quickly communicate what they needed and emergency responders and volunteers accessing the map could immediately gain new insights on where and how they could help.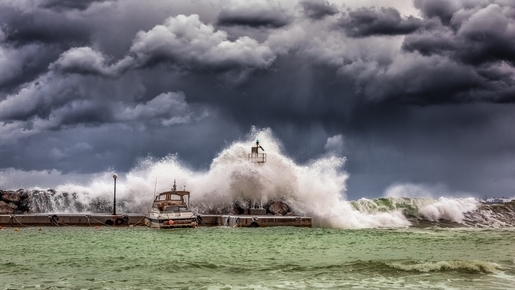 In the aftermath of Hurricane Harvey in Houston that same year, two developers from Crowdsource Rescue had the idea of geolocating calls for help gathered from social media and placing them on a map, so that those who were able to assist could rescue trapped or stranded individuals. To date, the public safety platform has helped more than 50,000 people, not just in Houston, but also in the Carolinas following Hurricane Florence and in Florida following Hurricane Michael.
These examples of using GIS in emergency management to help people after a disaster are reactionary, but GIS can also be used to help residents understand what is at risk before an emergency event takes place.
Take ReadySanDiego.org, for example. The site, which was designed by the San Diego County Office of Emergency Services in partnership with the Department of Homeland Security, alerts residents to hazards that might impact the area where they live. Users simply enter their address, and the site leverages spatial data from The California Department of Forestry and Fire Protection's Fire and Resource Assessment Program to assess the likelihood of diasters like wildfire in their area. It then goes a step further, educating them on these hazards and sharing advice about how to be prepared in case of an emergency.
Like San Diego, other municipalities can benefit from using GIS in emergency response to prepare for hurricanes, earthquakes, forest fires and flooding. Using GIS in emergency management is a safe and secure way of predicting what populations will be impacted, determining how to most efficiently get resources where they're most needed, tracking what progress has been made in recovery and more.
Request Brochure
Fill out the information below to learn more about the University of Southern California's online GIS Graduate Programs and download a free brochure. If you have any additional questions, please call 877-650-9054 to speak to an enrollment advisor.
*
All Fields are Required. Your Privacy is Protected.
How GIS Emergency Response Tactics Can Help
Leading global software company Esri refers GIS technology as "the intelligent nervous system." As a kind of modern mapping approach that takes into account ever-changing inputs in a particular area, GIS technology can be used to respond to emergencies by compiling area-specific and population-derived data. Examples of using GIS in emergency management and response include the following:
Hazard mapping for flood plains and fault lines, fire hazards and more.
Identifying, following and analyzing the potential destruction of hurricanes and other storms as they move through the ocean and onto land.
Using remote sensing to gauge initial destruction to infrastructure in the case of an earthquake or terrorist attack.
Tracking the location and supply levels of support and rescue teams following an emergency event.
Creating computer-generated maps of infrastructure including pipes, sewers, power lines, neighborhoods and other aspects of an area so the map can be referenced in preparedness, emergency and recovery efforts.
Designing databases for populations, businesses, structures, schools and more, which can be consulted in the case of an emergency.
Assigning where emergency headquarters (i.e. police, fire, ambulance) should be located to be able to provide the quickest response time to the highest number of people.
Identifying potentially vulnerable residents in case of a disaster, in terms of age, income and other insights.
Tracking terrorist attacks, sabotage and other threats to national security using geospatial information technology.
Using sensors on airplanes or satellites (remote sensing) to record events such as storms and to integrate that information into a geographic information system.
Assisting with ongoing updates on damage assessment and needs following an emergency event or situation, both in the immediate aftermath (tracking emergency supplies, such as food and water) and longer term (tracking rebuilding of schools, bridges and neighborhoods).
Finding current evacuation routes that have been updated as a result of the disaster at hand.
---
How Can Spatial Analysis Be Used in Emergency Management?
GIS and emergency management revolve around planning, analysis and action. These areas can be improved by spatial analysis, which seeks to analyze patterns of human behavior in a particular location. When used correctly, spatial analysis can help emergency responders act and prevent fatalities, injuries and damage in order to help communities return to normalcy as quickly and safely as possible. Here are some examples of how spatial analysis can be used in emergency management:
Mobilizing rescue teams and sending out real-time alerts to a population at risk of being impacted by a flood, hurricane or fire.
Modeling for emergency situations, such as tsunamis, hurricanes, chemical incidents, oil spills and forest fires, and training emergency management teams to prepare for such incidents.
Combining multiple sources of information such as aerial maps, census tract data, property information, fire station and hospital locations, land use, major thoroughfares, critical infrastructure and reports of downed electrical lines to analyze what's happening during an emergency in order to devise a cohesive response plan.
Determining vulnerable populations following events such as an explosion or chemical spill. Vulnerability can apply to physical means, social means and economic means.
---
Could a Career That Combines GIS with Emergency Management Be Right for You?
Those with a passion for geography, data, analysis, problem-solving and helping people are well-suited for a fulfilling career that pairs GIS and emergency management tactics. Understanding both GIS technology and spatial analysis methodologies allows experts to identify, map and analyze vulnerabilities before they happen, respond to them faster when they occur and aid in recovery.
These skills are also widely applicable to a number of industries that use GIS and may intersect with emergency management. They include but are not limited to environmental sciences and security, homeland security, forestry management, medicine and health, government, transportation, social services, water resources and more. Frequently, candidates for these types of positions excel in dynamic roles where chaos may be a part of jobs that revolve around risk mitigation, threat response and disaster planning.
Other key skills for people interested in pursuing an education and career in GIS include analytical and critical thinking, project management, expertise in spatial modeling, data processing programming, communication and leadership.
---
What Careers Are Available for GIS Professionals in Emergency Management and Disaster Response?
GIS professionals can bring invaluable emergency management skills to any number of organizations including federal agencies such as Federal Emergency Management Agency (FEMA) and the U.S. Army Corps of Engineers. In addition, a number of non-profit and private organizations work in the area of emergency relief and the community and social services industries. Here's a sampling of some of the professions—and earnings— that could benefit from a GIS degree or certificate.
---
GIS Emergency Management Salary Data
| Job Title | Median Salary |
| --- | --- |
| Atmospheric scientists (including meteorologists) | $99,740 |
| Geoscientist | $93,580 |
| Geographer | $85,430 |
| Emergency management director | $59,054 |
| Urban and regional planners | $75,950 |
| Geographic information systems analyst | $59,967 |
| Law enforcement (police/detective) | $67,290 |
| Cartographer/photogrammist | $68,380 |
| GIS technician | $46,200 |
| Conservation scientists and park rangers | $39,131 |
| Surveyor | $65,590 |
| Geospatial analyst | $59,967* |
| Remote sensing analyst | $69,087* |
| Geographic information systems coordinator | $58,022* |
*Average salary reported instead of median
Note: Salary information was informed by U.S. Bureau of Labor Statistics, Burning Glass, Glassdoor and Payscale (2020-2021)
---
About USC's Online GIS Graduate Programs
The University of Southern California offers a comprehensive selection of online GIS programs, including GIS master's degrees and GIS graduate certificates. This gives our students the ultimate flexibility in tailoring their education for their career goals. Click on the programs below to learn about our leading geographic information science education.
Online GIS Master's Degrees
Online GIS Graduate Certificates