/
/
/
Predicting and Managing Chaos: How GIS Has Transformed Natural Disaster Relief
Predicting and Managing Chaos: How GIS Has Transformed Natural Disaster Relief
Hurricanes, wildfires, mudslides and other natural disasters can cause considerable chaos — damaging the environment, affecting communities and complicating rescue/relief efforts. But thanks to GIS, emergency management professionals are better equipped than ever to help communities prepare and recover.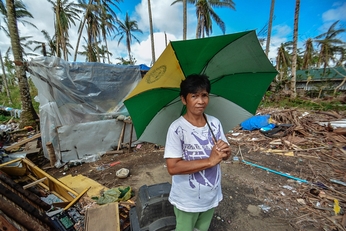 From tracking and predicting disasters to assisting in rescue, recovery and relief efforts, GIS is mitigating risk and damages, and saving lives.
USC's online graduate programs in GIST can equip you with the future-focused spatial expertise to manage disasters — and more accurately and thoroughly prepare for them before they happen.

Request Brochure
Fill out the information below to learn more about the University of Southern California's online GIS Graduate Programs and download a free brochure. If you have any additional questions, please call 877-650-9054 to speak to an enrollment advisor.
*
All Fields are Required. Your Privacy is Protected.
Hazard mapping hurricanes before landfall
Collecting actionable GIS data before and after a major hurricane can completely alter how a region recovers from wind, water and storm damage. In states such as Florida, the Carolinas, Louisiana and Texas, compiling data for hazard mapping and rescue measures is a top priority—and it makes a measurable difference.
When Hurricane Irma hit, the city of Key West, Florida, had an extensive preparation strategy and a damage control plan for after the storm passed. City officials downloaded map-based data from previous disasters before the storm hit to prepare.
After the region lost power, the data helped keep relief efforts moving and helped officials strategize about how to help the disaster-strewn city recover.
City officials used the Collector mobile application that's part of Esri's ArcGIS software suite to create a debris assessment so they could assess and rate each vulnerability. The program allowed them to drop a pin on a map and detail the damage in that area, including photos. This helped them send FEMA and construction teams to the hardest-hit locations.
Since then, Key West's Emergency Operations Center has used ArcGIS to map the footprints of every building in the city. Continuing to collect data allows the city to develop a live map of the buildings, streets and even vegetation, meaning they can record and report future damage faster and smoother.
In the future, they plan to implement a crowdsourcing feature that allows residents who stay through a storm to report damage through a streamlined process.
---
Geo-targeting regions in the path of mudslides
While states on the West Coast may not have to worry about hurricanes, they do deal with devastating mudslides caused by intense rainfall, snow or earthquakes. Geospatial software can prove useful in these situations, as it has the functionality to:
Illustrate actual and potential debris flow in mudslide-heavy areas
Provide pertinent demographic information for impacted areas such as population density
Warn residents of potential danger
Display the impact of heavy rain or flooding on the terrain in a given area
With these insights, residents can more accurately assess whether they are in danger, and rescue workers can map out and prioritize assistance to areas with the greatest potential risk or greatest concentration of people.
---
Limiting the destructive impact of wildfires
Wildfires are unpredictable, but GIS technology can provide tools to monitor, forecast and minimize their impact.
The conditions affecting a fire can be collected in real time via UAVs and drones, and compiled alongside predictive data like wind speed and direction. The data is then fed into GIS software specifically customized for firefighters, giving them information they need to make decisions and act proactively. Real-time maps can also alert residents to impending danger, and show safe escape routes.
GIS in the aftermath of a natural disaster
Even after a disaster has passed, the work isn't over, and GIS plays a vital role in recovery. Real-time mapping that leverages remote sensing technologies such as LiDAR allows emergency management professionals to check safety, monitor cleanup progress and determine if roadways are open.
Once emergency management professionals know which routes are compromised, they can use digital maps to find safer routes. GIS software makes these decisions quick and efficient and helps get safety teams, residents and businesses back on their feet.
---
GIS and cost mitigation
In 2017, 16 weather-related disasters produced losses of more than $1 billion each, according to the National Oceanic and Atmospheric Administration.
GIS technology can help cities that have been affected by natural disasters secure relief funding. In the case of Hurricane Irma and Key West, Florida, GIS tracking and reporting ensured the city got its costs reimbursed by the Federal Emergency Management Agency (FEMA) and received the amount of funding needed to make renovations.
FEMA also awards points that translate into discounts on flood insurance premiums to communities that prove they have taken measures to become more flood resilient. Using GIS technology—communities have the proof FEMA requires for the discount. Key West has secured a 15-percent reduction for both the city and its citizens due to the amount of action taken and documented.
---
Learn disaster management from a global leader
GIS technology is paramount to predicting the impact of disasters, managing their effects in real time or near real time, and recovering in the aftermath. USC can put you at the forefront of disaster management with an online master's in geographic information science and technology taught by world-class faculty.
The program features courses in Spatial Modeling, Spatial Analysis and Remote Sensing to connect you to the future of disaster management through GIS.
Visit the online GIST certificate and program page to learn all the ways you can develop into a spatial expert.
---
About USC's Online GIS Graduate Programs
The University of Southern California offers a comprehensive selection of online GIS programs, including GIS master's degrees and GIS graduate certificates. This gives our students the ultimate flexibility in tailoring their education for their career goals. Click on the programs below to learn about our leading geographic information science education.
Online GIS Master's Degrees
Online GIS Graduate Certificates