/
/
/
The Fundamentals of Cartography
The Fundamentals of Cartography
At its core, cartography is about the visual representation of a space or place. While this may seem like a simple concept at first glance, it can become infinitely complex when you consider the number of choices that have to be made when creating a map.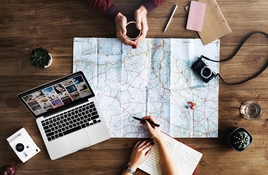 In addition, modern mapmakers have a greater variety and a much greater volume of data to leverage; because of this complexity, we wanted to look at the fundamentals of cartography and explore the key elements of mapping as well as the purpose and usage of different kinds of maps.
Related Content: Read more about our cartography and visualization course.
Request Brochure
Fill out the information below to learn more about the University of Southern California's online GIS Graduate Programs and download a free brochure. If you have any additional questions, please call 877-650-9054 to speak to an enrollment advisor.
*
All Fields are Required. Your Privacy is Protected.
Fundamentals of Cartography
The possibilities for mapmaking have expanded considerably alongside advancements in digital mapping. For example, GIS and cloud computing have made it possible for many more map designers to access sophisticated mapping software and huge volumes of spatial information that would have been too expensive or too cumbersome to store prior to the maturity of the cloud market.
Perhaps one of the underrated benefits of these advancements is that lowering the barrier to entry into cartography has made it possible for maps to be created for a wide variety of purposes, ranging from maps that help aid disaster relief workers to maps created just for fun and to challenge cartographers' creativity.
Despite the dramatic evolutions in how maps are designed and what kinds of information it is capable to show with them, many of the fundamentals of cartography remain the same as they did decades ago. For instance, the 1969 book Fundamentals of Cartography highlighted the fact that cartography brings together geographic science, technical and artistic skills. This remains a key combination of skills for modern cartography.
Because maps are tools for communication, cartographers must be able to assess spatial data, determine its relevance to the information they want the viewer to understand and determine the best way to showcase that information. Furthermore, creative skills are essential to displaying the appropriate information in a user-friendly manner and to make the information easily understood by map viewers.
This aligns with the fundamental aspects of cartographers' work outlined by the U.S. Bureau of Labor Statistics, which include:
Collect geographic data
Create visual representations of data, such as annual precipitation patterns
Examine and compile data from ground surveys, reports, aerial photographs, and satellite images
Prepare maps in digital or graphic form for environmental and educational purposes
Update and revise existing maps and charts
One of the major elements that have changed in cartography is the scope and possibilities for mapping formerly inaccessible regions of the universe – mapmaking used to be primarily concerned with portraying the geography of Earth due to limitations in our ability to collect information about the geography of other planets. However, the use of GIS in space missions has helped create maps of the surface of Mars, and it is likely that our maps of the universe will grow more detailed and more expansive as our capabilities evolve.
---
Types of Cartography
While maps are designed to show information about the world, the type of information and how it is displayed can vary dramatically, even when considering different maps of the exact same region. For example, a geographical map of an area would serve a different purpose from one that showed the biodiversity in the same region.
The Intergovernmental Committee on Surveying and Mapping identifies several broad types of cartography:
General Reference
Topographic Maps
Thematic
Navigation Charts
Cadastral Maps and Plans
Some of the categories of maps above differ primarily in the level and type of detail they provide. For example, general reference maps and topographic maps are both designed to show features within a given area, but topographic maps include elevation details. There may also be overlapping categories within a single map; a topographic map may also have elements more aligned with thematic maps, such as weather or geological information.
---
About USC's Online GIS Graduate Programs
The University of Southern California offers a comprehensive selection of online GIS programs, including GIS master's degrees and GIS graduate certificates. This gives our students the ultimate flexibility in tailoring their education for their career goals. Click on the programs below to learn about our leading geographic information science education.
Online GIS Master's Degrees
Online GIS Graduate Certificates