/
/
/
How Remote Sensing Saves the Earth
How Remote Sensing Saves the Earth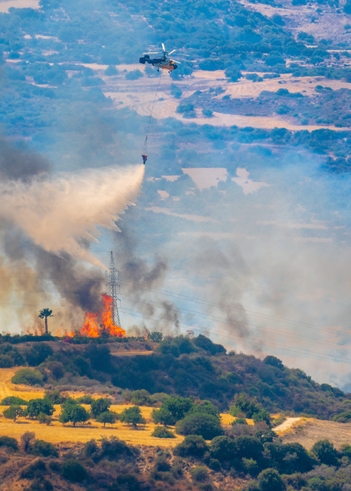 Remotely gathering spatial information is a powerful means to understand and respond to urgent humanitarian and environmental problems. But, for many years, it was challenging to get the information required to take action as remote sensing data was limited and difficult to acquire. Now, with the combination of new data sources, faster analysis and products that deliver findings to key decision makers, it's become practical to use remote sensing data and tools for a broad range of applications.
Nanosatellites are a key aspect of this advancement. The University of Southern California has had experience in developing and launching nanosatellites, including CAERUS, a component of the 2010 MAYFLOWER satellite, and an NVIDIA Jetson nanosatellite in collaboration with Lockheed Martin in 2020. Less expensive than traditional satellites, they can gather atmospheric data through radio occultation, a remote sensing technique for measurements like temperature and pressure. Dr. Thomas Yunck, founder of California-based GeoOptics, is leading the charge with his constellation of small satellites.
"We're overturning a decades-long paradigm of having many government-owned assets in space and shifting to privately owned assets, where small companies are gathering, generating, and delivering data to governments. Over the next 10 to 15 years, everything about remote sensing is going to change," Yunck said in 2019.
The University of Southern California created the online Graduate Certificate in Remote Sensing for Earth Observation in part due to these advancements in geospatial technology and remote sensing. Providing access to cutting-edge software, the 16-unit program prepares students to go from data to decisions: from data collection, to data processing, to data dissemination.
Remote sensing is valuable in many fields, such as in archaeology to detect ruins. However, in this article we're focused on how spatial information aids us in protecting the planet and combating climate change. Below are several remote sensing applications to detect and address unwanted changes on the Earth:
Request Brochure
Fill out the information below to learn more about the University of Southern California's online GIS Graduate Programs and download a free brochure. If you have any additional questions, please call 877-650-9054 to speak to an enrollment advisor.
*
All Fields are Required. Your Privacy is Protected.
Disaster Risk Management
As defined by the United Nations Office for Disaster Risk Reduction, disaster risk management and response aims to "prevent new disaster risk, reduce existing disaster risk and manage residual risk, contributing to the strengthening of resilience and reduction of disaster losses."
Globally, extreme weather events are increasing, caused in major part by climate change. As we have become better at tracking these storms, the number of related deaths are decreasing, but there is still more to be done, and the importance of disaster risk management is not lost on officials. The Sendai Framework was established in 2015 at the Third UN World Conference on Disaster Risk Reduction in Sendai, Japan. Its purpose is to protect against current and new disaster risks by 2030 through seven components, including bringing down the number of people killed and number of people impacted by disasters, as well as improving "availability of and access to multi-hazard early warning systems."
The International Charter: Space and Major Disasters, which began in November 2000, comprises 17 global members, including the United States Geological Survey (USGS) and National Oceanic and Atmospheric Administration (NOAA). Additional partners, like the company Planet, aid in the Charter's mission by providing remotely sensed satellite data and delivering insights to consumers. Authorized users are able to activate the Charter, requesting the supply of data and support for major disasters. Since its founding, there have been over 730 global Charter activations for events including chemical factory explosions, fires, floods and oil spills.
In Europe, researchers at the Joint Research Centre (JRC) of the European Commission are working to lessen the impact of disasters and provide assistance when there is a crisis. The team relies on the use of the Global Human Settlement Layer (GHSL), a tool they've developed to analyze satellite imagery monitoring where people are living, along with their migration patterns. Understanding where people are located in relation to the path of natural disasters helps researchers predict how the population will be affected and do their best to reduce damages. After a natural disaster strikes, images of the devastation can be reviewed to decide where help is initially most needed.
View our webinar recording for more on GIST research and practice for natural disaster relief.
---
Ecology and Conservation
There are many opportunities to bring together the fields of remote sensing and ecology. With the number of tools and level of accessibility, ecologist Nicholas Murray notes it's a perfect time to use remotely sensed data for ecology research. NASA, the U.S. Geological Survey and the European Space Agency all offer free data for analysis, while commercial alternatives are also available. Murray recently utilized Google Earth Engine to view over 700,000 satellite images of intertidal zones over the years in under a week, a task he was able to complete much more quickly than when he previously had to rely on manual analysis.
In another recent study, ecologists used tools from the U.S. Oak Ridge National Laboratory DAAC to examine vegetation on the Andaman Islands. The researchers discovered that plant life deteriorated more rapidly in regions where elephants and spotted deer had been brought in.
There is a strong link between remote sensing and conservation planning. LiDAR (light detection and ranging) has aided in mapping coral reef structures and assessing the number and types of fish living there. Each housing around 4,000 varieties of fish, along with many other species, protecting coral reefs is extremely important for a number of reasons: They supply fisheries; provide a draw for tourism; and shield us from waves, storms and floods.
SmallSats have the potential to revolutionize ecology and conservation efforts. Traditional satellites have primarily been used in this field, but 1,400 nanosatellites were deployed as of January 2021, and there are many more launches planned. Less expensive than the traditional model, nanosatellites also offer high-resolution data that's likely to be more accessible to ecologists and conservation biologists. What's more, nanosatellites will make more frequent passes than traditional satellites do, allowing for continuous tracking.
---
Forest Firefighting Operations
Though wildfires can be classified as natural disasters, just 10 percent begin organically. Since it's typically dangerous or impossible to collect data, remote sensing is crucial in firefighting efforts. NASA and the U.S. Forest Service use sensors on airplanes and drones to track fires and predict where the flames are headed next by considering variables like wind. Remote sensing data also allows researchers to monitor areas at a greater scale than they could on the ground.
Employees at GeoAcuity, a geospatial consulting firm founded by USC adjunct associate professor Jason T. Knowles, were able to assist in California's North Complex and CZU August Lightning Complex fires. Unmanned aerial systems collected data, allowing the team to process images and provide them to stakeholders within one hour of the flight.
---
Improving Quality of Life in Developing Countries
Remote sensing can be used to assist developing countries, including expanding electricity access. Earth observation is helpful in:
Assessing current utilities
Evaluating population density to determine needs
Planning grid infrastructure for minimal impact on the population, roads and geography
Another advantage is that open access remotely sensed data is typically less expensive than ground-based data. One example is remotely sensing "nighttime lights." NASA's open access Black Marble products allow researchers to filter out the moon and view artificial, human-created lights so they can view existing population centers and electric systems.
---
Land Cover
Remote sensing of the environment, including monitoring land cover — water, soil, vegetation, etc. — and how it has changed over time is important in tracking the effects humans have on the environment, along with natural shifts. Viewing this data can help managers decide on the areas most in need of preservation and protection.
One example is NASA Earth Observatory satellite images produced over time for Walker Lake in Nevada. Over the past 100 years, the lake has lost 90% of its volume because of "unsustainable irrigation practices coupled with extreme climate-change related droughts." The Lahontan cutthroat trout is now unable to live there.
Satellite imagery cuts back on costs and the time it takes to collect this information compared to relying on ground-based data.
---
Ocean Resources
One use of remote sensing for oceans is to track changes in sea ice levels. The Greenland and Antarctic ice sheets are rapidly melting due to increasing air and ocean temperatures. According to data captured from NASA's ICESat and ICESat-2, over 5,000 gigatons of ice melted from both areas between 2003 and 2019, causing sea levels to rise 14 millimeters. To help put the magnitude of just one gigaton into perspective, NPR notes that it is "enough to fill 400,000 Olympic-sized swimming pools."
Scientists continue to monitor data from ICESat-2 to help determine a timeline for the liquefying ice and the impact it will have on coastlines worldwide. The shrinking ice also affects the planet in numerous other ways, including endangering wildlife like polar bears and snowy owls, releasing climate-warming methane and opening up additional water routes.
Remote sensing technology can also monitor ocean circulation and temperature. Created by Raytheon Intelligence & Space, the Visible Infrared Imaging Radiometer Suite (VIIRS) instrument on the Suomi NPP satellite provides ocean temperature readings on a daily basis. That knowledge can aid scientists in preparing for El Niño and La Niña climate patterns, as well as in combating the effects on marine life.
---
Soil Erosion
Soil erosion data from remote sensing can inform efforts to alleviate soil loss. Impacts of soil erosion include intensified flooding, along with increases in polluted waterways. The U.S. Department of Agriculture provides training on the use of remote sensing for soil surveys.
The National Cooperative Soil Survey (NCSS) pursues digital soil mapping to "facilitate the rapid inventory, re-inventory, and project-based management of lands in a changing environment." Digital soil maps use raster layers, composed of pixels, rather than vector images, enabling soil scientists to develop more precise depictions of the land. Using machine learning models, collected geospatial data is sorted to aid in identifying spatial patterns.
GeoOptics will also contribute by launching about 50 new SmallSats known as CICERO-2, Community Initiative for Cellular Earth Remote Observation, from 2022-2027. The satellites will collect data on soil moisture and other environmental conditions for both government and commercial customers.
Data on soil composition is also important to farmers. Drones provide information on soil conditions so farmers can determine how to cultivate the land, allowing for a proactive approach to agriculture. Farmers can also take advantage of the data to determine what new crops would thrive and where on the land they should be planted.
---
Urban Growth Monitoring
Understanding how urbanization alters the environment, as well as identifying ways to lessen the impact, is an important area of study. It's estimated that nearly 70% of the world will live in cities by 2050. Remote sensing tools can be used to monitor changing landscapes.
One study tracked the growth of Jeddah, Saudi Arabia from 1973-2014. It was found that, over the 41 year period, urban sprawl increased over 68 miles, influencing the land use but not majorly affecting land surface temperature.
Pollution is another concern for growing cities. Though they comprise less than two percent of the Earth's surface, cities are responsible for the creation of over 60 percent of greenhouse gases. Several cities in the United States, including Los Angeles, New Orleans, New York City and Pittsburgh, have committed to the use of renewable energy rather than fossil fuels. VIIRS, in addition to monitoring ocean temperature, can also be used to track air quality and calculate changes over time.
---
Targeting a Career in Remote Sensing
If you're ready to help protect the planet by analyzing aircraft and satellite data, it's time to explore remote sensing careers.
Remote sensing scientists and technologists may work for the military, government or in the private sector. Beyond data analysis and reporting on key insights, they are often tasked with developing new techniques and tools, like sensor systems and creating maps. According to Burning Glass Labor Insight, DevOps, Python and software development are among the skills that come with a salary premium for these positions. The top five locations with the most job postings for remote sensing scientists and technologists over the past 12 months include: California, Texas, Florida, North Carolina and Virginia.
A remote sensing certificate program will prepare you for leadership positions in the field, requiring less time and fewer credit hours than it would take to earn a remote sensing degree. You'll gain the knowledge you need to leverage new data sources and methodologies to improve the efficiency and effectiveness of how you use remotely sensed imagery.
In the Graduate Certificate in Remote Sensing for Earth Observation at the University of Southern California's Spatial Sciences Institute, you will not only learn the principles of remote sensing and earth observation, but you'll also delve into non-conventional data sources like mobile devices, Twitter feeds and text-scraping. There are also opportunities to gain hands-on experience, including throughout the optional Catalina Island fieldwork excursion. During a recent trip to the island, students were able to design and execute a P4 drone flight plan around Fisherman's Cove. They then processed the data collected and turned it into three-dimensional imagery.
---
About USC's Online GIS Graduate Programs
The University of Southern California offers a comprehensive selection of online GIS programs, including GIS master's degrees and GIS graduate certificates. This gives our students the ultimate flexibility in tailoring their education for their career goals. Click on the programs below to learn about our leading geographic information science education.
Online GIS Master's Degrees
Online GIS Graduate Certificates