/
/
/
GIST in the Military: From the Air Force to the Space Force
GIST in the Military: From the Air Force to the Space Force
We're celebrating our student and alumni veterans by sharing stories about their geospatial work in the military and experiences in the GIST programs.
Jillian Combs began the online Master of Science in Human Security and Geospatial Intelligence (HSGI) in May 2019 with a mission: complete the program in just one year while also working full-time. Combs met that goal, graduating in May 2020, despite facing major life events along the way.
Now employed by the United States Space Force, Combs is most appreciative of the skills she acquired in writing briefs, thinking critically and knowing how to recognize biases in data in the HSGI program. Below, she shares details on her favorite projects and program experiences, along with tips for anyone else who may be considering completing the HSGI program on a condensed timeline.
Read our other recent Q&A with Army veteran and Graduate Certificate in Geographic Information Science and Technology (GIST) and Master of Science in GIST program alumnus Chris Sanders.
View our previous military student and alumni Q&As.
Request Brochure
Fill out the information below to learn more about the University of Southern California's online GIS Graduate Programs and download a free brochure. If you have any additional questions, please call 877-650-9054 to speak to an enrollment advisor.
*
All Fields are Required. Your Privacy is Protected.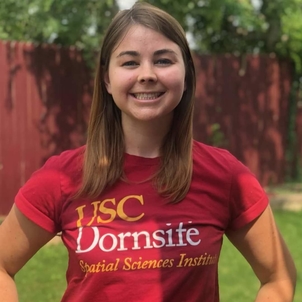 How did you get involved with geospatial work in the military?
I served 2.5 years active duty in the Air Force, and when I got out I wanted to return to a civilian position. I found and applied for a PALACE Acquire internship as an intelligence specialist. I was accepted at the Peterson Space Force Base location in Colorado Springs, Colorado, and started work there July 2021.
Why did you select the University of Southern California's M.S. in HSGI program among others that you may have been considering?
I chose the HSGI program because I wanted a high-quality degree program that I could complete entirely online and within one year. The admissions staff was incredibly helpful and ensured every question and concern of mine was answered in a timely manner. I also liked how veteran friendly the program is, and that several of the faculty members had served in military intelligence positions.
What was the online learning experience like for you?
It was a bit of an adjustment learning to use Blackboard and the virtual desktop, but there were very thorough how-to guides to make the transition much easier. I also really appreciated how helpful and understanding the professors were if a technical problem – or even big life event – came up during an assignment. They were also incredibly easy to communicate with over email, and I never had a problem receiving help despite being an online student.
How were your experiences with faculty, staff and fellow students?
I had wonderful interactions with everyone throughout this degree. I really enjoyed the Catalina Island fieldwork excursion where I got to meet my classmates in person, as well as the GEOINT Symposium.
I had four or five of the nine classes with one student. We became friends and even met up when I was in his city for a conference. I also keep in contact with several of my professors who helped me apply for a PhD program, and I have told them about my current job, as many HSGI students would excel in a similar position. I even ran into one of my capstone partners at a training event for my new job.
How has the program benefited you?
The alumni network has been wonderful to be a part of. The skills and knowledge I learned throughout the program have also been beneficial; the biggest advantage I have noticed in my new job is how comfortable I was starting the position, in reference to the Intelligence Community and many of the baseline methods used.
What has been one of your favorite GIST projects to work on?
I really enjoyed my capstone project, which involved helping to create a remotely piloted aircraft course to be taught at USC. I was able to utilize my military background and learn how to gather more real-time data.
What would you like others to know about this program?
This program is amazing and very doable on a condensed timeline, but you must be on top of your assignments and deadlines. I completed the M.S. in HSGI in a year by taking three classes every semester while working full-time, moving twice and getting a major surgery, but I had to be very vocal about my situation and make sure I was able to plan around some of the significant life events that came up. The professors were always there for me to ask questions. They were understanding when I was attending school related events, like the GEOINT Symposium and Catalina Island, allowing extensions on assignments so I could focus on gaining the most from those experiences.
---
About USC's Online GIS Graduate Programs
The University of Southern California offers a comprehensive selection of online GIS programs, including GIS master's degrees and GIS graduate certificates. This gives our students the ultimate flexibility in tailoring their education for their career goals. Click on the programs below to learn about our leading geographic information science education.
Online GIS Master's Degrees
Online GIS Graduate Certificates