/
/
/
GIST in the Military: The Pervasiveness of GIS
GIST in the Military: The Pervasiveness of GIS
We're celebrating our student and alumni veterans by sharing stories about their geospatial work in the military and experiences in the GIST programs.
Army veteran and Graduate Certificate in Geographic Information Science and Technology (GIST) program alumnus Chris Sanders completed the certificate in 2018, but he didn't stop there.
"I felt that finishing the program out and getting my M.S. was the best thing for me both personally and professionally. It was a goal that I had set years before, and it was very important and fulfilling for me to complete that goal," he says.
Sanders completed the Master of Science in GIST program in 2020. In the following article, Sanders describes his positive experiences with faculty, staff and fellow students in the master's and certificate programs, as well as his predictions for the future of GIS.
Read our other recent Q&A with Air Force veteran and M.S. in Human Security and Geospatial Intelligence program alumna Jillian Combs.
View our previous military student and alumni Q&As.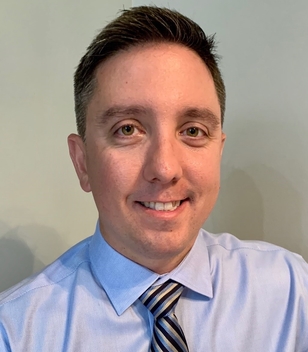 How did you get involved with geospatial work in the military?
As an airspace manager, I used software programs to ensure close combat and combat support missions were all properly sequenced within airspace.
How do you use GIS in your current role?
I'm a crisis response manager at Verizon. We use maps in several different ways, but primarily to manage our inventories of equipment and to coordinate our responses after a disaster to best assist our customers.
Why did you select the University of Southern California's programs among others that you may have been considering?
After reviewing the colleges that offered GIS programs, USC's was hands down the most comprehensive program.
What was the online learning experience like for you?
It was great because it allowed me to continue working. You have to have a certain level of diligence to make sure that you meet the course timelines and due dates. It's very easy to fall behind if you don't stay on top of things.
How have the programs benefited you?
They have given me the skills and knowledge I need to understand most GIS applications, from basic to advanced. I'm also able to understand if a program is at the right level for my team to use. Any salesperson will tell you their GIS software is what you need to get your job done, but actually being able to use that software and immediately have a grasp of what it can and cannot do is invaluable.
What knowledge and skills did you acquire that you find especially valuable?
I learned so much more about cartography and how to really read and understand a map; now I find myself critiquing any map I see. These cartography skills also come in handy with my career because I have to respond to areas hit by natural disasters, and being able to recognize an area that has been destroyed based off of topography and cartography is very helpful.
What has been one of your favorite GIST projects to work on, either in USC's programs or in your career?
The Catalina excursion was one of the best times I've ever had working on a project. It was both a great learning experience as well as an opportunity to get to know some of my peers. The students and faculty made the time spent there memorable, and being on an island where you can snorkel and do other things in your free time is a definite plus.
What would you like others to know about these programs?
GIS, and the way these systems impact our lives, is only expanding. Knowing how data is used to make laws, conduct studies, and perform a census, among other things, is becoming more and more crucial. Understanding these systems is a skill that, in my opinion, is only going to become more of a "need" rather than a "nice to have."
---
About USC's Online GIS Graduate Programs
The University of Southern California offers a comprehensive selection of online GIS programs, including GIS master's degrees and GIS graduate certificates. This gives our students the ultimate flexibility in tailoring their education for their career goals. Click on the programs below to learn about our leading geographic information science education.
Online GIS Master's Degrees
Online GIS Graduate Certificates
---
Request Brochure
Fill out the information below to learn more about the University of Southern California's online GIS Graduate Programs and download a free brochure. If you have any additional questions, please call 877-650-9054 to speak to an enrollment advisor.