/
/
/
4 Types of People Who Will Make it in GIS
4 Types of People Who Will Make it in GIS
Careers in geographic information science (GIS) are full of exciting problems that can be solved with state-of-the-art tools and methods. GIS professionals have opportunities to lead projects, drawing on insights from geospatial data to achieve results. By effectively applying spatial reasoning, experts can strategize for business growth, make new archaeological discoveries, drive improved outcomes for public health or plan urban development.
It takes a combination of technical knowledge and soft skills to address these complex issues and answer the questions facing today's organizations. That means geospatial problem-solvers must be individuals who have hands-on experience and are prepared to stay up-to-date on the latest techniques. Here are four types of people who are likely to possess some of the essential GIS skills they need to succeed in these careers:
Request Brochure
Fill out the information below to learn more about the University of Southern California's online GIS Graduate Programs and download a free brochure. If you have any additional questions, please call 877-650-9054 to speak to an enrollment advisor.
*
All Fields are Required. Your Privacy is Protected.
1. Programmers
If you're intrigued by spatial problems and already know how to code, you could be well on your way to building a career in GIS. Programming has emerged as one of the basic GIS skills necessary excel in the field, allowing experts to automate processes that would otherwise be time-intensive and highly repetitive.
There are many programming languages that GIS professionals could find helpful in their careers. It isn't essential to know each one, but a person who is proficient in at least one or two will find adapting to GIS software relatively simple. Some of the most common languages used in GIS today include: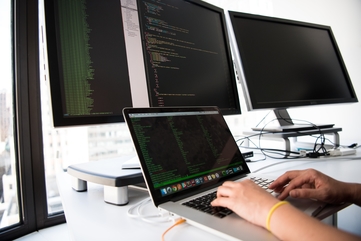 Python
SQL
C++
C
C#
JavaScript
PHP
.NET
Python is one of the most popular languages for professionals with GIS work experience because it can be applied to Esri's ArcGIS and to open source QGIS desktop platforms. .NET can be used to modify ArcGIS for specific actions.
JavaScript is ubiquitous on the web, serving as one of the key languages that make websites interactive and functional. As such, this language is very helpful in any web mapping project.
---
2. Cartophiles
If you become the de-facto navigator when visiting a new city and still collect roadmaps in your car as if your GPS could fail at any moment, you might enjoy a career focused on spatial data. People who have an affinity for maps are likely to find a natural fit in using GIS to solve problems.
Understanding the principles of cartographic design is one of the most basic GIS skills. These concepts are valuable in collecting, organizing and displaying data in a readable format. Today's cartographers make extensive use of digital tools to maintain accuracy when depicting a wide range of environments and make information accessible to people with impaired vision.
Whether you're digitizing traditional maps or working with web mapping applications, it's essential to maintain quality throughout the development or revision process. Geospatial experts are most effective when they identify how geographic information and visualizations can address an issue or overcome a challenge and create maps accordingly.
---
3. Communicators
Communication is one of the most important soft skills in nearly any industry, but GIS professionals need to be able to get ideas across in numerous ways. First, it's important that you're able to communicate well with manager and peers. Productive collaborations depend on leaders who can explain the desired outcomes for a project or task, the steps it will take to get there and the challenges you may encounter along the way.
Geospatial experts can tell detailed, engaging stories through mapping and provide context through text, images and multimedia content. The most powerful visualizations communicate their most important points in ways that non-experts can understand. The relevance of a striking data point should never be lost in poor design.
Networking is another soft skill that's important in most industries, and there are numerous professional organizations for GIS professionals. Getting to know others in the field could lead to job opportunities, helpful advice or just chances to discuss shared interests and gain fresh insights.
---
4. Big-Picture Thinkers
GIS skills go beyond learning to use mapping software or collect remote sensor data. Geospatial thinking is a discipline that deepens stakeholders' understanding and guides strategic decision-making. The people who are best suited to thrive in this field know how to identify the crucial details in a project while always keeping the big picture in mind.
When using GIS to solve problems, software tools become a powerful means of obtaining valuable insights and achieving an organization's greater objectives. By considering the big picture, geospatial experts can make an impact in contexts ranging from military intelligence to real estate, offering insights into growing trends and revealing surprising connections. Professionals who see the wider implications of these findings are positioned to make a difference in their organizations.
---
About USC's Online GIS Graduate Programs
The University of Southern California offers a comprehensive selection of online GIS programs, including GIS master's degrees and GIS graduate certificates. This gives our students the ultimate flexibility in tailoring their education for their career goals. Click on the programs below to learn about our leading geographic information science education.
Online GIS Master's Degrees
Online GIS Graduate Certificates