/
/
/
How Drones Are Improving Emergency Wildfire Response
How Drones Are Improving Emergency Wildfire Response
The California wildfires of 2020 captured the country's attention as the blazes set sobering records for damage to property and life. It was an intense situation that mobilized GIS professionals at the University of Southern California and beyond to push the capabilities of their technologies. This was especially true for the field of unmanned aerial systems (UASs).
When Delays and Mistakes Are Measured in Acres Burned, Data Needs to Be Fast and Accurate
California is no stranger to wildfires, but 2020 was an especially brutal year. The state experienced nearly 10,000 fire incidents, including one that earned the grim distinction as the first "gigafire," a burn that exceeded one million acres. Of the top-ten worst fires in California's history, half occurred in 2020.
At one point in September 2020, more than 14,000 firefighters were actively responding to blazes across the state. Thousands more personnel were on the frontlines trying to make strategic moves in volatile conditions. With how quickly a wildfire can escalate and the sometimes unpredictable nature of its spread, accurate and fast GIS data was critical to making decisions that would save lives and rescue communities.
With so many people spread across so many acres, the pressure was on to not only collect the data as quickly as possible, but share it in a way that a multiplicity of stakeholders, ranging from firefighters and emergency response teams to state and federal disaster prevention agencies, could interpret and apply the information.
This is where UASs and the geospatial consulting firm GeoAcuity rose to the occasion.
Request Brochure
Fill out the information below to learn more about the University of Southern California's online GIS Graduate Programs and download a free brochure. If you have any additional questions, please call 877-650-9054 to speak to an enrollment advisor.
*
All Fields are Required. Your Privacy is Protected.
How GeoAcuity Moved From Take-Off to Published in Less Than 48 Hours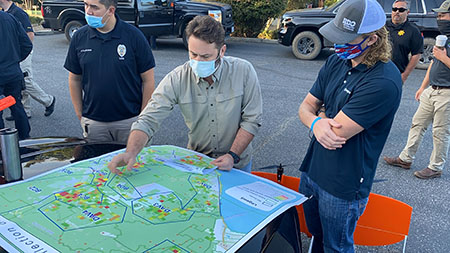 "We can show up on-site; throw up a UAS; and within an hour of the flight, have images rapidly processed and into the hands of the people who need [them] most," GeoAcuity founder and USC adjunct associate professor Jason T. Knowles told ArcNews.
The team did just that. Using UASs, Esri's cloud-based mapping software Site Scan, and other ArcGIS technology, GeoAcuity was able to capture massive amounts of data related to the North Complex fire and the CZU August Lightning Complex fire. They were then able to process that data and post images to ArcGIS Online within 24 to 48 hours. These included 2D orthomosaics, 360-degree panoramic photos and aerial videos.
GeoAcuity reported more than 90,000 views on its web app. Not only did emergency teams use the resulting imagery, but residents and volunteers accessed imagery like before-and-after photos and maps to aid in recovery.
---
Find Out the Whole Story
ArcNews has an excellent write-up of how GeoAcuity managed their response and the technologies and techniques they used, as well as an analysis of how an integrated workflow can be applied to future disaster responses. Read the full article here.
---
About USC's Online Graduate Geospatial Intelligence Programs
USC's GEOINT graduate programs have been designed to prepare students for the challenges and the future of the discipline. As a result, our students will gain a foundation in leveraging spatial thinking to solve geospatial intelligence problems as well as practical knowledge for assessing data quality, analyzing many different types of data and presenting intelligence reports. Learn more about our geospatial intelligence programs by clicking below.
Online Geospatial Intelligence Master's Degree
Online Geospatial Intelligence Graduate Certificates