>
>
Geospatial Intelligence Graduate Certificate Online
The online Graduate Certificate in Geospatial Intelligence offers knowledge of key concepts in geographic information science alongside practical knowledge of how GIS is used in military, humanitarian and government organizations to inform decision making and better respond to threats.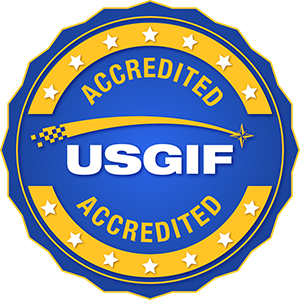 The certificate program is accredited by the United States Geospatial Intelligence Foundation (USGIF).
In support of Active Duty and Veteran Servicemembers, the online MS in Human Security and Geospatial Intelligence is a proud Yellow Ribbon Program participant.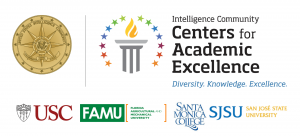 The Office for the Director of National Intelligence has designated the University of Southern California as an Intelligence Community Center for Academic Excellence (IC CAE).
Request Brochure
Fill out the information below to learn more about the University of Southern California's online GIS Graduate Programs and download a free brochure. If you have any additional questions, please call 877-650-9054 to speak to an enrollment advisor.
Graduate Certificate in Geospatial Intelligence Career Opportunities
Geospatial intelligence plays a critical role in numerous fields. Military units leverage geospatial technology for managing large training areas and mission support. Emergency services use GEOINT for tasks ranging from identifying the most effective route to an incident to efficient resource distribution. Countless other government agencies and organizations leverage geospatial intelligence either as support or as a key part of daily operations.
Graduate certificate students interested in developing their GEOINT leadership skills may also consider the M.S. in Human Security and Geospatial Intelligence or the Geospatial Leadership graduate certificate; all credit earned for the certificate can be applied toward completion of the master's degree.
Learn more about Geospatial Intelligence Careers >
---
Curriculum Summary
Students in the online geospatial intelligence graduate certificate program will take two core courses (eight units) and a capstone course. The required coursework provides the key knowledge and concepts for spatial thinking, with practical knowledge focused on how remotely sensed and other kinds of spatial data can be used to solve real-world GEOINT problems. Students have one elective course and may choose from three course options that offer the ability to pursue specialized remote sensing or project management work.
Visit the geospatial intelligence graduate certificate curriculum page for more information.
---
Veteran Funding
The Dornsife Spatial Sciences Institute proudly offers a variety of funding options for Active Duty and Veteran service members enrolled in online GIS graduate programs and is a proud Yellow Ribbon Program participant.