/
/
/
4 Uses of Geospatial Intelligence
4 Uses of Geospatial Intelligence
What is Geospatial Intelligence?
Geospatial intelligence (GEOINT) is a broad field that encompasses the intersection of geospatial data with social, political, environmental and numerous other factors. The Intelligence Community defines geospatial intelligence as "the use and analysis of geospatial information to assess geographically referenced activities on Earth."
Geospatial intelligence (GEOINT) has played a pivotal role in military operations and in the broader context of human security for decades. From providing critical intelligence in resolving the Cuban Missile Crisis in 1962 to helping the U.S. facilitate the negotiations that ended the Bosnian War in 1992, GIS military applications have been crucial in ending conflicts that might have otherwise continued for decades longer.
One of the most fascinating aspects of GEOINT, however, is how it has evolved over time and taken advantage of new technologies. In addition to examining what geospatial intelligence is, we wanted to look at GEOINT through a modern lens and examine how governments and other organizations use GIS for GEOINT applications today, as well as some of the developments that have made helped GEOINT evolve, including:
Request Brochure
Fill out the information below to learn more about the University of Southern California's online GIS Graduate Programs and download a free brochure. If you have any additional questions, please call 877-650-9054 to speak to an enrollment advisor.
*
All Fields are Required. Your Privacy is Protected.
4 Uses of Geospatial Intelligence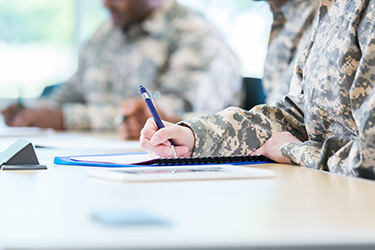 The role of machine learning and GEOINT in disaster response
Open geospatial data platforms and food scarcity
Interoperability for GEOINT applications and data in the military
The role of data stewardship in crisis mapping
Related content: How USC alumnus Kyle Weaver uses GIS Intelligence in the Navy.
The Next Generation of GIS Intelligence Applications
One of the most significant trends in geospatial intelligence is the shift in creation and ownership of data. As the United States Geospatial Intelligence Foundation noted, new data sources like OpenStreetMap and geotagged social media pictures can be leveraged for vital intelligence. However, the availability and open nature of these platforms also presents challenges for the GEOINT community, which must rely on data it no longer has full ownership and control over.
1. Machine Learning and GEOINT: Managing the Chaos of Natural Disasters
While it may sometimes seem like the entire world is documented, catalogued and analyzed, there are still many permanent and semi-permanent structures that remain unmapped. One of the main barriers to collecting geospatial data has been the manual and time-intensive work involved; this is especially problematic for instances where landscapes and structures change dramatically (i.e. after a natural disaster).
Geospatial intelligence software, augmented with machine learning, could help to map changes in terrain and structures, making disaster response projects more efficient and more effective. Several organizations are looking toward algorithms to help create more timely and accurate maps. One example is the SpaceNet "Road Detection and Routing Challenge," a $50,000 competition to develop an automated method for extracting information about road networks. Crowdsourced data proved to be an invaluable resource in the response to Hurricane Maria in Puerto Rico, but the successful implementation of machine learning could yield faster and more accurate maps to help emergency personnel find people in need or identify the best routes for delivering supplies.
2. Open Geospatial Data Platforms Helping Fight World Hunger
One of the core challenges in hunger worldwide is the fact that scarcity situations have usually already become dire by the time humanitarian efforts can begin. This is just one of the major challenges that DARPA is hoping to solve through a $7.2 million project awarded to Descartes Labs. The company hopes to create a vast geospatial data repository, leveraging sensors, satellite imagery and data from 75 different partners.
In 2017, the company hosted a hackathon, giving developers the goal of addressing food security issues. The resulting projects included:
A platform to help farmers share information that would help regions protect crop yields and prevent scarcity
The development of a food security risk index
A fish distribution system for optimizing delivery to regions affected by drought
Beyond the direct impact of reducing suffering from food shortages, the company suggests that addressing scarcity before it becomes a dire problem could help to avoid conflicts over resources.
3. Interoperability Drives the future of Joint GEOINT Operations
The U.S. military has been a long-standing user of GIS intelligence to resolve conflicts, protect troops, assess risks and gain information about enemy operations. While not a new trend, the military has addressed new challenges.
One of the most important shifts in the way the military uses geospatial intelligence was the adoption of the object-based production framework. This philosophy focuses GEOINT around assembling data together around specific issues, rather than tasking analysts with collecting information from many different sources. This way, analysts spend more time developing intelligence and insights rather than with data management.
This approach is especially valuable in multinational joint operations, where data and GIS applications must be interoperable to ensure all stakeholders have access to mission-critical information.
4. Geospatial Data Stewardship as a Critical Factor in Improving Crisis Mapping
Although the visualizations and analyses provided to emergency responders have drastically improved our ability to respond to events likes hurricanes and other natural disasters, it is just one factor in how GEOINT has evolved. During the response to Hurricane Maria, for example, geospatial data was plentiful but disparate and difficult to use. This led to problems like duplicate deliveries and deliveries that were scheduled, but never made.
One of the developments to arise out of problems like these has been a rise in self-service geospatial intelligence products. For example, FEMA's GeoPlatform Disasters Portal provides curated geospatial information and datasets from numerous other apps and sources, providing a key data stewardship role. This effectively gives first responders and GEOINT teams a running start in responding to natural disasters.
One of the core themes in all the above GEOINT uses is the vast volume of data. As we look toward the future, the ability to manage data at large volumes will continue to be a key theme. However, it's important to note that the GEOINT industry will require expertise both in the analysis and in the preparation of that data. As Trajectory Magazine noted, data stewardship is often seen as a peripheral function, but it is critical in today's GEOINT world, where the number of data sources and variety of data types will grow exponentially.
---
About USC's Online Graduate Geospatial Intelligence Programs
USC's GEOINT graduate programs have been designed to prepare students for the challenges and the future of the discipline. As a result, our students will gain a foundation in leveraging spatial thinking to solve geospatial intelligence problems as well as practical knowledge for assessing data quality, analyzing many different types of data and presenting intelligence reports. Learn more about our geospatial intelligence programs by clicking below.
Online Geospatial Intelligence Master's Degree
Online Geospatial Intelligence Graduate Certificates