/
/
/
How Local and Federal Government Use GIS
How Local and Federal Government Use GIS
Geographic information science and technology have a long history with both federal and regional government. In fact, the Library of Congress contains the world's most comprehensive collection of maps, and geospatial intelligence has played a vital role in resolving numerous historical conflicts between nations. But how does the government use GIS today?
---
Government GIS Data Sharing Continues to Grow
One of the common challenges for how the government uses GIS has been in sharing spatial data among different agencies. This is a key problem even when considering state and local government organizations, but it can be even more difficult to determine how to effectively share information across the local, state and federal level. As noted by some researchers, as much as 80% of data stored by the government has a spatial component. However, differences in operational processes, the structure of the data itself and different policies regarding sharing have contributed to complexity in creating standardized ways for governments to implement spatial data sharing practices.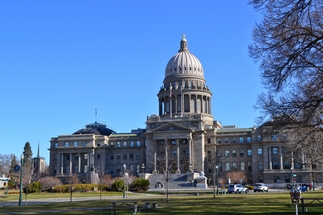 Many of the examples for organizations implementing sharing programs and building out spatial data infrastructures come from individual organizations. However, organizational leaders have started to look toward particularly effective practices to use as a model for larger scale sharing.
For example, the Los Angeles County Office of the Assessor was recognized with the 2018 URISA Exemplary Systems in Government Award in the enterprise systems category. The organization developed an Assessor Portal that showcases an abundance of information about real estate and property values, including square footage, type of building (e.g. single-family, multi-family), year built, address and numerous other data points. Users may search either by address, legal assessment description or via a map-based interface.
Request Brochure
Fill out the information below to learn more about the University of Southern California's online GIS Graduate Programs and download a free brochure. If you have any additional questions, please call 877-650-9054 to speak to an enrollment advisor.
*
All Fields are Required. Your Privacy is Protected.
Government GIS Applications for Public Health and Safety
One of the major shifts in the government using GIS is the push toward publishing GIS applications and data for both government and non-government users to view. This can be especially useful for bringing awareness to multifaceted problems that might be difficult to understand without a visualization of the scale or potential consequences if issues are left unaddressed.
For example, research published in 2018 by the Appalachian Regional Commission, the Robert Wood Johnson Foundation (RWJF), and the Foundation for a Healthy Kentucky found that residents living in the Appalachian Region were not as healthy as other Americans, on average. To help others truly feel the impact of this finding, the organizations published a series of reports in the form of interactive maps, which allow users to filter a range of spatial and health information, such as morbidity rates, poverty and other indicators of health. The ability to identify specific problems and key areas of strength for specific regions can be invaluable in improving the effectiveness of outreach. For example, one of the published maps shows the density of mental health providers, which can be instrumental in determining which communities may be in the greatest need of additional counselors or therapists.
Note: The USC online M.S. in GIST program curriculum includes a spatial data acquisition and integration track as well as a data visualization track; this program is GIS professionals who are interested in solving some of the challenges related to data sharing.
---
Federal Government GIS Applications for Disaster and Air Quality Mapping
One of the popular examples of GIS in government is the mapping of national problems. For example, the United States Geological Survey (USGS) publishes a robust set of earthquake data. This information can then be used to assess the risk of major earthquakes in specific regions and develop strategies for mitigating damage before a disaster occurs.
Related content: How GIS has Transformed Natural Disaster Relief
The National Park Service also leverages GIS for monitoring air quality across its parks. The NPS overlays spatial information with a variety of environmental measures, including ozone, visibility, particulate matter, nitrogen and sulfur deposition, as well as atmospheric mercury. This is helpful for stakeholders ranging from environmental researchers to public health officials, since the visualizations provide an easy way to view areas with problematic air quality, including the issues that impact specific regions.
Note: USC's online M.S. in Human Security and Geospatial Intelligence is an ideal fit for professionals interested in solving geospatial challenges in domains ranging from earthquake relief to terrorist threat response.
---
The Future of Government Using GIS
There are a few current trends that offer clues as to how the government will use GIS moving forward. As illustrated in an infographic published by Gov 2020, key links between current GIS technology and the future include:
Geotagged mobile and social data will lead to government agencies being able to send safety and alert information directly to users based on their locations.
Machine learning will become a bigger part of GIS applications, enabling organizations ranging from law enforcement to disaster relief groups to develop spatial models to more accurately predict risks such as crime.
Remote sensing and imaging will evolve, enabling improved monitoring of public infrastructure. Government agencies will be able to use this data to identify infrastructure in need of repairs and better allocate their resources for urban planning.
There will be growth in the number of road signs and utilities with internet connectivity. This will empower utilities and disaster response teams with highly accurate, real-time data they can use to respond to problems like power outages faster than ever.
As all of these trends evolve together, it will likely elevate the importance of data sharing and of open data practices between agencies at the local, regional and federal levels. The availability of more spatial information and the push toward real-time GIS data will necessitate automated sharing, and platforms that multiple agencies can access, since the volume of data and speed at which it is collected will become unmanageable for over reliance on manual processes.
---
About USC's Online GIS Graduate Programs
The University of Southern California offers a comprehensive selection of online GIS programs, including GIS master's degrees and GIS graduate certificates. This gives our students the ultimate flexibility in tailoring their education for their career goals. Click on the programs below to learn about our leading geographic information science education.
Online GIS Master's Degrees
Online GIS Graduate Certificates