/
/
/
How GIS Helps to Overcome Urban Food Deserts
How GIS Helps to Overcome Urban Food Deserts
Many of us take access to a broad selection of food for granted, but a wholesome, balanced diet makes a big difference in our lives. Your nutritional choices affect productivity and can contribute to preventing illness.
Guidelines from the United States Department of Agriculture recommend an eating pattern that features: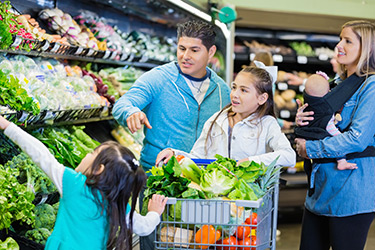 Fruits
Vegetables of several varieties: dark green, legumes, starchy, and red and orange
Whole grains
Fat-free or low-fat dairy products
A range of proteins, such as lean meats, seafood, nuts and soy products
To prioritize healthy eating habits, you must have convenient access to all these items. However, for many people, it may be difficult or impossible to take regular trips to the grocery store and pick up fresh produce. A report from the USDA Economic Research Service estimated that 7.3 million Americans live in low-income census tracts that are distant from a fully stocked grocery store or supermarket—at least one mile away in urban areas or 20 miles in rural areas.
Geographic Information Science (GIS) deepens our understanding of why these food deserts exist and helps us develop strategies for providing more nutritional options. With insights drawn from GIS food deserts research, government agencies, nonprofit organizations and businesses can take steps to improve the dietary choices and overall well-being of populations across the country.
Request Brochure
Fill out the information below to learn more about the University of Southern California's online GIS Graduate Programs and download a free brochure. If you have any additional questions, please call 877-650-9054 to speak to an enrollment advisor.
*
All Fields are Required. Your Privacy is Protected.
What We Can Learn from GIS Food Desert Studies
Spatial information allows researchers to identify food deserts and explore the factors that influence the availability of nutrition. Mapping the relevant data demonstrates just how difficult it can be for people in impoverished urban tracts to walk to a supermarket, grocery store or farmers market that offers a full selection of produce.
GIS projects have visualized the problem for various regions, clearly presenting the geographical distance between an area and the nearest food sources. Combining this data with other crucial details is a powerful way to expose the issues involved in creating deserts. For example, food GIS projects may rank the quantities of fresh produce available in nearby stores or present the average income in an area and the percentage of people who own cars.
Spatial analysis can uncover significant patterns or trends that provide a broader context for further investigation. For example, a study published in the journal Health & Place examined shifts in Chicago supermarkets between 2007 and 2014, covering the years of the Great Recession and the subsequent recovery. The researchers noted that lower-income neighborhoods always had worse access to food than richer ones, and availability worsened in some of these areas during the economic downturn. Even though the overall number of grocery stores in the city increased in the years covered by the study, food deserts on the South Side continued to suffer from limited access as of 2014.
---
Expanding Food Access Through Spatial Problem-Solving
GIS methods show us the locations of urban food deserts and how they change over time, but researchers also have opportunities to take their work further. With the right geospatial data, GIS experts may have chances to address inequalities. Geospatial information can guide urban development and other measures that place a variety of fruits, vegetables, grains and sources of protein within the reach of low-income families.
Research into food deserts offers a detailed look into the relationships between variables like long distances from grocery stores, limited transportation options and health problems. A common theory suggests that, instead of going a long bus trip, residents in food deserts are more likely to choose to grab whatever is available at a nearby convenience store. In turn, a diet that is heavy on added sugars, sodium and saturated and trans fats increases the risk of health problems like obesity, cardiovascular disease and diabetes.
However, solutions to poor nutrition must be more nuanced than simply opening a new grocery store in an underserved tract. While many people in food deserts may rely on fast food and prepackaged snacks, research suggests that more choices will not automatically improve their diets and health. A study from the National Bureau of Economic Research found that a greater supply of nutritional foods could only have a limited effect on dietary inequality, unless a demand for these items also increased. In other words, access to affordable produce must be combined with other initiatives like health education to create meaningful and longer lasting results.
Meanwhile, an ongoing study on two Pittsburgh neighborhoods suggests that the benefits of addressing food deserts can go beyond the direct effects on nutrition. Rand Health's Pittsburgh Hill/Homewood Research on Neighborhood Change and Health program examines the changes that have come to the former food desert of Pittsburgh Hill since a supermarket opened in 2013. Residents' diets and cholesterol levels showed some improvements, but investment in the community also delivered wider benefits for their well-being: People in the area experienced less food insecurity and rising incomes while expressing greater satisfaction with the neighborhood.
---
About USC's Online GIS Graduate Programs
The University of Southern California offers a comprehensive selection of online GIS programs, including GIS master's degrees and GIS graduate certificates. This gives our students the ultimate flexibility in tailoring their education for their career goals. Click on the programs below to learn about our leading geographic information science education.
Online GIS Master's Degrees
Online GIS Graduate Certificates