>
>
Remote Sensing for Earth Observation Graduate Certificate Online
Remote sensing data offers a detailed perspective on systems and locations throughout the world that can be invaluable for applications ranging from weather observation and environmental stewardship to refugee crisis and disaster management. The remote sensing field presents unique challenges due to the variety and volume of data available for analysis from traditional systems such as satellite imaging as well as innovative sources like mobile location data, social media and sensors from Internet-of-Things devices.
The online Graduate Certificate in Remote Sensing for Earth Observation (RSEO) enables students to understand these trends and leverage the opportunities they present. The coursework explores advanced methods for spatial data acquisition, management and integration. The program is designed to teach professionals the latest approaches for discovering valuable insights and making decisions based on the information garnered from satellites, unmanned autonomous systems, aircraft and other sources.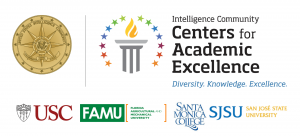 The Office for the Director of National Intelligence has designated the University of Southern California as an Intelligence Community Center for Academic Excellence (IC CAE).
Request Brochure
Fill out the information below to learn more about the University of Southern California's online GIS Graduate Programs and download a free brochure. If you have any additional questions, please call 877-650-9054 to speak to an enrollment advisor.
*
All Fields are Required. Your Privacy is Protected.
Graduate Certificate in Remote Sensing for Earth Observation Career Opportunities
This program can benefit individuals entering the GIS field as well as experienced professionals interested in advancing their careers. Students prepare to succeed in remote sensing analysis positions by building expertise in relevant techniques, gaining up-to-date knowledge of current data collection requirements and integrating and managing various types of geospatial data.
Graduate Certificate in RSEO students may consider going on to complete a Master of Science in Geographic Information Science and Technology or Human Security and Geospatial Intelligence. All credit earned in the certificate program can be applied toward completion of the master's degree.
Learn more about GIST graduate certificate careers >
---
Curriculum Summary
To earn the online Graduate Certificate in Remote Sensing for Earth Observation, students complete 16 units of coursework, including three required courses and one elective. These courses focus on methods of gathering and analyzing remote sensing information and using those findings to solve problems. The curriculum encompasses traditional approaches to spatial data collection through airborne or space-based systems as well as emerging sources like mobile devices, text-scraping and social media.
For more information, visit the curriculum page.
---
Optional GIS Fieldwork on Catalina Island
Students in the RSEO graduate certificate program who select SSCI 587: Spatial Data Acquisition as an elective will participate in a weeklong fieldwork excursion to the Wrigley Institute for Environmental Studies — a half-acre research and educational campus on Catalina Island.
Learn more about the GIS fieldwork excursion >
---
Veteran Funding
The Spatial Sciences Institute proudly offers a variety of funding options for active duty and veteran service members enrolled in online GIS graduate programs and is a proud Yellow Ribbon Program participant.