The Future of GIS
You've likely heard plenty about historical trends in the development and use of Geographic Information Science (GIS), but what about where GIS is headed into the future? While it can be difficult to try to prophesize the future of an industry and technology, there are a wealth of clues that hint at and reveal a glimpse of the future of GIS.
---
GIS of the Future vs. Here and Now
Before predicting trends in GIS, let's take an inventory of current trends. "Openness" – of systems, software, and data – has been a growing trend in the technology sector in the past decade, and the "openness" trend has contributed to immeasurable value for GIS technology and practices. In fact, a GIS Professional market and applications survey of more than 200 GIS professionals found that the majority of respondents expect the "openness" trend to continue.
Because this means that more organizations have access to open source GIS software and open data, the number of small businesses making use of GIS continues to grow. Other trends that have been reshaping the GIS market include mobile GIS and visualization, the report found.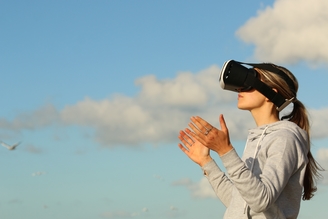 Of course, current conditions will have some bearing on the future of GIS. While "openness" was identified as a key market trend, 12% of respondents also said "openness" could be a challenge to market growth – a double-edged sword of sorts. Openness can be challenging to market growth in that it introduces issues around data privacy. While openness is making GIS software more accessible to smaller businesses, there is a fear that this will mean less qualified people will be using GIS without fully understanding how to use spatial data effectively and ethically, leading to more confusion and less advancement of the application and use of GIS.
Request Brochure
Fill out the information below to learn more about the University of Southern California's online GIS Graduate Programs and download a free brochure. If you have any additional questions, please call 877-650-9054 to speak to an enrollment advisor.
*
All Fields are Required. Your Privacy is Protected.
Other challenges that were identified by survey respondents include data accuracy (32%), efficient data management (31%), and location privacy (8%).
The most common applications of GIS today by businesses include spatial planning (31%), decision making (30%), and asset management (23%), the survey found. But when asked which technological advancements they expect to become key to their organizations in the future, respondents pointed to cloud technology, real-time data, Internet of Things (IoT), 3D GIS, mobile GIS, and UAVs.
---
Moving Beyond the Traditional GIS Applications
It's relatively easy to see how GIS technology is transforming supply chain and asset management, as well as how GIS is essential to cartography and modern maps. But take a step off the beaten path and consider how GIS might be transforming the virtual world – whether we're talking GIS data visualization or augmented reality and virtual reality. With the rising acceptance and use of AR and VR in the consumer world, the use cases for leveraging 3D GIS will continue to grow.
As Esri President Jack Dangermond wrote, "The geospatial industry is quickly evolving because the capabilities of digital connectedness and collaboration are moving ahead exponentially. In fact, the five biggest trends in the area of geographic information system (GIS) technology are centered on making data more accessible and creating context to visualize this data in an age when fast, easy access to information is taken for granted."
Esri's CityEngine software is one example that Lucy Benton gives that could provide a glimpse of the future of GIS. It allows the production of urban scenes based on real-time, 3D GIS data, so users can plan city architecture, design, and community development.
---
The GIS AR Opportunity
GIS of the future may very well be in augmented reality and virtual reality. AR and VR use continues to grow as users become more comfortable with the technology, and this will lead to more and more developers integrating GIS capabilities into their applications, Benton said. These GIS-enabled AR apps could be used by anyone from architects to oil workers and municipal services to see location and orientation of objects underground. And game developers in the future will likely be using GIS to create virtual worlds to serve as the creative mind's playground.
This is one of the areas where 3D and mobile GIS are likely to converge. Powered by 3D spatial information, mobile GIS applications will be able to create immersive experiences anywhere out in the field. Early examples of this trend can be seen in popular games like Pokémon Go but the potential for immersive AR visualizations is limitless.
---
Indoor Mapping, UI, and IoT
In the same way that GIS is used to make maps of cities and roadways, the technology is now being used to develop indoor maps. While it's still in the early stages of development and adoption, future trends in GIS have indoor mapping likely to skyrocket in popularity in the coming years as people have more of a need to navigate large, complex buildings. For example, more sophisticated and detailed indoor mapping technology may drastically improve safety for emergency responders, who would have improved access to layout, points of entry and other critical information when arriving at the scene of an incident.
One of the biggest changes for developers in the future of GIS will come at the user interface (UI) level, Benton said. "These interfaces will make developing work a lot easier because it will feature an easy-to-understand environment that intuitively helps the user to create, add, edit, and remove elements," she wrote. She later added, "An introduction of the user interface is a major breakthrough because it will make the maps friendlier to developers as well as everyone who uses them."
As Dangermond said, "[M]aps are the visual language for understanding the context of data." Dangermond believes that the next major leap in the future of GIS will be tapping in to the growing network of Internet-connected devices that make up the Internet of Things. By leveraging all the connected devices, GIS practitioners will be able to get even more data in real-time.
---
What Is the Future of GIS?
All things taken together, the future of GIS is very optimistic. It's poised for even wider scale adoption than we've seen in recent decades, as more organizations learn how much business value can come from geospatial data. As trends like data analytics, mobility, AR, and IoT continue to take off around the world, we can expect geographic information science and technology not only to be transformed but also to help change the way organizations utilize these technologies.
One of the key philosophies behind the graduate GIS degrees and certificates at USC is to prepare students for the future, regardless of the way the relevant technologies evolve. For this reason, our programs focus on teaching students spatial thinking skills that they can apply in any technology environment and to more effectively manage and use spatial data. Read more about our GIS education programs below, or request a free brochure.
---
About USC's Online GIS Graduate Programs
The University of Southern California offers a comprehensive selection of online GIS programs, including GIS master's degrees and GIS graduate certificates. This gives our students the ultimate flexibility in tailoring their education for their career goals. Click on the programs below to learn about our leading geographic information science education.
Online GIS Master's Degrees
Online GIS Graduate Certificates