/
/
/
Geospatial Data Is Super Effective! The Use of GIS and Cartography in Pokémon Go
Geospatial Data Is Super Effective! The Use of GIS and Cartography in Pokémon Go
Augmented reality experiences that are tied to geographic locations have valuable uses for a wide range of industries that use GIS, like performing complex measurements in real time or providing construction crews with vital information about a worksite. On the other hand, the combination of AR and spatial information can be a lot of fun when used as the basis for a gaming platform. "Pokémon Go" demonstrated how geographic information science (GIS) could contribute to making a game that is a huge mainstream hit and provided an example that developers are continuing to build on.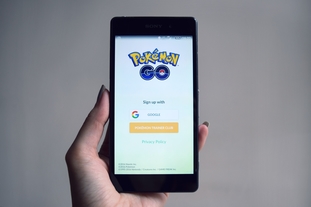 When the mobile game debuted in July 2016, it became an instant phenomenon. Apple reported that "Pokémon Go" was downloaded more times in its first week of release than any other app to date. Since then, the free-to-play game has shown impressive staying power, reaching a total of 800 million downloads by May 2018 and inspiring the next generation of AR-based toys and games.
Like the other titles in the Pokémon franchise – which began on Nintendo's handheld Game Boy console in 1996 and has since spawned a vast array of sequels, spinoffs, animated series and feature films – "Pokémon Go" casts players as trainers on a mission to track down and capture every species of the titular super-powered "pocket monsters."
What made this new game distinctive and engaging for an international audience of all ages was the opportunity to discover the creatures in real-world locations. Thanks to mapping technology and GPS, fans could catch a Pokémon whether they were walking down the street, taking a break at work or school or out to dinner. The game's continuing popularity reveals how GIS and cartography can be harnessed to entertain hundreds of millions of gamers.
Request Brochure
Fill out the information below to learn more about the University of Southern California's online GIS Graduate Programs and download a free brochure. If you have any additional questions, please call 877-650-9054 to speak to an enrollment advisor.
*
All Fields are Required. Your Privacy is Protected.
The Evolution of Pokémon Go GIS
As anyone who has played one of the games or caught an episode of the anime series knows, a trainer levels up a Pokémon over time by sending it into battle. The creatures gradually learn additional combat moves and evolve into more powerful and imposing forms. Much like Charmander must transform into Charmeleon before eventually becoming Charizard, the technology behind "Pokémon Go" originated in forms that were very different from the game that took hold of so many people's imaginations.
The development studio, Niantic, began in 2010 as a startup within Google. Founder John Hanke had previously been the CEO of Keyhole, a geospatial data visualization firm that was acquired by the search giant. As vice president of product management for Google's Geo division, Hanke led the teams working on Google Earth and Google Maps.
With Niantic, Hanke used his expertise in geospatial data and technology to create location-based mobile apps. The studio released its first AR game, "Ingress," in 2014, establishing many of the gameplay dynamics that would later shape "Pokémon Go." Players joined one of two opposing factions and set out to capture portals that were situated at notable public locations, such as landmarks or monuments.
"Ingress" came to the attention of Tsunekazu Ishihara, president of The Pokémon Company, leading to a partnership between the now fully independent Niantic and Nintendo. "Pokémon Go" drew heavily on the crowdsourced geographic information gathered from the earlier game. The historical landmarks and public art installations that had been marked and photographed by "Ingress" players were crucial pieces of the puzzle as Niantic and its partners took location-based gameplay to a whole new level of popularity.
---
How Pokémon Go Mapping Makes Geospatial Data Fun
Location is everything in "Pokémon Go." When players open the app, they see their avatars moving around a map that is matched to their own geographic positions. You may encounter wild Pokémon anywhere you go and capture them by flicking on your screen to throw Poké Balls. With optional AR functionality, your device will use its camera and gyroscope to make it look like the creature is in front of you.
Your surroundings also affect what varieties of Pokémon you're most likely to run into. Water types, for instance, tend to cluster around a lake or river, and some regional types can only be found in specific parts of the world. The bull-like Tauros roams the U.S. and Canada, but you must be in Europe to find Mr. Mime in the wild.
Much like the portals in "Ingress," certain spots in the real world are designated as PokéStops and PokéGyms. At PokéStops, players have the option to deploy lure modules that draw out more Pokémon, often including rare species, that can be caught by anyone in the vicinity.
PokéGyms are claimed by one of three teams – Team Valor, Team Instinct or Team Mystic – and are the sites for battles:
If a gym is open, meaning it has not been claimed by any team, you can take control and assign one Pokémon to guard the location. Up to five other trainers on your team may bolster the defenses by each placing one Pokémon on guard duty.
When you visit a gym that belongs to different team, you attempt to take over by sending six of your Pokémon into battle. You can also receive help from other trainers who are nearby.
At a gym that your team already owns, you can strengthen the Pokémon who are protecting the territory by giving them treats.
Players occasionally receive notifications about Raid Battles at nearby gyms, in which up to 20 trainers to team up to fight a single, extra-powerful Pokémon. Victorious trainers receive special items and have an opportunity to try and catch the defeated Pokémon.
---
What Map Does Pokémon Go Use?
"Pokémon Go" relies on accurate, current geographic information to guide players safely to PokéStops and PokéGyms. Originally, that information came from Google Maps, but the game underwent a significant makeover in late 2017. Now, the location data for the world of "Pokémon Go" comes from the crowdsourced OpenStreetMap. The switch makes it possible for user edits to add more details about specific areas and adapt more quickly to changes like road closings.
As Niantic prepares for future games like the upcoming "Harry Potter: Wizards Unite," the developer is exploring how it can generate even more extensive 3D maps. These efforts involve collecting input from users' smartphone cameras. Hanke explained to Reuters that he foresees members of the public contributing to massive AR maps that allow increasingly nuanced experiences.
"We want players to build out the game board they want to play on," Hanke said.
---
About USC's Online GIS Graduate Programs
The University of Southern California offers a comprehensive selection of online GIS programs, including GIS master's degrees and GIS graduate certificates. This gives our students the ultimate flexibility in tailoring their education for their career goals. Click on the programs below to learn about our leading geographic information science education.
Online GIS Master's Degrees
Online GIS Graduate Certificates