/
/
/
A Changing World: Ways GIS Has Changed Over the Years
A Changing World: Ways GIS Has Changed Over the Years
The field of Geographic Information Science (GIS) has advanced rapidly over the past few decades. GIS evolved from a theoretical concept of digitally creating maps into an array of methods and software with wide-ranging applications. Geospatial technology now offers much more than a system for capturing and organizing positional data.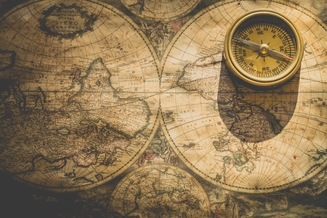 Spatial problem-solving approaches can be adapted to meet needs like planning real estate projects, addressing public health crises or protecting national security. As increasingly robust tools for mapping and visualization continue to emerge, businesses, governments and nonprofits discover additional opportunities to harness insights for improved strategy and efficiency. We'll break down some of the key phases in the history and development of GIS, showing just how far this technology has come.
Request Brochure
Fill out the information below to learn more about the University of Southern California's online GIS Graduate Programs and download a free brochure. If you have any additional questions, please call 877-650-9054 to speak to an enrollment advisor.
*
All Fields are Required. Your Privacy is Protected.
Before Computers: Maps as Tools for Public Health
In 1854, cholera struck the Soho district of London. At the time, no one truly knew how this infection of the small intestine spread, but the commonly held "miasma theory" suggested that diseases traveled through the air. A physician named John Snow was skeptical of this idea, and his research into the outbreak led to what many historians consider the origins of GIS.
Snow used a map to chart outbreak locations alongside roads, water lines and property boundaries. He eventually realized that many of the cases stemmed from a single public water pump on Broad Street. Continuing his research, Snow discovered that a water company delivered polluted water from the Thames to homes within the city, further spreading the infection. Snow presented his findings to the local authorities and convinced them to remove the water pump handle.
Snow is regarded as a father of epidemiology for his work in managing this outbreak, but he was also one of the first to use geographic methods to trace the transmission of a disease. His innovative methods turned a map into a valuable means for understanding diseases and protecting public health.
---
From Paper to Digital
Snow's research demonstrated that maps could be used to solve complex problems, but such projects were difficult to undertake with pen and paper. By the 1960s, computers began to change everything, making it possible to record and analyze geographic data on an unprecedented scale.
Canada was one of the first nations to explore the possibilities of GIS. While employed by an aerial survey company, geographer Roger Tomlinson developed a computerized approach to land use mapping. He went on to lead the creation of the Canadian Geographic Information System, which managed, modeled and analyzed large amounts of geospatial data.
This early GIS proved essential to the Canada Land Inventory, a multidisciplinary effort at generating maps to show the sustainability of resources in rural areas. The CLI relied on accurate information about soil, drainage patterns and climate to determine whether each plot of land was suitable for certain crops.
In 1965, the U.S. Census Bureau also took an interest in GIS, experimenting with a system to plot block-by-block demographic data. The agency used a GIS-based file format known as Geographic Base File—Dual Independent Map Encoding (GBF-DIME) to digitize information on roads, urban areas and boundaries. The Census Bureau continued to use the DIME format until it was replaced by Topologically Integrated Geographic Encoding and Referencing (TIGER) in 1990.
Meanwhile, GIS software vendors and GIS-oriented conferences arose as researchers, governments and business began to see this technology's capabilities. With personal computers becoming common in homes and classrooms, geospatial tools grew more accessible and versatile.
GIS in the Present Day and Beyond
Over the years, spatial databases and software have been adopted by all types of organizations. Smartphones, tablets, drones, satellites and Internet-of-Things sensors all serve to expand the user base for geospatial systems while also collecting even more data. Thanks to the open source community, a great deal of information is available for free, whether it is used to provide drivers with traffic updates or share NASA's detailed perspective on other planets.
With more user-friendly, powerful tools available, professionals in any industry can build and collaborate on major GIS projects. Many of the world's best-known businesses now employ software powered by geographic data to strategize new locations or improve logistics. Urban planners use GIS to maintain regulatory compliance, evaluate environmental compliance and make decisions about new developments.
These trends will only expand as organizations find benefits from ongoing advances in GIS technology. For example, 3D GIS offers a new depth of analysis for purposes such as modeling a proposed building or guiding responsible development along a coastline. The history of GIS has already delivered numerous innovations, but the most exciting work in the field may still lie ahead.
---
About USC's Online GIS Graduate Programs
The University of Southern California offers a comprehensive selection of online GIS programs, including GIS master's degrees and GIS graduate certificates. This gives our students the ultimate flexibility in tailoring their education for their career goals. Click on the programs below to learn about our leading geographic information science education.
Online GIS Master's Degrees
Online GIS Graduate Certificates