/
/
/
GIS as a Platform for Real Estate
GIS as a Platform for Real Estate
Geographic information science (GIS) has wide-ranging applications, providing valuable insights into everyday challenges for city residents, the surfaces of other planets, election results, and more. While many GIS jobs are found in government agencies and civil service, the private sector is also increasingly making use of these systems. Geospatial information can benefit organizations in industries ranging from harvesting timber to insurance.
Real estate is one field where sophisticated tools for analyzing geographic information have made a significant impact. GIS databases offer troves of information regarding property boundaries and zone types—details that come in handy for developers, real estate agents, property owners and others.
---
GIS in Real Estate
In the mid-1990s, businesses began to explore the possibilities of GIS in real estate. Initially, geographic data mainly served as a resource to streamline tasks for analysts. However, real estate companies soon saw GIS technology's strategic potential and went on to use these tools in a variety of innovative ways: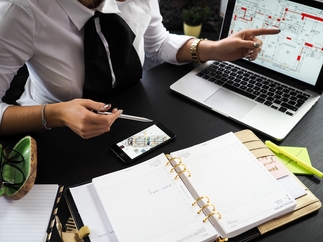 The commercial real estate giant CB Commercial – now known as CBRE Group – employed GIS technology to support its brokerage and portfolio management services. By utilizing mapping software, the company was able to improve its market analyses, thereby strengthening its relationships with clients.
San Francisco-based Castle Consulting established itself as the first firm primarily focused on real estate GIS, developing software to support property appraisal and portfolio management.
The Minnesota geospatial software firm GeoSpan equipped vans to capture video from properties and associate the footage with GPS coordinates. That meant potential clients could view properties on their computer rather than driving to the location themselves.
Over the years, applications geographic data in real estate continued to evolve as advanced solutions were implemented around the world. By implementing GIS-based management systems, real estate companies and local governments gained access to detailed and accurate information about property uses and boundaries.
Request Brochure
Fill out the information below to learn more about the University of Southern California's online GIS Graduate Programs and download a free brochure. If you have any additional questions, please call 877-650-9054 to speak to an enrollment advisor.
*
All Fields are Required. Your Privacy is Protected.
Large-Scale GIS Applications in Real Estate
Spatial problem-solving can be adapted to real estate projects at both small and large scales. Consider how GIS helped the Union Pacific Railroad, which is the second-biggest landholder in the U.S. after the federal government, manage its property.
Since its founding in 1862, the railroad had used paper maps to track its purchases and sales of land. After over a century, the documents were inefficient and crumbling, making it exceptionally difficult to track crucial information. The company decided the best solution was to digitize its maps using a GIS platform, providing centralized access to updated records on all the company's real estate.
The change saved UPN "an immeasurable amount of time doing property research," according to John Hawkins, an information systems project manager in the railroad's real estate department. The company used the technology for purposes such as locating obstructions along the railroad, identifying excess land to sell and establishing rights-of-way.
"All of the functions we do in the Real Estate Department depend on these maps," Hawkins said. "We have found even more uses for them than we had originally envisioned."
---
The Future of GIS and Real Estate
As applications for GIS technology continue to expand, any organization involved in real estate will discover benefits for addressing today's property management needs and seizing future opportunities. Many local governments have invested in GIS databases that make it simple to research parcels of land. Both buyers and sellers can gain perspective on a transaction by overlaying the map of an area with information about relevant factors like school districts, access to utilities and the availability of retail or services.
Robust spatial analysis techniques enable firms to evaluate sites, plot out marketing plans and optimize tenant management strategies. By incorporating findings from multiple databases, like census data and financial history, real estate professionals can precisely assess a plot of land's value and make predictions about future developments.
Further advances in technology will only make geographic information more vital to the business of real estate. The continuing growth of readily available data enables organizations to develop a deeper understanding of the factors that impact property value. Increasingly robust software and automation will empower decision makers to move faster and take advantage of openings in the market.
---
About USC's Online GIS Graduate Programs
The University of Southern California offers a comprehensive selection of online GIS programs, including GIS master's degrees and GIS graduate certificates. This gives our students the ultimate flexibility in tailoring their education for their career goals. Click on the programs below to learn about our leading geographic information science education.
Online GIS Master's Degrees
Online GIS Graduate Certificates