/
/
/
Geospatial Information and National Security
Geospatial Information and National Security
For thousands of years, societies have recognized the importance of geographic data as a means of tracking the unknown through maps. However, in the modern age, this important information is used for more than navigating your way to the nearest coffee house. Today, private companies and governmental agencies combine this data with human behavior studies to handle everything from managing public health issues to curating advertising messages based on regional activities.
Below, we addressed some of the important ways that geospatial information is collected and how it's changing the way we've protected our country since the events on 9/11.
---
Key Facts About Geospatial Information
What is geospatial science?
Geospatial science is the study of human behavior as it relates to how people use the Earth's attributes – be it natural or man-made. This distinctive discipline has led to the creation of geospatial intelligence (GEOINT). This term covers the information obtained from this study, with analysis of the locations on the planet and physical features.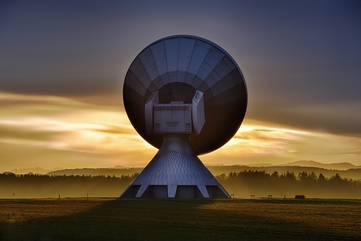 This intelligence can be obtained through a variety of sources, including:
Satellite imagery
Global positioning systems (GPS)
Coordinate geometry (COGO)
Unmanned aerial systems (drones)
One unique aspect of GEOINT is the additional benefit of tradecraft – the cognitive method by which location-based intelligence can be applied to ensure a strategic advantage.
Geographic Information System
A computer software and/or system that is expressly used for the collection of data, integration, analysis and distribution of resulting products about the Earth with regard to a physical position.
These products can then be applied to a number of military and civilian purposes, including:
Analysts identify pollution trends for better environmental management
Insurance companies review location data to assess risk
Logistic companies use it to map out optimum delivery routes
Heath companies use it for training public health professionals to help analyze potential geographic effects on health crises
Aid workers use it to predict possible food shortages
Request Brochure
Fill out the information below to learn more about the University of Southern California's online GIS Graduate Programs and download a free brochure. If you have any additional questions, please call 877-650-9054 to speak to an enrollment advisor.
*
All Fields are Required. Your Privacy is Protected.
Geospatial Intelligence and National Security: An Overview
For decades, nations have recognized the strategic advantages of using maps for military and domestic response activities. However, in recent years the United States has heavily "stepped-up" the use of GEOINT to help improve national security in the wake of 9/11.
Under the Department of Homeland Security (DHS), this data essentially has five basic purposes:
Detect threats to the country
Build preparedness in the face of terrorist attacks or natural disasters
Prevent and/or disrupt potential extremist activities
Protect infrastructure and national artifacts
Respond and recover in the face of large-scale attacks or disasters such as mass shootings
To better manage the oversight of GEOINT, the DHS created the Geospatial Management Office in November 2004. This department provides leadership in terms of supporting policy and strategic planning for geospatial intelligence. The organization also provides oversight for the related technology used to obtain and analyze geospatial data.
Over the last few years, DHS has recognized the importance of sharing GEOINT data to related communities to ensure better preparation for potential threats to the union's safety. In a recent interview with Trajectory Magazine, the DHS identified three strategic governmental partners to assist with this communication directive:
National Geospatial-Intelligence Agency (NGA)
The NGA was founded in 1996 as the National Imagery & Mapping Agency. The agency serves a dual role as both a combat support agency and an intelligence agency. Their main goal is collecting, analyzing and distributing geospatial intelligence. The units are composed of highly-trained geospatial intelligence specialists who provide tailored information to command officers during the on-the-ground operations.
Their intelligence was credited as being essential to tracking down Osama Bin Laden – identifying both the compound and how many people resided there. Through their National Geospatial Intelligence College, they train many personnel to include the military's topographic units.
National States Geographic Information Council (NSGIC)
The NSGIC was created with the purpose of improving geospatial information and GIS technology. The agency covers the United States and related territory with members spanning the government, corporate and private sectors.
Geospatial Platform
The Geospatial Platform is a database containing common geospatial data that is open for use by anyone in the public or private sector. The information is available online and broken down by sources. They provide a platform for others to share and host pertinent geospatial data. They also have a detailed list of resources, tutorials and presentations designed to make geospatial information more accessible.
---
How Civil Service Agencies Use Geospatial Intelligence
Geospatial intelligence is used by more than just national agencies looking to prevent terrorism. Increasingly, local civil service agencies rely heavily on GIS to better protect and serve their communities.
Law Enforcement Agencies
GIS technology can assist police departments in determining resource allocation. Mapping technology can offer visual representation of past criminal activities to determine where to establish a stronger presence. Communities can also contribute to mapping software to maintain a more accurate representation of neighborhood needs.
Once the community map is created, police organizations can use the detailed information to identify potential crime trends. The data can also be shared with other area law enforcement agencies to help prevent large scale criminal activity with greater transparency.
Emergency Management Agencies
Natural Disasters
Emergency management agents depend heavily on geographic information to predict areas that are most at risk. The information can be shared with aid agencies to help locate communities (such as homeless, elderly, low income populations) needing assistance and to distribute much-needed resources such as food and water.
Public Health Emergencies
Local public health organizations can use mapping software to track movement of highly contagious disease transmissions. This data can be used in outreach activities to educate the public of potential risk. The shareable data can also be used by local law enforcement agencies for intervention training.
Geospatial Information is an essential part of our nation's security. In the past, it has been used to detect everything from military strikes to the location of Osama Bin Laden. Therefore, it is imperative to continue to educate individuals who are knowledgeable about the collection and analysis of this essential data.
---
About USC's Online GIS Graduate Programs
The University of Southern California offers a comprehensive selection of online GIS programs, including GIS master's degrees and GIS graduate certificates. This gives our students the ultimate flexibility in tailoring their education for their career goals. Click on the programs below to learn about our leading geographic information science education.
Online GIS Master's Degrees
Online GIS Graduate Certificates