/
/
/
GIS in the Field of Public Health
GIS in the Field of Public Health
In today's increasingly data-driven healthcare systems, obtaining accurate information for analysis is a high priority. Doctors and nurses want to know as much as they can about the factors that affect each patient's care, while administrators and public health officials need to keep an eye on population-level trends and maintain regulatory compliance. Spatial data can be a vital asset in achieving all these goals, making geographic information science (GIS) an important part of public health research and strategy.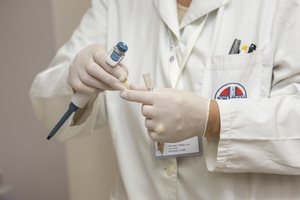 Geohealth has emerged as a rapidly growing, multidisciplinary field that applies spatial problem-solving to a variety of important questions. Ongoing advances in collecting and visualizing geographic data continue to reveal more uses of GIS in public health that range from local initiatives to international collaborations.
By implementing GIS tools and methods, healthcare providers, hospital administration and government agencies gain a detailed perspective on large-scale problems or growing trends. Organizations can analyze locational data and make strategic decisions that save lives around the world, leveraging their findings to direct the effective use of resources and personnel.
Request Brochure
Fill out the information below to learn more about the University of Southern California's online GIS Graduate Programs and download a free brochure. If you have any additional questions, please call 877-650-9054 to speak to an enrollment advisor.
*
All Fields are Required. Your Privacy is Protected.
Understanding Spatial Factors in Health Challenges
Where people live and work can have significant correlations with their susceptibility to disease or injury. Gathering information about these locations and mapping out potential risk factors may reveal threats to a population's well-being. Public health GIS data offers visibility into relevant patterns, guiding proactive measures that reduce environmental hazards and achieve improvements in long-term outcomes for patients.
With extensive spatial information and clear visualizations, public health professionals and care providers can prepare for serious threats or spot groups of people that need immediate attention. Teams at the Centers for Disease Control and Prevention gather a wide range of geospatial details to identify connections with some of the most pressing concerns for U.S. residents. For example, the National Center for Chronic Disease Prevention and Health Promotion's Division of Population Health researches issues like:
The regional accessibility of specialized medical treatment
The incidence of chronic conditions among Medicare beneficiaries across different counties
Geographic variations in the average duration of sleep
Ties between local drinking establishments and violence or other dangers
---
Monitoring Disease Transmission
Geographic data has been a powerful means of protecting populations from disease dating back to 1854. Then, English physician John Snow defied common wisdom about the causes of illness when he marked a map of London by hand and succeeded in tracing a cholera epidemic back to a contaminated water pump. Today, tracking and stopping the spread of communicable diseases remains a crucial application of GIS in public health.
The CDC's National Center for HIV/AIDS, Viral Hepatitis, STD, and TB Prevention maintains an atlas with charts, maps and tables to illustrate the part played by social determinants in the transmission of infectious diseases. Specialists in geocoding and data linkage from the Division of HIV/AIDS Prevention offer a sense of how race, gender and age may be related to HIV infection in different communities. Meanwhile, the STD Surveillance Network looks for trends in gonorrhea infection, synthesizing geographic findings with other behavioral, demographic and clinical information.
One international Geohealth undertaking set out to map cases of trachoma, the world's top infectious cause of blindness. This disease causes visual impairment in about 2 million people, many of them living in remote, rural areas of African and Asian nations. The Global Trachoma Mapping Project visualized the problem and assisted in deploying prevention and treatment services to the populations in the greatest need of intervention.
---
Addressing the Opioid Crisis
The abuse of prescription pain relievers and heroin has grown to epidemic proportions over recent years: The CDC reported that opioid overdoses resulted in 115 deaths a day as of 2016. Bringing together findings from GIS and public health policy solutions helps government officials, healthcare providers and law enforcement manage this crisis.
Using spatial tools, authorities can assemble reports on drug-related issues into clear visualizations. Public health professionals draw on the resulting insights as they direct more resources to areas with clusters of drug arrests and overdoses. Strategic efforts like expanding outreach to at-risk populations and making the drug Naloxone readily available in case of an overdose have life-saving potential.
Fighting the dangers associated with opioid addiction also means educating residents and encouraging them to get involved. Services powered by geospatial databases can:
Inform community members of the scale of the opioid crisis in their city or state
Offer a simple way of reporting suspected drug activity
Direct people to drop boxes for safely disposing of prescription drugs
Show what locations in the area can administer Naloxone
Provide directions to treatment facilities and needle exchange sites
---
About USC's Online GIS Graduate Programs
The University of Southern California offers a comprehensive selection of online GIS programs, including GIS master's degrees and GIS graduate certificates. This gives our students the ultimate flexibility in tailoring their education for their career goals. Click on the programs below to learn about our leading geographic information science education.
Online GIS Master's Degrees
Online GIS Graduate Certificates