/
/
/
The Evolution of GIS
The Evolution of GIS
The history of using geographic information to better understand and solve complex problems can be traced all the way back to the 19th century. In 1832, French geographer Charles Picquet used various color gradients on a map of Paris to represent the number of deaths by cholera, making an early contribution to the development of epidemiology. Twenty-two years later, English physician John Snow took this concept a step further and demonstrated the problem-solving potential of maps by identifying the connection between an outbreak of cholera in London and a contaminated water supply.
Today, geographic information science (GIS) has applications ranging from strategizing public health initiatives to selecting sites for archaeological digs. Over the history of GIS, researchers, programmers and analysts have continued to innovate, developing fresh perspectives and technological breakthrough. Their efforts resulted in the versatile tools and methods that empower projects for a wide variety of organizations.
Related content: Top Companies Using GIS Technology
Examining the evolution of GIS reveals how experts in many different fields discovered the value of spatial reasoning. Advances in areas like open-source mapping and augmented reality mean that geographic data will only become more important in our daily lives.
Request Brochure
Fill out the information below to learn more about the University of Southern California's online GIS Graduate Programs and download a free brochure. If you have any additional questions, please call 877-650-9054 to speak to an enrollment advisor.
*
All Fields are Required. Your Privacy is Protected.
The Early Years of GIS
GIS emerged as a distinct discipline in the 1960s with Roger Tomlinson's pioneering efforts for Canada's Department of Forestry and Rural Development. Tomlinson was tasked with creating a map-based inventory of the nation's natural resources. In collaboration with IBM programmers, he developed automated processes to collate data from all of Canada's provinces.
The world's first operational GIS, the Canada Geographic Information System, also gave the new field its name. This new technology represented a major leap forward from previous approaches to computerized mapping, featuring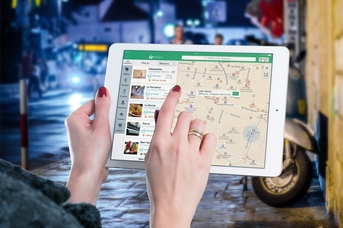 The capability to convert data from digital scans into topologically coded map formats
A national coordinate system
Separate file storage for attribute and locational information
Overlays, the operation that superimposes multiple data sets on a map to identify their relationships
As Tomlinson's team developed CGIS, other innovators were also at work, such as Howard T. Fisher. Fisher developed a prototype for one of the first mapping software programs, Symap, at Northwestern University in 1964. He went on to establish the Harvard Graduate School of Design's Laboratory for Computer Graphics and Spatial Analysis in 1965. The LCGSA led the way in developing techniques for managing, synthesizing, analyzing and visualizing spatial information that enabled increasingly robust applications for GIS.
---
Leaps in GIS Evolution
Over the decades following the invention of GIS, programmers and researchers expanded the boundaries of geospatial data collection and problem-solving. Advances in digital tools for gathering, visualizing and analyzing spatial information opened new possibilities for organizations in both the public and private sectors.
Esri is one company that has played a key role in these shifts since its 1969 founding as Environmental Systems Research Institute. The Redlands, California-based firm initially specialized in using GIS to guide consultation services for land-use planning and resources management.
After years of refining those methods, Esri debuted the first commercially available geographic information system, ARC/INFO in 1981. This software package provided users with a database and a set of tools for the input, processing and output of spatial information. Building off that initial platform cemented Esri's place as the world's largest GIS firm, even as an array of alternatives appeared on the market.
---
Ongoing Innovation
The evolution of GIS continues, as geospatial systems have transformed along with the increasing power of computers and growing data storage capacity. Tools and techniques are now constantly refined to serve purposes such as urban planning, disaster response, market research, resource management and military operations. Remote sensing makes it possible to collect geographic data from remote areas of the world and even from space.
Robust GIS tools allow organizations to organize and share complex information in ways that users can easily understand. Manufacturers and retailers can use their findings to create more efficient supply chains, while health departments can make better-informed decisions about distributing limited resources. With open-source mapping and web-based tools, anyone can get involved in generating data on traffic patterns or the path of a dangerous storm.
Creative problem-solvers will continue to push the boundaries of geospatial thinking in the years ahead. Some of the most promising areas for future development in GIS include:
Using 3D GIS to create more nuanced visualizations
Location-based augmented reality applications
Creating navigation systems for self-driving cars
Mapping indoor environments
Related Content: Predictions for the GIS Industry in 2019: Opportunities, Technologies and Students
---
About USC's Online GIS Graduate Programs
The University of Southern California offers a comprehensive selection of online GIS programs, including GIS master's degrees and GIS graduate certificates. This gives our students the ultimate flexibility in tailoring their education for their career goals. Click on the programs below to learn about our leading geographic information science education.
Online GIS Master's Degrees
Online GIS Graduate Certificates