/
/
/
Q&A with USC M.S. in Human Security and Geospatial Intelligence Student Eli Ibanga
Q&A with USC M.S. in Human Security and Geospatial Intelligence Student Eli Ibanga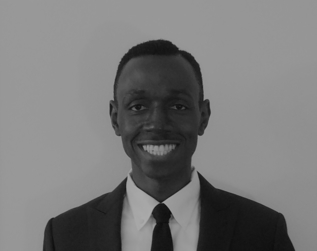 Our online Master of Science in Human Security and Geospatial Intelligence program offers a unique opportunity to better understand how governments, military and humanitarian organizations mitigate damage from threats ranging from natural disasters to terrorist attacks. Our inaugural class has brought together individuals with a wide range of expertise and backgrounds.
We recently spoke with one of our inaugural students in the program, Eli Ibanga, who served in the U.S. Army as Medical Service Corps Officer. Eli earned his Graduate Certificate in Geospatial Intelligence from USC in 2018, and he chose to pursue the M.S. in HSGI because it aligned with his interest in disaster management and relief and would provide a unique skillset that could be applied to numerous other domains. Read our full interview with Eli below.
If you have any questions about the M.S. in HSGI program, you can reach an enrollment advisor and request a free brochure.
---
1. What is your professional background?
I got my undergraduate degree and, from there, I commissioned to the U.S. Army. So, I've been a Medical Service Corps Officer for the past seven years. Throughout being deployed and trying out several jobs, I got a master's degree in Homeland Security. With USC, I started with the geospatial intelligence graduate certificate and am now earning the master's in Human Security and Geospatial Intelligence.
---
2. What made you decide to pursue additional graduate education?
With my plan to eventually transition from the military, I needed additional skills to do the work I really wanted to do. I started doing some more research, found out about USC's GIS programs, and I applied. I started with the geospatial intelligence certificate, and Dr. Fleming told me about the HSGI program that was starting, so that put this program on my radar.
---
3. What most interests you about the human security and geospatial intelligence industries?
Most recently, I've been thinking about the potential opportunities to work abroad or internationally. Because of the nature of GIS, you can essentially work from anywhere as long as the data is available. It's also critical work to some of the problems I care most about — disaster management and relief.
As I started to study in the geospatial intelligence certificate program at USC, I started to see more opportunity and value in that arena, compared to something like international relations, which is one of the major other career paths I had been considering. The nice thing about GIS is that it's universally applicable, so it has applications to international relations, homeland defense and disaster relief, so the knowledge is usable for every area I'm interested in.
---
4. Which security and geospatial challenges or issues do you feel especially passionate about?
One of the first projects I did in the HSGI program was looking at Hurricane Maria and its impact on Puerto Rico — we had to come up with a fictional organization and discuss how it would respond, get contracts, etc. I talked about coming up with a database that compiled an almost obscene amount of data, from the composition of buildings to the general population, where they lived and how many relatives they have in the area.
With all of this data and a geographic information science analyst looking at it, one can start to infer relationships that are not immediately apparent. For example, you can consider that the roads might be bad in a city. But, if the roads are bad and then a category 5 hurricane happens, a GIS analyst can assess the risk and potential damage to help organize a more efficient response and save more lives. Something like that's impossible to do if you don't have the data and the expertise to make those connections.
---
5. Why did you choose to pursue an M.S. in Human Security and Geospatial Intelligence degree?
To be honest, I only really started thinking about geospatial intelligence specifically as a career path within the last year or so. I've always been interested in emergency management and disaster management — helping to make the world a safer and better place. I prefer jobs that offer more opportunities to work in the strategic environment and with higher level decision making. And, as I've started taking classes, I've realized that there are a lot of things I've learned that I could have applied to the majority of my previous jobs.
---
6. Why did you choose USC for your online M.S. in Human Security and Geospatial Intelligence degree?
As I started to look into different programs, I narrowed it down to USC and one other school as having the best geospatial science programs. I started the application process for both. However, I felt very much like USC wanted me to attend their school and be part of their program. With the other school, their communication just felt generic. USC has always been invested in my success and making me feel as if I belong.
For example, within a day of contacting USC, they called, and we had a great, hour-long conversation about the program. I liked that USC felt that I would contribute to the university as much as they would contribute to me.
That feeling has stayed with me as I've gotten into the program—I had my birthday during the Catalina Island trip, and they not only made sure to sing happy birthday, they had a breakfast because it was my birthday. One of the professors is also a retired Army officer, and he looked at my resume, gave me tips on how it should look and helped me tailor it toward what I want in my career.
---
7. How has your experience in the program been so far?
There's definitely a lot to learn. There's a lot to it and it's very technical. But for people who are interested in the program and they sign up, it's the kind of what they expect and what they hope to get. One of the things that has really stands out to me is that they're really building us to be more of a project manager or leader in the geospatial intelligence field. Although I have had leadership experience, it's really useful to see how the leadership skills apply to the technical expertise we're acquiring through the coursework.
---
8. What has been the most interesting for you to learn or work on in the M.S. in Human Security and Geospatial Intelligence program? What are you looking forward to?
I'm very interested in learning how different cities and organizations have used geographic information science and geospatial intelligence. There are so many good stories out there…for example, there was a city in Canada, I believe it was Sault Ste. Marie, that originally had an economy heavily based on industrial manufacturing. But, as demand for products like steel declined, the city started looking at ways to keep up with the modern world. This led to direct investments in science and technology throughout the 90s, and GIS was a major part of that; they started collecting data from different public and government organizations to compile a spatial data repository.
Remote sensing is another big topic for me—obviously, I work in the military and I'm interested in homeland defense. Our constellation, which is what you call our array of satellites. . .essentially, just like computer networks, there is a degree of risk inherent in using it and keeping it safe as well as interpreting the data. I'm definitely interested in learning more about all the issues associated with that.
---
9. Is there a particular course you are most looking forward to?
They have a new course as part of the HSGI program, the geospatial intelligence tradecraft practices, and I expect that'll really drive things home— not just connecting everything we've learned but how these practices and the knowledge applies to work in geospatial intelligence.
---
10. How are you applying what you've learned so far?
Although I don't have access to a lot of the same technology in my current role at work, I have been able to apply many of the concepts I've learned. One of the most valuable things we learn in studying GIS is information management as well as how to synthesize information.
Not many fields outside of say, GIS or library science, focus on how to take information and then put it into a format that anyone can understand. In my field, work in healthcare or medical operations, we track things like health readiness— whether soldiers have all their vaccinations or if they're medically fit for operations— and there is a lot of medical jargon. Commanders may not always have that medical background, so it's important to synthesize the information and convey that information in a way that makes the information useful to them.
---
11. What advice or comments would you like to share with students who are considering this program?
The skills you learn are applicable to any field and all walks of life. If you're interested, you should be excited and prepared to learn. Even if you're not from the GIS or security fields, you have something to bring to GIS— one of the professors is a Ph.D. in biology and GIS is very applicable to her field. Some of my classmates have degrees in business, environmental science… It is legitimately interdisciplinary and can be applied to any field.
---
About USC's Online GIS Graduate Programs
The University of Southern California offers a comprehensive selection of online GIS programs, including GIS master's degrees and GIS graduate certificates. This gives our students the ultimate flexibility in tailoring their education for their career goals. Click on the programs below to learn about our leading geographic information science education.
Online GIS Master's Degrees
Online GIS Graduate Certificates
---
Request Brochure
Fill out the information below to learn more about the University of Southern California's online GIS Graduate Programs and download a free brochure. If you have any additional questions, please call 877-650-9054 to speak to an enrollment advisor.