/
/
/
The Importance of Geospatial Leadership in a Changing World
The Importance of Geospatial Leadership in a Changing World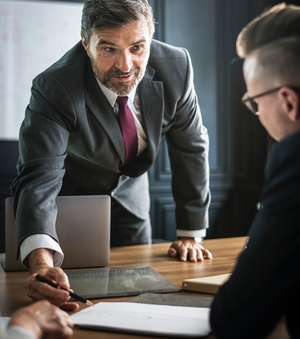 We've previously explored the importance of geospatial technology in a wide range of industries, from health and human services to banking to supply chain management. It is no secret that geospatial technology plays an increasingly critical role in not only how we understand our world, but how we interact with the environment around us. With great GIS technology, however, comes great responsibility.
The challenges of modern geospatial technology have created demand for leaders who understand the technical needs of their organizations as well as broader technology trends that may add value within their domains. As a result, the qualities of effective geospatial leaders and managers have expanded to include softer skills revolving around the ability to adapt to changing technology needs and collaborate with many different stakeholders, such as:
Responding to rapid change in geospatial technology uses
Collaborating across teams and disciplines to effectively implement complex geospatial solutions
Ensuring the effective and ethical management of spatial data, including protection of sensitive information
Managing data quality and ensuring that collected spatial data is fit for their geospatial technology goals.
Request Brochure
Fill out the information below to learn more about the University of Southern California's online GIS Graduate Programs and download a free brochure. If you have any additional questions, please call 877-650-9054 to speak to an enrollment advisor.
*
All Fields are Required. Your Privacy is Protected.
What is Geospatial Technology?
While GPS is perhaps the most well-known geospatial technology, the term broadly defines the tools, systems and data that are used to study and understand spatial features, such as geography, weather patterns, sociopolitical movements, geology and the impact of natural disasters. Like other areas of technology, usage of the term has evolved to align with how it is used. For example, an early example of geospatial technology was an 1832 map representing cholera epidemiology.
However, modern geospatial technology includes a vast range of tools, software applications and systems used for analyzing spatial information. For example, although historic use of geospatial techniques focused on understanding Earth, NASA uses mapping applications to better understand our solar system and beyond.
Related content: The Fundamentals of Cartography
---
The Importance of Geospatial Technology and Leadership
While there are many different factors at play in the changing technology-driven world, interconnectivity has been one of the most dominant trends of the last several years, particularly with the increase in smarter, location-aware technologies for both consumers and businesses. This is increasingly true of geospatial software and other technology, which can now be found in smartphones, warehouses, in sensors, household appliances and countless other areas.
"[The geospatial industry] finds itself aligning with the mainstream market, adding spatial dimension and locational context to digital infrastructure, interconnected systems and business processes."

While this interconnectivity will create opportunities for the geospatial technology community, it has also created a need for geospatial leadership to help drive the ethical and effective use of spatial information.
Related Content: Learn more about USC's Graduate Certificate in Geospatial Leadership
---
Qualities of Effective Geospatial Leaders
Effective geospatial leaders thrive in highly dynamic environments. They must have the specific technical skills required for spatial analysis as well as a broad awareness of other technology trends and tools, and they must commit to lifelong learning; not only is the technology ever-changing, but the trend of interconnectivity means that the role of the geospatial leader is increasingly collaborative and multidisciplinary.
As GeoBuiz noted in its 2018 Readiness Index, the widespread adoption of geospatial technology means that its potential impact on society as a whole is massive. As a result, geospatial leaders are no longer only responsible for identifying the most effective geospatial technology uses, but ensuring their organizations leverage the spatial information they collect ethically and that they are able to protect it.
For example, government and military organizations worldwide have increasingly looked toward crowdsourced geospatial data to fill in intelligence gaps. However, this data presents new challenges when compared with data sourced from official sources, meaning that today's geospatial leaders must answer questions like:
What quality control measures can be implemented for crowdsourced geospatial data?
How can military organizations ensure crowdsourced data is fit for specific purposes such as defense?
As open geospatial data sharing becomes more dominant, how can government and military organizations protect sensitive information?
Related Content: Learn more about USC's M.S. in Human Security and Geospatial Intelligence
Furthermore, these challenges extend beyond the scope of the Intelligence community. Geospatial leaders in the business sector will need to answer similar questions about protecting sensitive customer and organizational information and ensuring that the data they're collecting is applicable to their specific goals. For example, several of TechWorld's most infamous data breaches in 2018 had a spatial component, such as customer addresses or location information collected by mobile apps.
Looking ahead, geospatial technology will only become more deeply integrated into everyday life, critical services and military operations. The role of geospatial leadership will evolve along a similar path, becoming instrumental to driving strategies that stretch across multiple business functions, types of organizations and disciplines.
---
About USC's Online GIS Graduate Programs
The University of Southern California offers a comprehensive selection of online GIS programs, including GIS master's degrees and GIS graduate certificates. This gives our students the ultimate flexibility in tailoring their education for their career goals. Click on the programs below to learn about our leading geographic information science education.
Online GIS Master's Degrees
Online GIS Graduate Certificates