/
/
/
Q&A with Air National Guard Analyst Adrianna Valenti
Q&A with Air National Guard Analyst Adrianna Valenti
How is geographic information science and technology used in the military?
This is a segment of our multi-part series honoring the active service members and veterans who have taken or who teach USC's Geographic Information Science and Technology (GIST) graduate programs by allowing them to share some of their most memorable experiences.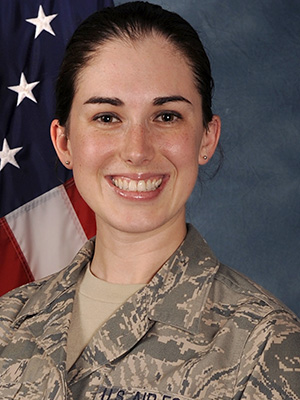 For today's article, we talked with Adrianna Valenti, an alumna of our M.S. in GIST program and Geospatial Analyst for the Air National Guard. She has also served as an imagery analyst for the U.S. Air Force and Geospatial Analyst for the Air Force National Reserve. Adrianna completed the M.S. in Geographic Information Science and Technology in May 2015 and is currently pursuing a Ph.D. in Earth Systems and Geoinformation Sciences at George Mason University.
To read the other articles in this series, click the following links:
Q&A with former Air Force Officer Andrew Marx, Ph.D.
1. How did you get involved with geospatial work in the military?
When deciding to enlist in the military, I only looked at jobs that were analyst positions. Number one on my list was imagery analyst, which is called geospatial analyst these days. I didn't exactly know what I was getting myself into, but my military training and education led me to a career that I love, while allowing me to acquire skills that are pertinent for today's digital world.
2. Do you use GIS in your current role/position and, if so, how?
I use GIS all day, every day!
What I love about it is that I can apply my skills to relevant applications across fields from military, to humanitarian work, to emergency management, and beyond. In my current job, I have the flexibility to do research and development, to create methods and models using spatial statistics and problem-solving techniques. I get to merge my love of geography and space with art and math to create graphics and maps which help decision makers for a variety of purposes.
3. Why did you choose the USC GIST Programs for your education? How has your USC GIST education helped you?
In addition to working full time, I love learning and have become somewhat of a professional student, attending many schools, including three that are in the USGIF GEOINT collegiate accreditation program. USC remains my favorite program.
Growing up as a Southern Californian, USC was always a dream to attend and I'm honored to be associated with the school. USC's GIST program is unique in that you are required to visit the campus and take part of a course in person. USC's GIST program is designed well and concentrates on the WHY you do something in GIS— it's not just about clicking buttons to receive an output you don't understand. To this day, I still reference my course materials when developing models and using spatial statistics.
4. What has been one of your favorite GIST projects to work on, either in USC's GIST program or in your career?
My favorite project throughout my career would have to be my thesis project. The USC GIST program really motivated me to push myself. I was immensely proud of the work I did, and I was absolutely grateful for the recognition by the Spatial Sciences Institute.
Since then, my work has been lauded by many and widely shared throughout the Department of Defense community. I'm particularly fond of projects that have a humanitarian flair and have some predictability power to them. Without the support and encouragement of USC, I wouldn't have been as motivated to dive so deeply into that project nor would I have been motivated to pursue my Ph.D.
---
About USC's Online GIS Graduate Programs
The University of Southern California offers a comprehensive selection of online GIS programs, including GIS master's degrees and GIS graduate certificates. This gives our students the ultimate flexibility in tailoring their education for their career goals. Click on the programs below to learn about our leading geographic information science education.
Online GIS Master's Degrees
Online GIS Graduate Certificates
---
Request Brochure
Fill out the information below to learn more about the University of Southern California's online GIS Graduate Programs and download a free brochure. If you have any additional questions, please call 877-650-9054 to speak to an enrollment advisor.