/
/
/
Q&A with GIST Master's Alumnus Devlin Howieson
Q&A with GIST Master's Alumnus Devlin Howieson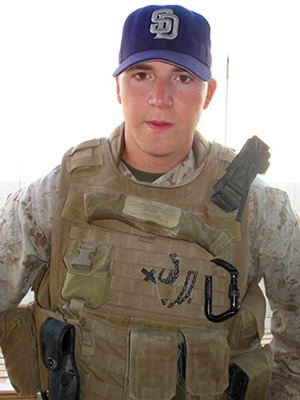 How is geographic information science and technology used in the military?
This is a segment of our multi-part series honoring the active service members and veterans who've taken or who teach USC's Geographic Information Science and Technology graduate programs by allowing them to share some of their most memorable experiences.
For today's article, we talked with Devlin Howieson, an alumnus of the M.S. in GIST program. Devlin has served as Police Sergeant for the U.S. Marine Corps and as Geography Assistant for the U.S. Census Bureau.
To read the other articles in this series, click the following links:
How did you get involved with geospatial work in the military?
I used geospatial information on everyday basis while I was deployed in Iraq. This was from using strip maps to navigate our missions and the Blue Force Tracker (BFT), which allowed me to track our position along with every friendly unit with a BFT. It is during this period, I learned the value of accurate geospatial information.
How did you use GIS in your position with the U.S. Census Bureau?
I used GIS from state, county, city governments to update the Census TIGER/Line files to ensure the accuracy of the Bureau's geospatial data.
Why did you choose the USC GIST Programs for your education?
I chose USC's GIST program because of its flexibility. I was initially interested in the Geospatial Intelligence Certificate, but I really liked that I could easily move into the master's program by applying credit from the certificate.
How has your USC GIST education helped you?
It has expanded my knowledge of the many different ways geospatial information can be used, and it gave me hands-on experience using geospatial data for issues I care about.
What has been one of your favorite GIST projects to work on, either in USC's GIST program or in your career?
I would say my favorite project was my thesis. It allowed me to use open source geospatial data in areas that interested me, supporting first responders and helping to combat terrorism. I enjoyed the challenge of working with data from social media, and solving the challenge of extracting actionable intelligence information from sites like Twitter.
For more information about our support for U.S. service members and veterans, visit our USC Military and Veterans page.
---
About USC's Online GIS Graduate Programs
The University of Southern California offers a comprehensive selection of online GIS programs, including GIS master's degrees and GIS graduate certificates. This gives our students the ultimate flexibility in tailoring their education for their career goals. Click on the programs below to learn about our leading geographic information science education.
Online GIS Master's Degrees
Online GIS Graduate Certificates
---
Request Brochure
Fill out the information below to learn more about the University of Southern California's online GIS Graduate Programs and download a free brochure. If you have any additional questions, please call 877-650-9054 to speak to an enrollment advisor.