/
/
/
The Role of Geospatial Intelligence in the Response to Hurricane Florence
The Role of Geospatial Intelligence in the Response to Hurricane Florence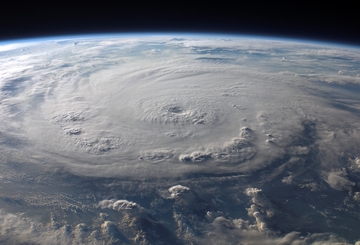 At 7:15 am on September 14, 2018, Hurricane Florence made landfall near Wrightsville Beach, North Carolina. The Category 1 hurricane brought sustained winds of up to 90 miles per hour. The storm's windspeed had already dropped significantly from the maximum of 140 mph it previously reached offshore as a Category 4 hurricane, but there were still serious dangers ahead for the Eastern United States. Florence went on to cause at least 37 deaths and billions in property damage as it gradually weakened to a tropical storm and then a tropical depression.
At every juncture, geospatial intelligence (GEOINT) teams provided vital updates about the storm's trajectory and impact for first responders, government agencies and the public. A complex, dangerous situation like a hurricane produces vast quantities of information that evolves quickly. Current, accurate data and analysis make all the difference in safeguarding lives and property.
Request Brochure
Fill out the information below to learn more about the University of Southern California's online GIS Graduate Programs and download a free brochure. If you have any additional questions, please call 877-650-9054 to speak to an enrollment advisor.
*
All Fields are Required. Your Privacy is Protected.
Advances in Geospatial Intelligence
The rapid development of GEOINT over recent years has transformed disaster response, providing organizations unprecedented visibility into hazardous situations. GIS experts employ increasingly sophisticated tools to gather, organize, distribute and react to relevant intelligence. For example, synthetic aperture radar imaging, which allows accurate mapping even when it's dark or cloudy, means agencies can count on real-time updates throughout the day and night.
Trajectory Magazine traced the current era of deep connections between GEOINT and emergency management to 2005, when the National Geospatial-Intelligence Agency (NGA) was tasked with monitoring Hurricane Katrina. Today, crisis mapping enables real-time analysis and strategic decision-making with techniques that draw on:
Satellite imagery
Remote sensor readings
Crowdsourced data
GIS platforms
Statistical models
GEOINT experts help teams on the ground understand the problems they face, share information and coordinate rescue and recovery operations. The response to Florence demonstrated just how important mapping has become when preparing for and responding to natural disasters or other threats.
---
Supporting Disaster Response Efforts
Crisis mapping assists directly in a variety of rescue and relief initiatives. As Florence made its way across the Eastern U.S., a wide range of organizations took advantage of GEOINT to optimize their effectiveness and make the best use of resources.
Post-storm assessments based on findings from NGA satellites directed military operations in the area. Meanwhile, FEMA implemented GIS data by creating a Hurricane Incident Journal to help agency leaders make decisions. The map offers damage assessments and accounts for hazards like floods and force winds. With a robust assortment of insights readily available, the journal demonstrates the factors that go into strategies at the federal level for offering disaster support, protecting infrastructure, enabling transportation and conducting search and rescue operations.
Various nonprofit organizations also employed mapping to facilitate work in the affected areas. Team Rubicon, which hires military veterans as members of disaster response teams, used geospatial data associated with photos taken in the field to coordinate operations. The humanitarian relief group Humanity Road collaborated with the U.S. Coast Guard to produce a heat map showing where people had requested assistance.
---
Informing the Public
In a disaster situation like a hurricane or flood, residents need to know the right course of action to protect themselves, their families and their pets. The latest spatial data can inform crucial guidance from authorities and media outlets, advising the public to shelter in place, evacuate or make other preparations for a major storm.
GEOINT allowed news organizations to share helpful resources like the interactive maps of Florence's effects posted by the New York Times. These visualizations gave people affected by the storm a broad view of the situation with a convenient look at:
Satellite imagery illustrating the scale of the storm
Rainfall levels across the region
Areas hit by power outages
Fluctuations in windspeed over time
The storm's projected path
Other maps offered further details to help the people of the Carolinas and Virginia stay safe and relocate as necessary. The map posted by the National Hurricane Center presented areas where storm surge watches or warnings were in effect along with data on local demographics and real estate values.
With platforms for crowdsourced data, residents were able to share timely information. For example, a community contributed to a hurricane conditions map from OpenStreetMap. Various layers spotlighted where individuals reported observing the extreme weather, provided a comparison with the projected path and directed evacuees to FEMA shelters.
GEOINT has an increasingly integral place in how government agencies, nonprofits and the public learn about natural disasters and take action. GIS professionals pass along reliable data with the granular detail necessary to help people make better decisions in a crisis.