USC GIST Alumna in the News: Women in GIS Workshop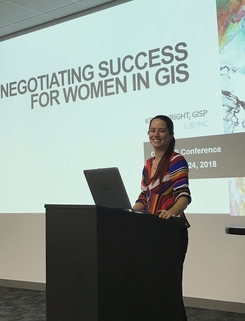 One of the things we're most proud of at the USC Spatial Sciences Institute is the connection and professional support we can offer our students. In celebration of the success and hard work of our alumni, we wanted to share a story from one alumna who recently presented at the 2018 Ohio GIS Conference.
USC GIST graduate Kelly Wright presented the topic "Negotiating Success for Women in GIS" for the 2018 Ohio GIS Conference. Her presentation was well-attended and gained considerable traction after the event; Kelly has also been asked to transform her presentation into a webinar for the Ohio Chapter of URISA.
Kelly graduated with her master's in geographic information science and technology from USC in 2017 and currently works as a GIS Analyst with LJB Inc, an architecture and engineering firm near Dayton, Ohio.
Her Ohio GIS Conference presentation explored the challenges and strategies for women in negotiating within their GIS careers, answering questions such as:
How should you prepare for a salary negotiation?
What should you do once you have an offer?
What can and should you negotiate for?
Kelly has continued to do work focusing on women in GIS, and it remains a passion for her. She has worked as both a mentor and mentee in the Ohio URISA MATCH program, where she has helped three individuals find GIS employment and negotiate higher salaries. In her recently appointed role as president of Southwestern Ohio GIS User's Group (SWOGIS), this type of work will remain a key priority. As president, she wants to continue meeting young professionals to give them tips for navigating the early stages of their GIS careers.
We couldn't be prouder of Kelly's accomplishments, and we're honored to have seen her passion for GIS first-hand. From the faculty, advisors and rest of the Spatial Sciences Institute, congratulations Kelly!
---
About USC's Online GIS Graduate Programs
The University of Southern California offers a comprehensive selection of online GIS programs, including GIST master's degrees and graduate certificates. This gives our students the ultimate flexibility in tailoring their education for their career goals. Click on the programs below to learn about our leading geographic information science education.
Online GIS Master's Degrees
Online GIS Graduate Certificates
---
Request Brochure
Fill out the information below to learn more about the University of Southern California's online GIS Graduate Programs and download a free brochure. If you have any additional questions, please call 877-650-9054 to speak to an enrollment advisor.
*
All Fields are Required. Your Privacy is Protected.
The University of Southern California respects your right to privacy. By submitting this form, you consent to receive emails and calls from a representative of the University of Southern California, which may include the use of automated technology. Consent is needed to contact you, but is not a requirement to register or enroll.
Are you enrolling from outside the U.S.? Click Here.