/
/
/
4 Reasons GIS Careers May be the Best Careers
4 Reasons GIS Careers May be the Best Careers
It is a great time for geographic information systems (GIS) careers. Geographic tools are more accessible and more powerful than ever. Cloud-based applications allow users to work nearly anywhere, while crowd-sourced information has fueled a massive global dataset. Drones can create nearly instantaneous maps, while LiDAR sensors are building remarkable 3D worlds in real-time.
If these advancements excite you and you are intrigued by how geospatial approaches can change your industry, a career in the dynamic, ever-evolving field of geospatial sciences may be a great option for you. Here are four reasons why GIS careers may be some of the best ones out there.
Request Brochure
Fill out the information below to learn more about the University of Southern California's online GIS Graduate Programs and download a free brochure. If you have any additional questions, please call 877-650-9054 to speak to an enrollment advisor.
*
All Fields are Required. Your Privacy is Protected.
---
Reason #1: GIS Job Salaries Are Competitive
Given the many ways we use GIS technology to solve problems, it's no surprise that job research site Zippia projects the demand for GIS analysts, technicians and similar jobs will increase 9% through 2028.
That demand is translating to higher GIS salaries: median salaries are at their highest point in three years for jobs that ask for geographic information system skills, according to the labor database Lightcast.
The median advertised salary for professionals with skills in geographic information systems is $63,900, according to Lightcast. That median salary jumps up almost 10% for those who have a master's degree.

Sample positions: GIS technician, geospatial analyst, distribution engineer

The median salary for professionals with skills in geospatial information technology is $92,700.

Sample positions: GIS specialist, land survey manager, urban planner

Professionals with skills in geospatial intelligence earn a median salary of $110,500. Lightcast labels this a distinguishing skill, meaning it can set you apart from the competition.

Sample positions: operations research analyst, systems engineer, DevSecOps engineer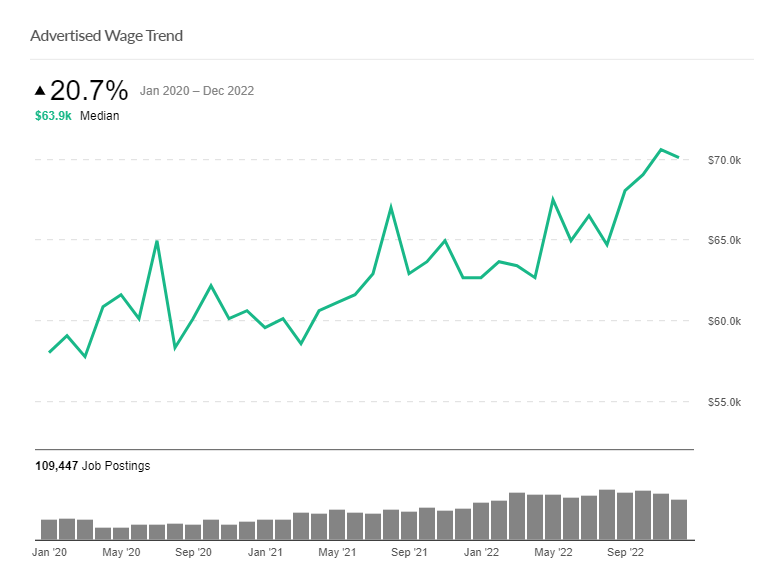 Professionals with GIS training are employed in a wide variety of roles. Median salaries range from $46,904 to $159,016, with pay varying based on position and experience level. Some of the highest paying GIS jobs are at the managerial level. Here is how much some of these roles pay on average based on job title:
GIS Technician – $46,904
Survey CAD Technician – $46,904
CAD Drafter – $60,341
CAD Technician – $60,341
Land Surveyor – $61,610
Geointelligence Analyst – $95,264
GIS Analyst – $95,264
GIS Supervisor – $95,264
CAD Engineer – $95,306
LiDAR Analyst – $99,278
Survey Party Chief – $61,610
Cartographer – $68,890
Hydrologist – $84,032
Geographer – $85,218
GIS Specialist – $95,264
Sensing Analyst – $103,591
GIS Software Engineer – $120,744
GIS Program Manager – $159,016
Source: Lightcast, 2022
At USC, many students report above-average salaries, with 55% of graduates employed at $75,000 or higher, as reported in USC GIST's 2020 Student Outcome Survey.
In addition, 57% of graduates report a pay increase after graduating from USC, making a master's in geographic information science and technology a worthwhile investment. For more information on GIS as a career, plus outcomes and opportunities, visit USC's GIS Careers page.
---
Reason #2: GIS Is a Growing Market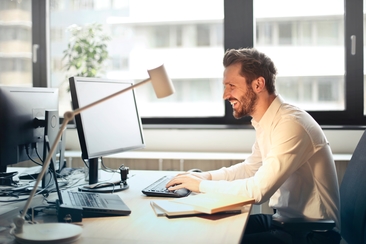 The GIS market is projected to reach $134.23 billion by 2030, according to an Emergen Research report in Directions Magazine.
Why Are GIS Jobs in Demand?
Different sources point to different reasons for this growth, but some commonalities include: increased government funding for GIS projects; the need for maps that can guide urban planning; a telecommunications sector moving to 5G; and the accelerated adoption of AI and machine learning.
Government Investment Is Driving GIS Demand
While GIS has long been utilized by the military, more and more federal, state and local institutions are investing in GIS solutions to manage data related to transportation, utilities, land use and more. They can track air quality in parks, rehabilitate deteriorating neighborhoods and improve the voting process.
An example of this investment is the Bipartisan Infrastructure Law signed in 2022. Among the $1 trillion in funding is money for projects like universal broadband and autonomous vehicles, both of which require advanced geospatial technology as well as advanced management and planning skills. (Fittingly, the public can track funds from the bill via a GIS-supported dashboard.)
Mapping Is Key to GIS Future Growth
The World Bank estimates that the global urban population will double in size by 2050, with almost 70% of all people living in cities. Urban areas need to ensure tenable growth that maintains a decent quality of life to its new and existing inhabitants. This is fueling a need for those who can visualize the rapid population changes and implement geographic data-driven solutions that improve the efficiency, sustainability and livability of cities.
Maps built from geospatial data can help urban planners track land-use patterns over time. They can predict how their decisions might impact the growth and development of a city. When policymakers weigh the approval of new developments in their district, their decisions can be influenced by maps that show access to transportation, proximity to amenities and services, and any detrimental health factors.
Telecommunications Is Improving GIS Capabilities — and Vice Versa
A United Nations report on geospatial trends lists connectivity as the "most critical enabler of digital transformation over the next 10 years." That report also notes that advances in next-gen mobile technology will revolutionize the way data moves.
Telecom companies are turning to GIS specialists to plan and maintain this digital communication infrastructure. According to Lightcast, more than 22% of new telecom jobs in January 2023 asked for geographic information systems skills, and wages are at their highest level in three years.
That same UN report points to the rollout of 5G as a game changer for emerging GIS technologies propelled by the arrival of ultra-fast speeds and what it calls "ubiquitous connectivity." But they note that the biggest impediment is the speed of deployment. In order to improve efficiency and deal with 5G's more easily blocked signals, telecom companies are using spatial analysis to create precise visualizations of an optimal network.
GIS Professionals Must Be Ready for AI and Machine Learning
Artificial intelligence and machine learning tools are becoming more than helpful — they are becoming necessary. The amount of data available to us is staggering; Cisco estimates that the Internet of Things alone produces 5 quintillion data bytes a day. By automating some routine tasks, GIS professionals can focus on tasks that require more creativity and critical thinking.
Combine AI and machine learning tools with open-source GIS mapping software and cloud-based applications, and GIS professionals across industries can create sophisticated visualizations without limits from technology availability or capability. These add up to incredible opportunities for those who understand how to harness these possibilities.
As artificial intelligence and machine learning become more accessible to industries beyond the sciences, there will be a need for specialists who can navigate these applications and make use of the results. While automation might eliminate some roles that deal with more rote responsibilities, it will open up more positions for those who have enhanced skill sets.
---
Reason #3: You Can Find GIS Opportunities to Match Your Goals
GIS jobs make for great careers, but there is not a singular path for those with geospatial skills. Graduates of GIS programs are not limited to one industry or location. You can find a position that fits your ideal working life and that follows the ways you want to impact the world.
GIS careers can accommodate both those who like the structured setting of an office and others who prefer the outdoors.
For those who want to work from home or from a different state than their organization, many GIS jobs are fully remote.
The public, private and nonprofit sectors all employ GIS professions.
GIS specialists are also in demand across industries — agriculture, emergency management, environmental services, finance, health care, forestry, real estate, retail, transportation, sustainable energy, telecommunications and so many more.
GIS has a long history in urban planning, environmental sciences and defense, but its use has grown to include numerous other fields and subfields. Here are some examples of unique applications of GIS technology in a variety of industries:
---
Reason #4: GIS Careers Can Make a Difference
With GIS technology capable of processing and analyzing increasingly complex data sets, societies can address challenging problems of both small and large scales more effectively. The geographic data collected today provides a comprehensive perspective and shines light on solutions.
Consider an issue that plagued essential workers during the COVID-19 pandemic: childcare. Many families struggled to find alternative solutions when schools went remote. To help caregivers, the state used GIS technology to create an online, interactive dashboard that showed open childcare facilities within a school district. A team built the map based on geographic data provided by the Office of the Superintendent of Public Instruction. They included important details from the State Emergency Operations Center such as facility addresses, hours of operation, contact information and alternative sites.
GIS also helps organizations that provide services to individuals experiencing homelessness. Every year in January, cities across the country conduct a count of all shelters and unhoused people in their area. Called the point-in-time (PIT) count, the Department of Housing and Urban Development requires this count in order to receive federal funds. In 2022, the City of Frederick, Maryland, switched from pen and paper to ArcGIS.
The change allowed them to process surveys in real time and later create visualizations accessible to volunteers, donors and community members. This more accurate, time-saving count meant that organizations could more effectively deploy resources and that staff could focus more on providing needed services.
---
Getting Started In GIS
Wondering whether you would be a good fit for a GIS career? Ask yourself:
Do you have the curiosity to keep asking questions and really dig into a problem?
Do you like analyzing complex data and turning it into information that's usable by others?
Are you able to work on teams and collaborate with people who may come from different disciplines or technical backgrounds?

If these questions describe you, then you are on track to excel in spatial sciences and are likely well-equipped to learn the field's technical aspects.

The final question: what are my next steps? A graduate certificate or graduate degree is a great way to develop the knowledge and skills you need to move forward in a GIS career.

---

About USC's Online GIS Graduate Programs

The University of Southern California offers a comprehensive selection of online GIS programs, including GIS master's degrees and GIS graduate certificates. This gives our students the ultimate flexibility in tailoring their education for their career goals. Click on the programs below to learn about our leading geographic information science education.

Online GIS Master's Degrees

Online GIS Graduate Certificates