/
/
/
4 Reasons GIS Careers May be the Best Careers
4 Reasons GIS Careers May be the Best Careers
Geographic information science (GIS) is a dynamic, ever-evolving field with possibilities that increase as the world becomes more connected. Advancements like crowd-sourced location data and drone technology have paved the way for incredible nuance and specificity in spatial analyses, providing easier and more comprehensive solutions in areas like city planning, conservation, transportation and much more. GIS can also help address some of the most urgent challenges emerging now, such as the increase in extreme weather events and the COVID-19 pandemic.
With so much potential, GIS is a field with great opportunities in terms of both societal benefits and individual careers. Here are four reasons GIS careers may be the best:
---
Reason No. 1: GIS is a growing market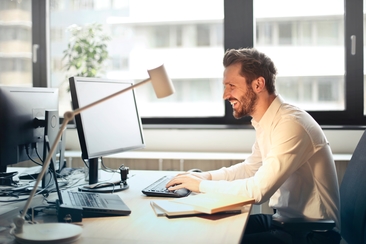 The GIS market is projected to reach $25.6 billion by 2030, increasing at a compound annual growth rate of 12.1 percent between 2020 and 2030, per Prescient & Strategic Intelligence. The consulting firm attributed much of this growth to the COVID-19 pandemic and the use of GIS to track the spread of the original virus, its variants, and vaccination distribution.
Several trends will ensure that GIS professionals and technology continue to benefit from increased demand. The emerging market for self-driving cars, increasing adoption of smart home technology and widespread availability of sophisticated drone technology will all contribute to push GIS forward.
The GIS field has already seen considerable growth in spatial knowledge and data-sharing. The increased availability of tools like open-source mapping and geospatial analytics allow professionals to tackle complex issues by drawing on the work of numerous experts across countless disciplines. Open-source mapping, for example, can provide real-time traffic data, which self-driving automobile developers and manufacturers use to improve their vehicles' responses to daily situations.
Businesses also use GIS to make strategic decisions that increase operational efficiency and revenue. Walmart, for instance, incorporates GIS technology to manage its supply chain. Since online shopping and global supply chain networks are key components of our worldwide economy, GIS is certain to remain a crucial investment for businesses, nonprofit organizations, government, research and academic institutions alike.
---
Reason No. 2: GIS jobs come with competitive salaries
Given the many ways we use GIS technology to solve problems, it's no surprise that labor insight tool Burning Glass projects the demand for GIS analysts, technicians and similar jobs will increase 9.3 percent over the next 10 years. In addition to these roles, many other careers rely on foundational GIS skills. For example:
Ready to build your GIST expertise? Our GIS master's degrees and certificates let you gain practical experience with GIS technologies and analysis.
---
Reason No. 3: There are GIS career opportunities to suit all types
GIS has a long history in urban planning, the earth and environmental sciences and defense, but its use has grown to include numerous other fields and subfields. GIS careers can also accommodate both those who like the structured setting of an office and others who prefer the outdoors.
Some of the unique applications of GIS technology showcase how such expertise can be utilized in a variety of industries:
---
Reason No. 4: GIS offers a chance to make a difference
With GIS technology capable of processing and analyzing increasingly sophisticated data sets, societies can address challenging problems of both small and large scales more effectively. The geographic data collected today provides a comprehensive perspective and shines light on solutions.
Consider an issue that plagued essential workers during the pandemic: childcare. Many families struggled to find alternative solutions when schools went remote. In the state of Washington, after-school programs fell by two-thirds, and availability at the remaining facilities fluctuated at a moment's notice. To help, the state used GIS technology to create an online, interactive dashboard showing open childcare facilities within a school district. A team built the map based on geographic data provided by the Office of the Superintendent of Public Instruction and included important details from the State Emergency Operations Center such as facility addresses, hours of operation, contact information and alternative sites.
---
Getting started in GIS
GIS has a growing potential for shaping the future of countless other fields, from gaming to social services and beyond. Spatial science is a technical discipline, but some of the most important qualities for success are soft skills: Do you have the curiosity to keep asking questions and really dig into a problem? Do you like communicating a lot of complex information to others and making it more digestible? If you're used to solving those kinds of challenges, the same skills will help you to excel in the spatial sciences and give you an excellent starting point for learning the field's technical aspects.
---
About USC's Online GIS Graduate Programs
The University of Southern California offers a comprehensive selection of online GIS programs, including GIS master's degrees and GIS graduate certificates. This gives our students the ultimate flexibility in tailoring their education for their career goals. Click on the programs below to learn about our leading geographic information science education.
Online GIS Master's Degrees
Online GIS Graduate Certificates
---
Request Brochure
Fill out the information below to learn more about the University of Southern California's online GIS Graduate Programs and download a free brochure. If you have any additional questions, please call 877-650-9054 to speak to an enrollment advisor.