4 Reasons GIS Careers May be the Best Careers
Before starting a graduate program in geographic information science, most people want to know what the future of GIS jobs looks like. Fortunately, the prospects look extremely bright for GIS career growth.
So, why study GIS? Here are four compelling reasons to pursue a GIS career path:
---
A growing field with strong job prospects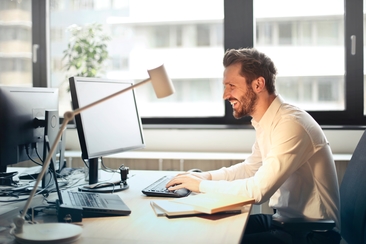 With the rapidly increasing availability of geospatial data, APIs for platforms like Google Maps and integration into the Internet of Things, GIS professionals have more tools at their disposal than ever before. That growth, in turn, has made it possible for experts to address large-scale problems – from enhancing humanitarian efforts such as disease control and city planning to providing business intelligence solutions for product management and marketing.
According to P&S Market Research the global GIS market could be worth $17.5 billion by 2023. With that expansion comes greater demand for skilled surveyors, cartographers, photogrammetrists, GIS analysts and GIS experts. For example, the U.S. Bureau of Labor Statistics projected employment for cartographers and photogrammetrists to grow 19 percent between 2014 and 2024, much faster than the average of 7 percent for all other occupations.
---
Competitive salaries that are rising
The median salaries for GIS careers range from $54,170 per year for drafters to $137,943 for senior geomatics software engineers. In a 2017 URISA GIS salary survey of 3,000+ full-time GIS employees, the average salary of respondents was $71,000, an increase of 15 percent over 2010.
As GIS opportunities and salaries continue to grow, there will be a high demand for professionals who combine the technical acumen to source accurate spatial data with the critical and spatial thinking skills to apply that information in solving complex problems.
---
A variety of work to suit all styles
Not the type who's ever dreamed of sitting at a desk all day? Or are you exactly the type who wants to sit at a desk all day? The wonderful thing about GIS careers is there are ideal roles for different working styles.
Geospatial information touches many aspects of both the public and private sectors and just about every industry imaginable, from agriculture and aerospace to ecology and economics. If you want to work outdoors tracking wildlife in the Arctic, that's one possibility. But if you'd rather spend your days tracking down insurance fraud in the Midwestern United States, location intelligence is a hot trend in the financial services industry. Or maybe you have a passion for infrastructure: Urban planning may be up your alley.
GIS professionals qualify for occupations in myriad fields. There are climate scientists who provide analyses to all sectors of the economy, health geographers who use technology to stop the spread of diseases and developers who create interactive maps and other robust GIS applications.
---
A chance to make a difference
A career in GIS presents many opportunities to make an impact with the work you do. There's no end to the spatial information to be mapped and analyzed.
You can put your GIS skills to use by helping develop a neighborhood, conserving a wildlife habitat or defending your nation as a servicemember. Whether you want to improve infrastructure, grow a business or streamline operations on a military base, you'll have chances to shape the way humans interact with the world around them. GIS improves our understanding of the social, geological and temporal factors that contribute to some of the world's most challenging problems.
---
About USC's Online GIS Graduate Programs
The University of Southern California offers a comprehensive selection of online GIS programs, including GIST master's degrees and graduate certificates. This gives our students the ultimate flexibility in tailoring their education for their career goals. Click on the programs below to learn about our leading geographic information science education.
Online GIS Master's Degrees
Online GIS Graduate Certificates
---
Request Brochure
Fill out the information below to learn more about the University of Southern California's online GIS Graduate Programs and download a free brochure. If you have any additional questions, please call 877-650-9054 to speak to an enrollment advisor.
*
All Fields are Required. Your Privacy is Protected.
The University of Southern California respects your right to privacy. By submitting this form, you consent to receive emails and calls from a representative of the University of Southern California, which may include the use of automated technology. Consent is needed to contact you, but is not a requirement to register or enroll.
Are you enrolling from outside the U.S.? Click Here.