/
/
/
A Coast-to-Coast Q&A with Michele Fong: From a Certificate to a Master's in GIST
A Coast-to-Coast Q&A with Michele Fong: From a Certificate to a Master's in GIST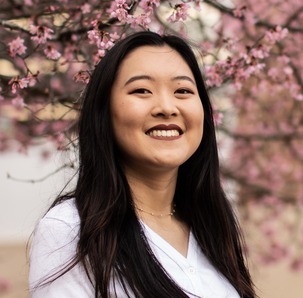 Michele Fong (she/her) is a GIS analyst at engineering, architecture, environmental and construction services firm HDR. Living in Richmond, VA, Michele completed her online Graduate Certificate in Geographic Information Science and Technology (GIST) from the USC Spatial Sciences Institute in 2022. She tells us all, particularly on how this graduate certificate helped her land an internship and ultimately a full-time role at HDR as well as why Michele then decided to continue on and earn her M.S. in GIST.
In this Q&A, Michele explains the factors that motivated her to delve deeper into geospatial problem solving and shares her experience of taking courses from the other side of the country.
Request Brochure
Fill out the information below to learn more about the University of Southern California's online GIS Graduate Programs and download a free brochure. If you have any additional questions, please call 877-650-9054 to speak to an enrollment advisor.
*
All Fields are Required. Your Privacy is Protected.
Why did you decide to pursue graduate education in GIS?
I decided to pursue graduate education in GIS because I wanted to pivot toward a technical career path. During undergrad, I took two GIS courses and thoroughly enjoyed working with ArcGIS, an interactive mapping software by Esri, and noticed it could be applied to various industries. My experience with the certificate program confirmed that I wanted to pursue a career in GIS and inspired me to continue to earn my master's degree.
What were your top considerations when comparing academic programs?
I wanted to enroll in a well-established program with positive alumni reviews. There are so many online degree programs available, but I was looking for a program that offered both live class sessions and the opportunity to connect with classmates and professors. I also looked for programs with a broad range of courses that could apply to various industries and jobs.
Why did you decide on the University of Southern California to complete your GIS graduate program?
I decided on USC's GIST certificate program because it offered multiple classes I was interested in. Since I earned my certificate through USC, I was able to apply to the master's program smoothly. I also had the opportunity to connect with one of the alumni ambassadors. She told me about her time as an online student and her unique Catalina Island experiences sold me on my decision.
What are some of the most interesting or useful concepts and skills you learned in the certificate program that you were able to apply to your work?
The cartography skills I developed from my classes have helped me immensely, especially when creating static maps and web applications on the job. I learned that attention to detail is key and something to keep in mind in the workplace.
Which concepts and skills do you hope to explore further in the master's program?
I want to further develop my GIS programming skills during my last semester of classes and hope to continue building these skills throughout the process of developing my thesis.
Why did you decide to pursue your degree online?
I'm from the East Coast, so pursuing an online degree was my most sensible option. The fact that I could have a set schedule, attend live classes and meet with professors made USC's program the most appealing.
Tell us about your interactions so far with the DEN@Dornsife platform.
I've had three courses using the DEN@Dornslife platform, all of which have been great. In these courses, every module and assignment is organized properly, so we can easily connect with classmates using the discussion option. I also appreciate the "Work To-Do" list that has helped me keep track of due dates.
What are your interactions with your faculty and with other students like? Do you feel connected to your classes and classmates?
I have been able to attend live online classes, and the discussions have helped me better understand the material and feel connected with both my peers and professors. I also really enjoyed my time at Catalina and forged great bonds with my classmates during group projects.
Did you use any of the student support offered to you? If so, what is your experience like?
My enrollment advisor has been amazing; I reached out to her quite a few times with questions about class registration, academic records, etc. She's always been great at getting back to me and helping me with any issues.
What are your career plans? How will your USC education contribute to these plans?
I am currently a GIS analyst at HDR, and I help support GIS mapping and application development efforts for transportation-related projects. HDR recently offered me the option to transition from an intern to a full-time GIS analyst role, and I'm positive my USC education thus far has played a huge role in building my skills up to this point.
What else would you like to share?
I highly recommend USC's GIS programs for those looking.
ABOUT USC'S ONLINE GIS GRADUATE PROGRAMS
The University of Southern California offers a comprehensive selection of online GIS programs, including GIS master's degrees and GIS graduate certificates. This gives our students the ultimate flexibility in tailoring their education for their career goals. Click on the programs below to learn about our leading geographic information science education.
Online GIS Master's Degrees
Master of Science in Geographic Information Science and Technology
Master of Science in Human Security and Geospatial Intelligence
Online GIS Graduate Certificates
Graduate Certificate in Geographic Information Science and Technology
Graduate Certificate in Geospatial Intelligence
Graduate Certificate in Geospatial Leadership
Graduate Certificate in Remote Sensing for Earth Observation