/
/
/
3 Big Opportunities for Growth in GIS
3 Big Opportunities for Growth in GIS
Geographic information science (GIS) presents exciting opportunities for strategic decision-making and professional advancement. A 2018 study from Geospatial Media and Communications estimated that the GIS and spatial analytics market, which includes areas like satellite navigation and 3D scanning, will be valued at $88.3 billion by 2020.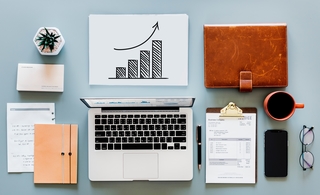 There are many reasons behind the anticipated GIS industry growth. Governments use GIS for city planning and public health initiatives while companies utilize spatial tools to evaluate demographics and markets. Meanwhile, the evolution of geospatial technology is fueling GIS business opportunities and making new careers possible. Fresh approaches to spatial problem-solving have emerged out of innovations such as LiDAR and cloud storage.
Private companies, nonprofits and governments all need professionals who are skilled in gathering geographic information and understand how to analyze and apply their findings. Individuals who can discover the value in spatial data may be successful in a variety of organizations. Here are a few of the most promising areas for GIS career growth:
Request Brochure
Fill out the information below to learn more about the University of Southern California's online GIS Graduate Programs and download a free brochure. If you have any additional questions, please call 877-650-9054 to speak to an enrollment advisor.
*
All Fields are Required. Your Privacy is Protected.
1. Urban and Regional Planning
According to a report from P&S Market Research, the government sector was the biggest source of revenue for GIS businesses in 2017. Agencies at the local, state and national levels will continue to push the market forward by employing spatial problem-solving for purposes like creating plans for urban development and land use.
Geospatial tools and methods have already become a cornerstone in these initiatives, equipping urban planners with insights into a community's needs. Planners can make better decisions when they have access to information and visualizations that show where residents live, their proximity to necessities like grocery stores and how they commute to work. With a plethora of data, government agencies and nonprofit organizations can determine where best to place a recreational area or how to adapt a public transportation system to meet a community's changing requirements.
As a result, GIS career growth for urban and regional planners is likely to be strong over the coming years. The U.S. Bureau of Labor Statistics predicted 13 percent growth in positions for urban and regional planners from 2016 to 2026, outpacing the average of 7 percent for all industries.
---
2. Collecting Geographic Information with LiDAR
The implementation of LiDAR technology has been another major contributing factor in GIS industry growth and the creation of analyst positions at many companies. LiDAR measures distances using pulsed laser light, collecting the information necessary for creating high-resolution maps and 3D representations of objects. Geospatial professionals can use this technology to gather data quickly, perform surface analysis and gain visibility into even dense terrains like a thick forest.
For these reasons, laser scanning has been widely adopted in fields such as archaeology, earth science and city planning. One of the most promising applications for LiDAR is in guiding self-driving cars with the precise measurements that navigation systems need to operate safely.
Cartographers and photogrammetrists increasingly rely on LiDAR, as well as remote sensors, to collect and analyze data. These professionals can then add valuable context to maps by using GIS to organize and layer information. The BLS estimated growth of 19 percent in jobs for cartographers and photogrammetrists between 2016 and 2026, driven in part by the demand for highly accurate, constantly updated maps in mobile apps and web-based programs.
---
3. Natural Resource Management and Environmental Initiatives
Smart natural resource management involves careful planning and the forethought to understand how human interaction will impact an area over the long term. With extensive spatial information, professionals in sectors like forestry and conservation can make wise decisions about where to harvest resources, how to support growth and development and which regions need enhanced protections from industrial activities.
As a result, natural resource management has proven a fertile source of GIS opportunities for industry growth. For instance, conservation scientists and foresters strive to maintain compliance with regulations and guidelines for habitat protection, minimizing damage to natural areas and leading sustainable practices. These professionals work with GIS technology to map forests and identify shifts in land use.
Geographic data can be vital for environmental scientists and other specialists tasked with leading cleanup efforts in heavily polluted natural spaces or regions affected by natural or manmade disasters. These professionals use maps and spatial information as they work with policymakers to develop plans for improving health and reducing waste. With detailed visualizations, environmental specialists can provide updates on relevant trends and propose new strategies.
---
About USC's Online GIS Graduate Programs
The University of Southern California offers a comprehensive selection of online GIS programs, including GIS master's degrees and GIS graduate certificates. This gives our students the ultimate flexibility in tailoring their education for their career goals. Click on the programs below to learn about our leading geographic information science education.
Online GIS Master's Degrees
Online GIS Graduate Certificates